The 3 Best Micro-ATX X58 Motherboards: Core i7 in a Small Rig?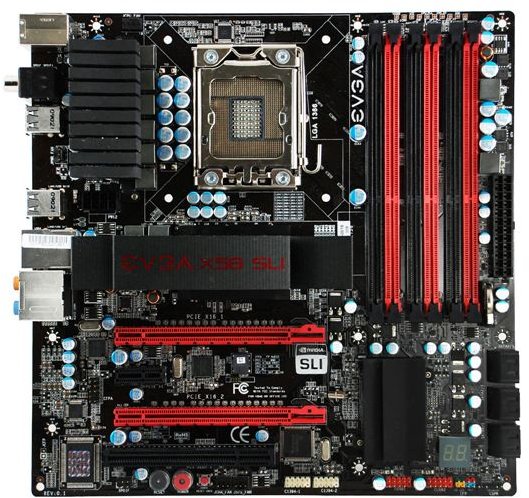 Micro-ATX meets Core i7
The tests of Core i7 clearly indicated that it was a part best suited for workstations and other computers which would be running programs that made heavy use of multiple threads. As such it was no surprise that Core i7's supporting X58 chipset debuted without any Micro-ATX motherboards available.
Prices have fallen, however, and Core i7 is now priced low enough that some users might want to build a small Core i7 system. Several Micro-ATX motherboards have come to the market as a result. Here we'll look at three of the best.
EVGA 121-BL-E756-TR
EVGA is best known as a maker of premium gaming products. EVGA's Micro-ATX X58 motherboard features an interesting gamer-oriented color scheme of blacks and reds. It includes 2 PCI-Express 16x slots, support for up to 24GB of RAM, and plenty of connection types. These features are actually all par for the course for an X58 motherboard.
The EVGA motherboard, however, also includes some extras that enthusiastic gamers and overclockers will enjoy. The BIOS is quite friendly to overclocking, as one would expect from an EVGA motherboard. It also includes easy on-board Clear CMO, power and reset buttons as well as an LED which displays the CPU temperature. These features should help gamers overclock their Core i7 systems. These are features not found on most motherboards, and it's nice to see them included on a product available for $209.99, which is low for an X58 motherboard.
ASUS Rampage II GENE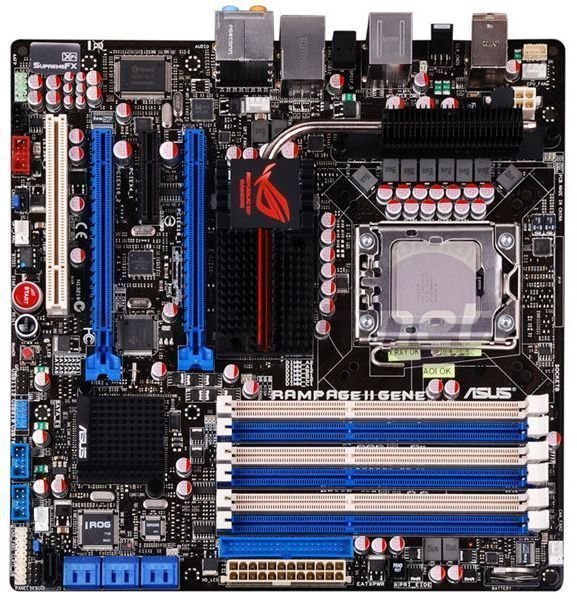 While EVGA is known for extreme gaming products, ASUS also has its Republic of Gamers line which is known for being one of the better lines of gaming motherboard available today. At its most basic level this includes the same basic features as the EVGA motherboard, including two PCI Express 16x slots, support for up to 24GB of RAM, and a ton of ports including e-SATA and Firewire.
But the Rampage II Gene, like the EVGA board, has special features of its own. One of the most interesting is Q-FAN, a fan control system ASUS has developed for some of its motherboards. Q-FAN can adjust the speed of fans connected to the motherboard automatically based on temperature. The Rampage II also includes some solid extras for overclockers, such as Extreme Tweaker and Voltiminder. At $219.99 the Rampage II GENE is slightly more expensive than the EVGA board, but the Q-Fan control alone can justify the extra expense.
MSI X58M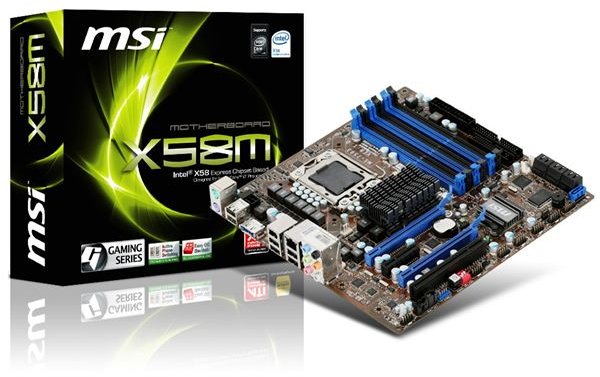 By now you should be able to guess the specifications of the MSI X58M. Two PCI-Express 16x slots, 24GB of RAM, etc, etc. The X58 chipset is meant to be high-end, so these sort of high-end features are normal. The BIOS and the extra features provided by MSI for this motherboard are less impressive than what is found in the ASUS and EVGA boards, however.
That would leave the MSI board at a disadvantage if it were around the same price. But it isn't. The MSI X58M is in fact priced at $169.99, a full forty dollars less than the EVGA board. Is the EVGA board forty dollars better? For many people the answer to that question will be a resounding no. The MSI X58 doesn't have neat extras like an on-board CPU temp, LED or Q-FAN control, but those who are just looking for a basic, small X58 motherboard will appreciate the savings that the MSI board offers.