Review: A Look at the Best of Single Outlet Surge Protectors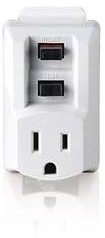 There are not an enormous number of choices for single outlet surge protectors, but let's look at what is available and what seems to be your best choices of the options.
Some of the travel single outlet surge protectors also come with either phone line protectors or Ethernet protection for a single connector.
Radio Shack (3 out of 5)
Radio shack has a single outlet surge protector with GFCI protection for about $9, available online or in their stores. I would not call it a heavy duty protector, but The GFCI protection means that it protects you from shocks. The specs say it goes from 100 to 500 joules. It works in a temperature range from -31 F to 151 F, which is certainly a wider range than I am comfortable in. The trip response is no more than 25mS, and the trip level is 4-6 mA, up to 205 joules. Frequency is 50/60 Hz, which is about right for a
laptop. It meets compliance for National Electric code temporary wiring. It is meant to be used indoors. And the 2.65 x 1.72 x 1.975 inch size makes it handy to keep in a pocket in your laptop bag or a tool chest.
Because of the fairly low joules rating, Bright Hub is giving it a 3 star rating, although since there is only one outlet, there is not likely to be a heavy load.
Belkin SurgeCube Surge Protector (4 out of 5)
Belkin has a very good reputation for its surge protectors.
The Mastercube is another in the well known line of Belkin surge protection products. It is $ 6.99 in the current listing at Amazon.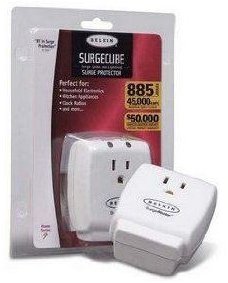 It provides 1045 joules maximum protection, with 3 line AC protection, and has a built in phone splitter. LEDs show when the outlet is grounded and protected. They offer a lifetime warranty of $50,000 for connected equipment warranty if the surge protector fails, although what you are going to be attaching to a single outlet worth that sort of money does puzzle me. It has 45,000 - max spike amp.
User reviews were extremely positive, one user saying it protected his phone and modem against a direct lightening strike. They said it was solidly built, and came with good directions. One user did point out that the fine print says that if a device such as a TV does not also have protection for the cable, the warranty is void. The single outlets are very handy for home theaters as you so not need long electrical connections to the main surge protector unit. Note that these are 120 volt devices and are not meant for travel to countries where 220 is the norm.
Belkin F9H220-TVL Travel Surge Protector with Hidden Swivel Plug is listed at $13.59.
This choice is a good one for travel- it has phone and Ethernet data protection on the surge protector. There are indicators for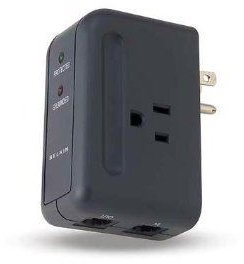 showing ground handing and protection is active. The swivel plug folds away for easy storage, so it doesn't scratch. There are 2 outlets even though the picture only shows one.
This Belkin model comes with a $75,000 protected equipment warranty.
A note from a user: The name of the product number (220) does not mean it is rated for more than 120 volts. It also doesn't protect Ethernet and a modem simultaneously- one or the other. It is good for travel in the US.
Tripp Lite SPIKECUBE 1-Outlet Surge Protector (750 Joules) (4 out of 5)
The Tripp Lite SPIKECUBE 1-Outlet Surge Protector (750 Joules) is $ 9.59 currently at Amazon.
Tripp is also a good name for surge protection. The maximum watts are 1800, and it goes up to 750 joules. A status indicator shows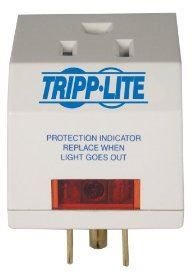 surge protection is available. There is a plug in suppressor for wall mounting directly into the AC outlet receptacle. It is designed for laptops, projectors and other portable appliances. It is 3 prong grounded, and not much bigger than a cell phone charger, but offers the protection of a power strip with surge protection.
A user noted that the outlet extends from the front of the device, so plugging directly into it could result in extending the plugged in device 4-5 inches from the wall. They wished the plug were angled up or down.
Tripp Lite TRAVELCUBE 1-Outlet Notebook Surge Protector (3 out of 5)
Tripp Lite TRAVELCUBE 1-Outlet Notebook Surge Protector (950 Joules, Tel/DSL) Current price at Amazon $ 10.98. Not a lot of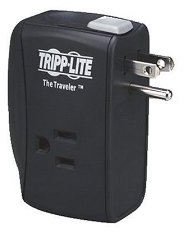 information is provided, but the size is very nice. It is designed to to be thrown into a laptop bag or purse for handy instant protection. There are no user reviews yet. This gives 950 joules protection.
Travel Laptop Surge Protector (3 out of 5)
The Travel Laptop Surge Protector is available from Amazon, but they warn of a delay of shipping of 1-3 weeks. It is $21.99, and is a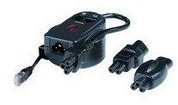 space saving design. It handles up to 270 Joules, and has a magnetically shielded outlet. It also provides Fax, Telephone and Modem Protection with the surge protector. It has a Lifetime Limited Warranty for protecting electrical components from spikes and surges.
Minuteman MMS110 SNGL OUTLET SURGE SUPRESSOR (4 out of 5)
The Para Systems Minuteman Single Outlet Surge Suppressor Single grounded outlet is available for $ 6.16; The ad copy says it has new MOV technology as well as its safety shutdown technology. There are high frequency capacitors and LED indicators to let you know it is working.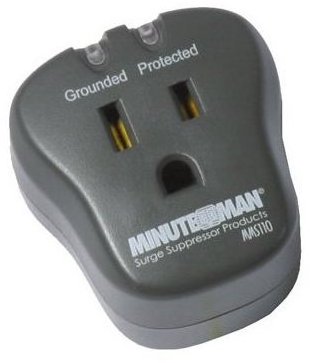 It is UL 1449 certified and they offer a $25,000 connected equipment warranty for the surge protector. Again, I do wonder what would be connected to a single outlet worth $25,000, but it is nice to know they stand behind their products. It has electrical Ratings of 15A, 125V, 1875 Watts (the highest Watt rating here) and a joule Rating of 540. The clamping voltage is 330V Maximum peak current, with 36,000A Maximum spike voltage. It also offers noise filtering. There is a surge protection indicator for grounding, and an indicator for power safety shutdown.
OPENHOUSE H293 2 Stage Surge Protector (3 out of 5)
The last Surge protector we will look at is the OPENHOUSE H293 2 Stage Surge Protector. Amazon sells it for $25.23.
The Openhouse 2 stage surge protector has a small single outlet footprint. It comes with maximum surge rating of 960 joules, a maximum clamping of 330 volts, and EMI and RF filtering to 35dB. There are status LEDs. It is 3 x 9 x 11 inches and weighs 0.4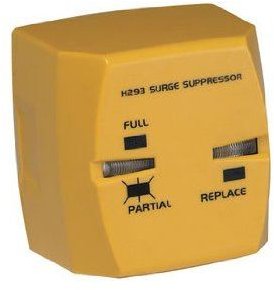 pounds .
There are no user reviews yet, and the legal disclaimer says misuse is not covered. Because of the lack of user reviews, we will give it a 3 star rating, to be adjusted if we get additional information.