Reviewing Top 17 inch Laptop Backpacks With Wheels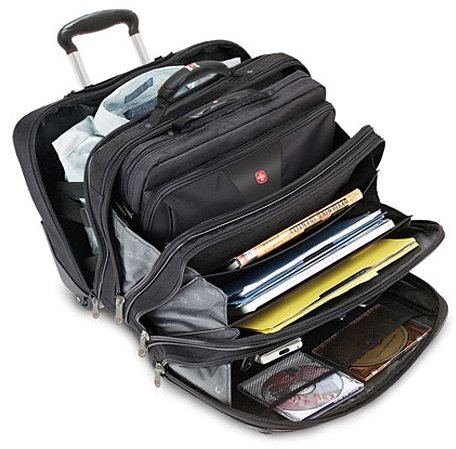 There are a number of wheeled laptop bags on the market. They range in price from $67 to about $450 in price. Bright hub reviews a number of the wheeled cases designed to hold ultralarges and make them portable. Many of them are sized to fit under an airplane seat or in the overhead bin.
Wenger Patriot rolling laptop case
The Wenger Patriot rolling laptop case is the number one choice for rolling laptop bags on Amazon.com right now. The $89 bag holds up to a 17 inch laptop in its main compartment. It also has a removable day briefcase which holds a 15.4 inch laptop. It has a telescoping handle, and a trolley strap to fasten the case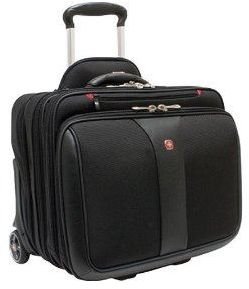 onto a rolling suitcase. The multiple compartments hold clothes, computer and computer case, paper and files, and an organizer section. Inside the computer compartment is a complete second computer bag; however it only holds laptops up to 15.4 inches. It comes with a shoulder strap. The telescoping handle is zipped into a compartment when not needed. Users said it was great for a overnight trip, and that the whole case will slide under an airline seat. Two users said they had used their case constantly for three years before the handle finally gave out. One user said he routinely gave the interior day case for the 15 inch laptop to charity, since he needed the larger space for his 17 inch laptop. A very versatile choice.
Targus TXL7 17 Rolling Notebook Case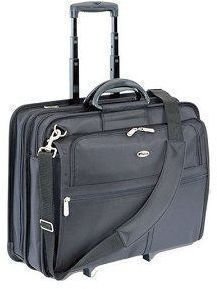 The Targus TXL7 17 Rolling Notebook Case is available for $77. It holds a computer, papers/files, and an organizer. It has inline skate wheels, a three-stage telescoping and ergonomic handle and detachable padded shoulder straps for carrying. It meets carry on restrictions for airplanes; however one user said an airline told him it had to be his carry on and not his personal item because they thought it was too large. Notably, more than one user said it actually held their ultralarge 18.4 inch screen laptop easily. And so it is one of the only bags that can hold a laptop that large.
Targus CPT700US Blacktop Roller Notebook case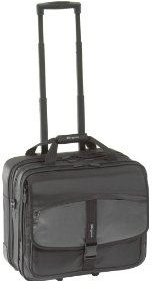 Targus also sells the Platinum CPT700US Blacktop Roller Notebook case for $81. It also has a telescoping handle, and inline skate wheels, It is sized to fit into the overhead bin of an airplane. There is both an external front pocket workstation with space for files and an internal fold down work station Some users were not allowed to bring it onto the plane as their personal case, despite it being sized to fit an overhead bin. Several users said that the handle sticks sometimes, but most people said they had no trouble. Again, this model is able to hold an ultralarge 19 inch laptop.
Kensington Contour Roller case
The Kensington Contour Roller case is available for $67. It holds laptop computers up to 17 inches. The telescoping handle has 5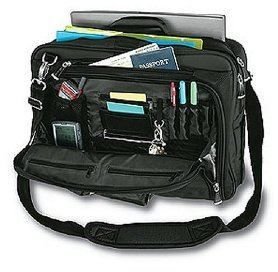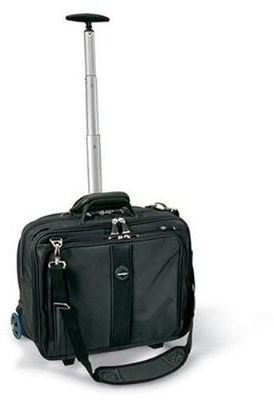 positions from 7 to 23.5 inches tall, and can also be used as a carry bag. It comes with a special strap and contour form, to distribute the weight and cut down on fatigue by 35% when carrying it. It is made from ballistic nylon, and has a padded rear compartment and pocket for tickets, etc. The sleeve suspends and wraps the laptop inside the case.
SOLO PT136-4 Rolling Laptop Case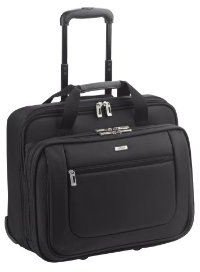 SOLO's PT136-4 Rolling Laptop Case costs $77 at Amazon.com. There are inline skate wheels. It holds accordion fan files, and has a zip down organizer with pen loops, business card holder, keyfob, and a zippered pocket inside and a large pocket on the front of the case. The handle can be zipped over so carrying the bag is easy. User reviews gave it 5 stars, and said it was well constructed, roomy and holds everything needed for the day. It looks like the case is nylon, but doesn't say so.
Victorinox Architecture™ 2.0 Rolling Parliament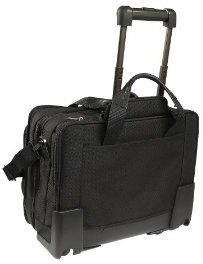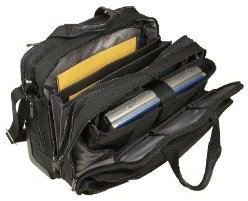 The Victorinox Architecture™ 2.0 Rolling Parliament is by far the most expensive case reviewed here, at $449 on Amazon.com. The Retrax retractable Wheel System allows the wheels to store in the wheel housing. It expands for another 2.5 inches if needed. There is a removable laptop sleeve to carry your laptop during the day. A user review thought highly of everything but the price. She was impressed with the legal size fan file system for documents, and particularly noted that it has special compartments for laptop cables and accessories. If money is no object, then this is the case to buy.