The Future of Netbooks - Passing Fad or Here to Stay?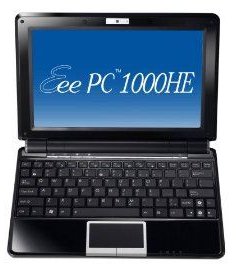 Speed is the Future of Netbooks
The technology to create netbooks sprang out of the One Laptop Per Child project, an initiative to supply remote third-world villages with bare-bones $100 laptops for children. While it's true the first netbooks created using this technology seemed like children's toys, experts predict the future of netbooks has these devices blurring the boundaries of the mobile computer. Instead of simply using your netbook for Web page consumption, you'll be able to do more CPU intensive tasks such as watching high-definition video or working with digital images from your camera. Additional features, such as GPS and touch screens, are also in the works for upcoming netbook models.
Netbook Battery Life
Battery life is an important concern for users of netbooks. While netbooks already boast a better battery life than laptop computers, this is one area in which manufacturers are constantly striving for improvement. Today's newest netbooks are boasting battery life claims of eight, nine, or even ten hours of use on a single charge in comparison to the three or four hours you'd get from the earliest models. More improvements can only be expected in the future.
Netbook Size
Today, a netbook typically weighs between two and three pounds. Screen sizes can range from seven inches to about 13 inches. The keyboard is normally somewhere between 75% and 85% the size of a normal computer keyboard.
Of course, there is a limit to how small of a netbook is practical. If you're the typical adult, typing on a ridiculously tiny keyboard is going to get old pretty quick. Squinting to see the text on your screen is also quite bothersome. The future of netbooks may have us looking at lighter weight models, but it's unlikely you'll see a netbook the size of a pack of gum any time in the near future.
Netbook Price
It's common for new electronic gadgets to be ridiculously expensive at first, then have prices drop as they become more popular. Netbooks are no exception. In fact, one Sony executive declared that the netbook industry is a "race to the bottom" that will drive down the price of regular laptops as well.
In some cases, you can even get a netbook for next to nothing with your mobile Internet service agreement. For example, retailer Best Buy recently took the future of netbooks to a new level when they began selling a Compaq netbook computer for just $1 to customers who signed up for a Sprint Internet access plan.
Netbook Accessories
Since netbooks have become a very popular choice for parents in search of affordable computing options for tweens and teens, it should come as no surprise that there are a number of ways people can personalize their netbooks. Whether you're interested in a faux alligator skin carrying case or a hot pink laptop mouse, you can find a variety of netbook accessories simply by walking into any electronics store. More sophisticated design options are available as well, if you're willing to take the time to sort through the stuff designed to appeal to the younger crowd.
The future of netbooks, however, demands that tech savvy users have one-of-kind netbooks. Sites like Schtickers are now offering users the option to make custom decal netbook skins that feature their favorite photos and the text of their choice. Try decorating your netbook with a picture of your dog or keeping your favorite family photo close to your heart when you're traveling for business.