Touch Netbooks: Boom or Bane?
Asus Eee PC T91 Series
Once again, Asus is spearheading the major netbook manufacturers in coming up with a truly touch screen netbook—the Eee PC T91 series. This touch screen-enabled netbook almost didn't see the light of day since Asus has went on and off in pushing it to production. But, thankfully, Asus has officially announced that it will start shipping the Eee PC T91 touch screen netbook pretty soon.
The Eee PC T91 will be available in various iterations—T91, T91GO, T91A, and T91H. All of these T91 models except the T91H would have an 8.9 inch touch screen display. The Eee PC T91H, which was just announced recently, will sport a 10.1 inch touch screen display. Aside from this, the Eee PC T91H will also have GPS capability and 3G connectivity.
With a published SRP of $499 inclusive of shipping costs, the Eee PC T91 netbook will have the following specs and features:
Windows XP
Intel inside Atom Z520 1.3GHz
8.9" WSVGA (1024×600) LED-backlit screen with swivel display
16GB SSD
20GB Eee Storage
1GB RAM
High-Speed Wi-Fi, 802.11n
Bluetooth V2.1
Up to 5 Hours of Battery Life
3-in-card reader
2 USB ports
0.3 webcam
Gigabyte T1028M TouchNote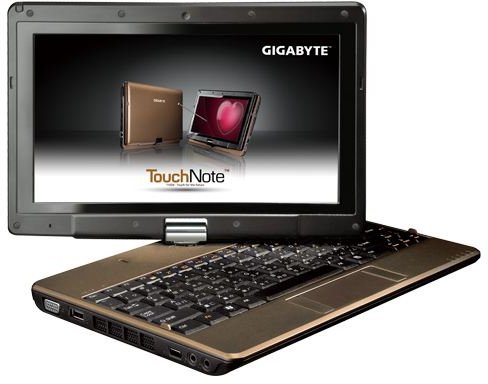 If you can't wait for the Eee PC's release, you might want to consider Gigabyte's T1028M TouchNote. Gigabyte is, of course, well known for their convertible tablet PCs with touch screen features. Gigabyte T1028M boast of the following specs and features:
10.1" swivel touch screen
Intel Atom Processor N270 1.6GHz
Genuine Windows XP Home
10.1" Touch TFT-LCD WSVGA, 1024x600 with LED backlit
Mobile Intel®945GSE Express Chipset+ ICH7M
92% full-sized keyboard
Embedded HSDPA Support
2.5" 9.5mm SATA HDD 5400rpm, 160 GB
Smart Manager Intuitional Setting
Multi-Touch Mouse pad
Battery Check Design
Easy Upgrade for HDD and Memory
It is available now for around $644.
Bangu Baijian Touchscreen Netbook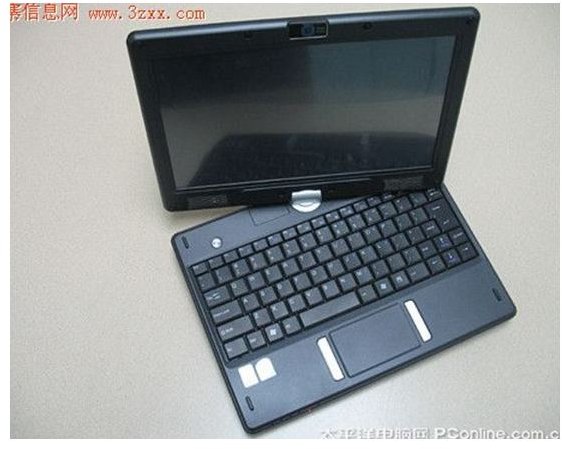 I learned about this new touch screen netbook just a few days ago—the Bangu Baijian touch screen netbook. This netbook was spotted in China sporting a 10.2 inch touch screen display, 1.6GHz Intel Atom N270 CPU, 1GB RAM, 160GB HDD, Windows XP, 2 USB ports, VGA port, SDHC card reader, Ethernet Jack, and both Wi-Fi and Bluetooth options.
Bangu Baijian Touchscreen Netbook will be available for around $400. No word yet as to whether it will be available internationally.
Daewoo Solo C920 Tablet Netbook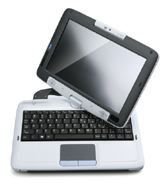 Korean company Daewoo has also released their own touch screen tablet netbook which is called the Daewoo SOLO C920-mini. This netbook comes with an 8.9 inch touch screen display, Intel Atom N270 CPU, 1GB RAM, 60GB HDD, and a webcam. But, unlike other touch screen netbooks, this one will only have the touch screen feature if Windows 7 or Windows Tablet PC Edition is running.
The Daewoo Solo C920 is currently available in Korea only. Again, no word yet on whether it will be available internationally.
The Apple Touchscreen Netbook (Rumor)
Again, another recent development, or should I say rumor, that came up in the netbook land was about the Apple netbook, which some news sites are speculating to be released sometime in October. Of course, Apple is keeping mum about this, and there is still no information available on the whereabouts of this netbook yet.
Other Major Netbook Brands
If you may have noticed from the list, most of the companies who have released or are releasing their touch screen netbooks are not really the major brands that we know (well, except, of course, for Asus). There is really no information yet as to whether the major companies are releasing their own touch screen netbooks. Not so long ago, Acer was rumored to be planning on releasing a touch screen netbook, but so far nothing concrete has yet come out from the Acer camp. These netbook manufacturers are probably waiting for the market reception to the Asus Eee PC T91 netbook before releasing their own touchscreen netbooks.