The Best Nvidia Motherboards: Hybrid SLI Support and More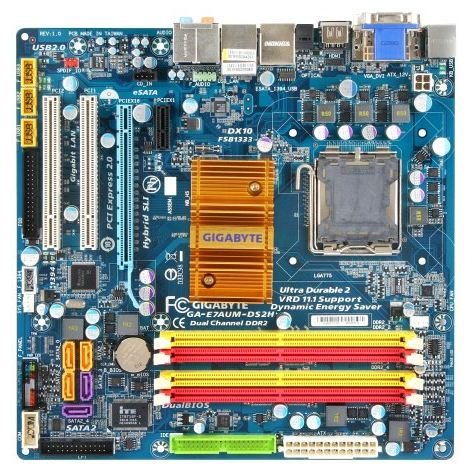 Hanging In
Nvidia has long been a chipset design company. By designing motherboards, Nvidia has been able to place its integrated graphics into more systems and also help promote SLI, which typically works only on Nvidia chipsets (although the new X58 chipset for Core i7 products are an exception). This said, Nvidia has recently stumbled in the motherboard market. Their offers are starting to look less interesting compared to the very good motherboard chipsets offered by AMD and Intel.
That doesn't mean Nvidia motherboards are worthless, however. The three motherboards listed below are all Nvidia chipsets and they are all extremely capable products which would be a good selection, particularly if either a solid integrated graphics or multi-GPU graphics solution is needed.
Gigabyte Geforce 9400 Micro ATX Motherboard
Perhaps no motherboard chipset is more under-appreciated then Nvidia's Geforce 9300 and 9400 products. These motherboards, all of which are Micro ATX format or smaller, cram in an amazing amount of content for a small package. The Geforce 9400 is an excellent building block as it provides graphics which are sufficient for most anything except for playing new graphics-intensive games. Older games and HD content will play beautifully. If you're looking for more power, however, the Nvidia Geforce 9400 chipset supports Hybrid SLI. Hybrid SLI allows the on-board graphics to team up with certain Nvidia graphics cards to boost performance and provide better power management.
Besides the integrated graphics, this particular motherboard is outstanding for the content it provides considering the size. The Gigabyte Geforce 9400 includes a full-fledged x16 PCI Express slot 2.0, support for modern LGA775 processors including the latest Core 2 Duos and Quads, and even support for Firewire. So long as one doesn't need to make use of the PCI slots beneath the PCI Express expansion in combination with a large video card, this motherboard would work well for nearly any build. The asking price of $129.99 isn't amazing, but it is good considering that small motherboards with this many features are rare and command a price premium.
ASUS M4N82 Deluxe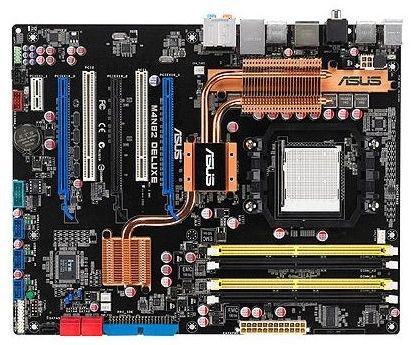 ASUS is well know for making high end motherboards with loads of features and excellent quality, but those motherboards often seem to come with a very high price tag. The latest incarnation of the ASUS M4N82 Deluxe, however, seems to keep the build quality but drop the price. This motherboard seems like a strange candidate for a bargain, as the M4N82 Deluxe uses the Nvidia nForce 980a chipset. This is one of Nvidia's latest and greatest AMD chipsets. It provides support for CPUs from AM2 to AM3 and it offers impressive SLI capability, allowing two cards to run in SLI at full 16x or three cards to run at 8x PCI Express speeds. Tack on a slew of available connections and overclocking potential which appears better than normal and the result is an extremely strong product.
The M4N82 Deluxe does have certain weaknesses. It is worth mentioning that the integrated Geforce 8300 graphics are not powerful enough to drive most games. The layout is also a bit crammed for those who want to actually get the full use out of the motherboard and load it up with multiple video cards and a large CPU cooler. Those troubles aside, the M4N82 Deluxe is a wonderful Nvidia motherboard. It provides the features one would except on a motherboard costing over $200 dollars, but netting this mobo will only set you back about $170 dollars.
Zotec N73USupreme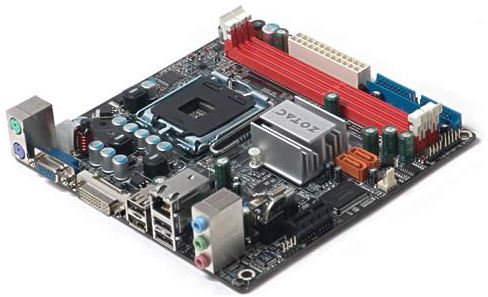 Here is a blast from the past. The Zotec N73USupreme uses the Nvidia nForce 630i chipset, which isn't exactly the most modern chipset on the block (it is the newest of [Nvidias 6 series chipsets](https://(it is the newest of Nvidias 6 series chipsets though)) though, and can handle a Penryn Quad). The integrated Geforce 7150 graphics which are supplied with the motherboard are far from the hottest thing around, as well. So why does it make the list? The price - and the features.
The Zotec N73USupreme can be found online for less than $60 dollars. That is extremely cheap, and to get a comparable price on an LGA775 motherboard one has to dig pretty deeply into Intel's past chipsets. This also means digging deep into Intel's most underpowered integrated graphics solutions. The 630i may not be packing the heat, but compared to a Intel G31 based product it is plenty fast.
On the features front, the N73USupreme is well off. A maximum of 8GB of RAM is supported, four USB ports are available as well as one Firewire and four SATA connections. HDMI video support is standard. For a motherboard that costs less than $60 bucks that is an excellent features list, and it makes the N73USurpeme one of the most attractive budget motherboards currently available.