How to Trace Stolen Computers - Software To Retrieve Lost Laptops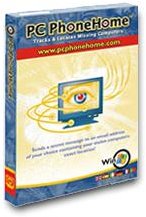 We do not always live in an honest world. Even people who want to believe in the inherent goodness of the human race have to admit a few bad apples exist. Anyone can be a victim of theft, and when it is your laptop that gets taken, the results can be more than merely annoying. The pilfered technology can represent a loss of hundreds or thousands in hardware and software. Anyone in their right mind would want to get their laptop back - if not for the cost of the hardware, at least for their personal information. Sadly, 90% (or better) of laptops that go missing, stay missing. If you want to beat the odds, you are going to have to take some extra measures.
PC Phone Home
The judicious installation of location software will help you to get your machine back. There are several different software options for getting that retrieval. Lets take a look at a few of the options on your plate.
Cost: $30
All PC phone home will do is send you an email with its location. It will do this every time the computer is connected to the internet. You're counting on the fact that the thieves will connect to the Internet of course, but if they do, you'll know where it is.
Inspire Trace
Cost: $29.95
The Inspire Trace program is a little bit more than a recovery program. It also allows you to trash the machine. The only bad part about that is you won't be able to get your data back either. Your machine will be wiped out. On the bright side, if you have very sensitive data it won't fall into the wrong hands. It's location will be emailed to you.
Computrace Complete
Price: $49.99
Computrace Complete protection software allows you to trace, but it also stores information about the machine. That way you can prove it is actually yours. It is also worth noting that this model calls with a location instead of emailing. It is also capable of calling multiple numbers.
XTool
Price: $70.00
XTool Laptop Tracker is great if you have a laptop with a camera this tool allows you to not only track your PC, but to take a picture of the thief. That is great if you actually want to prosecute. Let's hope they aren't wearing a ski mask when they use your laptop.
Now, you can take your laptop out and about safely. Of course, it is better not to lose your laptop in the first place. Keep your eyes on it, and you may never need to use your recovery software. If you do lose it however, at least you know there are options available to getting it back. You have to be proactive of course, but its better than being completely out of luck.
Images