Best Mini-ITX Cases: Enclosures for HTPC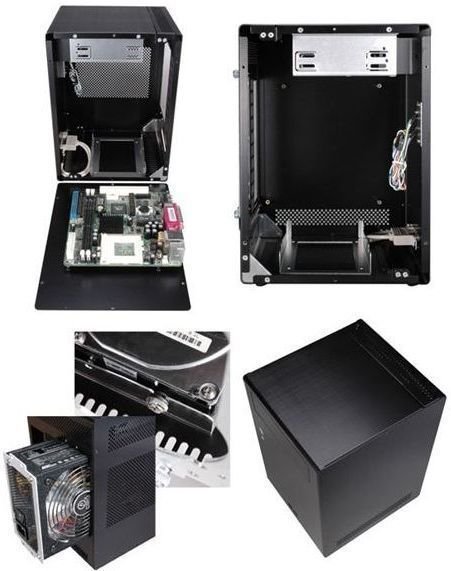 Yes, That's A PC
My, how desktop PCs have shrunk. What once required a massive gray box can now be fit into a case small enough to hide on a bookshelf. This is largely thanks to the Mini-ITX format, which was developed originally by Via Technologies, maker of numerous processors and chipsets including the Nano processor, which is a competitor to Intel's Atom. Mini-ITX is not a new format, as it has been around since 2001. But the development of numerous new low-power processors combined with falling prices has finally made the Mini-ITX board practical. The best Mini-ITX boards now can be found with integrated wireless, respectable Nvidia or ATI integrated graphics, and the same audio and ethernet technology you'd expect on a full-size motherboard.
Of course, you'll need someplace to put your Mini-ITX board once you buy it. This market has historically been plauged by cases that were either flimsy or too expensive, but the recent entry into the market by companies with histories of building quality PC cases has resulted in some fine products.
Lian-Li PC-Q7
It is no surprise that Lian-Li has entered into the Mini-ITX case market with the PC-Q7. Lian-Li is well known for using aluminum cases, which makes them lighter than most competing enclosures. While lighter than steel, the quality construction also allow Lian-Li to produce strong cases with less metal, resulting in an interior which feels more spacious. Given that weight and space are extremely important for Mini-ITX cases, Lian-Li seems to be entering the market with a natural edge.
The PC-Q7 is a small, rectangular case which measures a foot tall and eight inches deep. It is available in the traditional Lian-Li choices of silver or black. Like all Lian-Li cases, the exterior is impressive but not flashy, making it a good choice for a home theater. Inside there is room for one 5.25" external drive, one 3.5" internal drive, and a small video card. By far the largest component in the case will be the power supply, which consumes much of the interior space. This is an unavoidable problem for a case of this type and will remain a problem until something is done to reduce the standard size of a PC power supply.
The only downside to the Lian-Li PC-Q7 is the lack of audio ports on the front. This can be troublesome when the case is used as a small desktop computer. That said, the Lian-Li is an obvious choice for a small, high-quality PC enclosure. And at a price of about $75 dollars, the PC-Q7 is not unreasonably priced. It is certainly more expensive then cases made of lower-quality material, but the extra money puts the case into an entire different category of quality.
Apex MI-008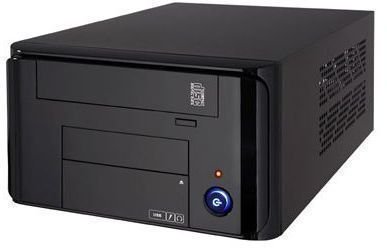 Who is Apex? Good question. Apex describes itself as an electronics company, and their wide range of products suggests that no other title would fit. They sell everything from TV converter boxes to tiny speakers to HDTVs. What made them decide to try and cash in on PC cases is any one's guess, given that the market isn't an obvious gold mine. Whatever their motives, they have offered Mini-ITX cases for some time, and the best of them is the MI-008.
First impressions of the MI-008 leave much to be desired. While the glossy plastic looks good enough from a distance, picking up and taking apart the case reveals that it's construction is no better than average. The metals and plastics are generic. But they're not bad, either. And when one looks at the way the Apex MI-008 arranges the internals, things start to click. The case overall is very long and narrow, which is a good thing. Were this to be placed next to a DVD player or a console in your home theater, width would likely be your main space concern, not length. The case is also only 5 inches tall, which means it can fit on a lower shelf without issue.
The features aren't bad, either. The MI-008 bests the Lian-Li by offering a front audio jack and a 3.25" external drive bay. Better yet, the MI-008 will only set you back around $50 dollars, and it includes the power supply. That is an extremely good price. The questionable build quality of the MI-008 makes it impossible to recommend to those who can afford better quality, but for those looking to build a budget HTPC or a tiny desktop, the MI-008 is tough to beat.
Silverstone Sugo SG05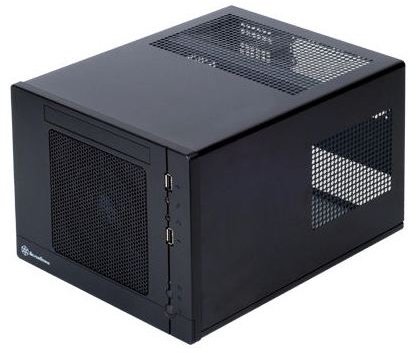 While Lian-Li has a reputation for quality, Silverstone is one of the few companies that ranks even higher. Silverstone cases are well known for their extremely high build quality, their great layouts, and pleasing aesthetics. They've always been the product of choice for those willing to pay for the best product possible. The Silverstone Sugo's pricetag of $99 dollars does not buck Silverstone's traditional luxury pricing, but the Silverstone also has something extra that is hard to find in Mini-ITX cases.
On the outside, the Silverstone Sugo is not so different from the Lian-Li. The black finish isn't a nice as the brushed aluminum of the Lian-Li, but it is close, and the case is likely the most sturdy Mini-ITX case that can be purchased, with the obvious exception of cases meant for use in factories or vehicles. As the case is disassembled, the reason for the Sugo's high price become apparent. The Sugo packs a 300W power supply with an 80 plus efficiency rating. It also has room for an 80mm and a 120mm case fan. But the trump card is the expansion slot - the Sugo can fit a 9" card. It might be cramped, but you could fit a Radeon 4850 or a GTX250 in this baby. This makes the Sugo an excellent choice for a LAN gaming computer.
Besides price, its hard to find anything bad to say about the Sugo. The only potential problem is its width, which is nearly 11 inches. This could be a problem in some home theater. Otherwise, there is nothing negative that can be said about the Sugo. So long it can be fit into the budget (and shelf), the Sugo is the obvious choice for a new Mini-ITX build.
This post is part of the series: PC Case Buying Guide
Choosing the right PC case is one of the most important decisions you can make. A PC case often lasts longer than any other component, so it needs to be good. These articles will help you choose a great PC case no matter the type or size you need.