The Best AM3 Motherboards: The Gigabyte MA770T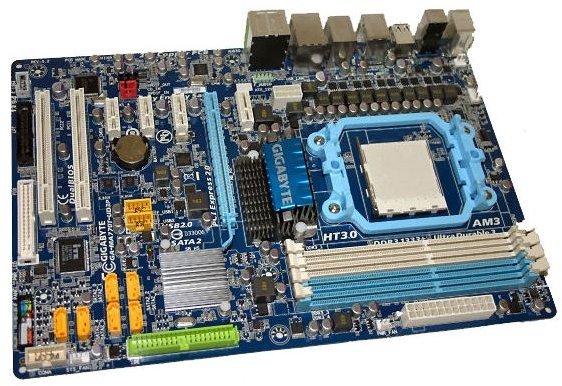 A Sweet Little Deal
Thanks to Phenom II, an AMD platform is now a good choice for many users. Reviewers have time and time again lavished the Phenom II X3 720 with praise for providing high performance at minimal cost, and the X4 940 has also been given the collective nod as the best quad-core that can be purchased for under $200 dollars.
But finding recommendations of the Phenom II is the easy part. Finding the best AM3 motherboard is trickier. Given their many revisions and modifications, motherboards always tend to be less quickly reviewed than processors, which making picking one that is reliable and feature-rich is a bit of a challenge. That said, there are already some clear winners among AM3 motherboards. This brief list unveils the best motherboards below $100, $150, and $200 dollars.
Under $100: Gigabyte GA-MA770T-UD3P
Okay, gum-shoes. You've got me. Take a look at Newegg and you'll see that this board's only real competition is the ASRock M3A, and let's face it - ASRock's reputation could use a little work.
That does not mean the Gigabyte GA-MA770T is not a good board, however. In fact, it hit me off-guard when I first saw it, and I still find it to be a little wonder. Gigabyte is a quality brand, and this board continues in that tradition. At first glance, it has everything that you'd want in a basic motherboard. It is a large board with a spacious layout, so cramping of cards shouldn't be an issue. The capacitors are high-quality and the finish of the mobo is excellent. The BIOS isserviceable and overclocking shouldn't be an issue, something that stands in contrast to boards from ASRock and Jetway, which tend to hover in this price range but offer a far less flexible BIOS.
In fact, after giving a look at the features this board offers, its hard to recommend anything else to the average user. 16GB of DDR3 is supported at speeds of 1066/1333/1666 (if overclocked). Six SATA ports hang out in the usual bottom-right location while eight USB ports crowd the rear panel. There is even on-board RAID, although I can't speak to how well it performs. This board even has FireWire. The only things missing are CrossFire and a powerful integrated graphics solution, but the last point is the only one that can be considered a disadvantage for a board in this price range. And speaking of price, the Gigabyte GA-MA770T actually comes in at $84.99, well under the $100 mark. All things considered, this is the perfect motherboard for a budget AM3 gaming computer or an inexpensive general-purpose AM3 desktop.
Under $150: ASUS M4A78T-E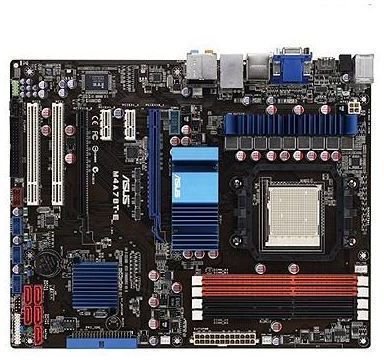 If the Gigabyte board is looking a little slim on the features for your tastes, you'll need to bump up your budget and take a peak at the ASUS M4A78T-E. This board has gained some attention from various review websites, winning recommendations if not always editors choice awards. The board is clearly meant to be the mid-range board for ASUS's AM3 line-up, and it covers all the bases.
Compared to the Gigabyte board, it feels more cramped. This is unavoidable, however, as the board is roughly the same size but has features which the far less expensive Gigabyte board does not. Regarding the fundamentals, the ASUS M4A78T-E provides more than most will ever want. 16GB of RAM is support, as is 5 SATA connections and 12 USB connections (6 in the rear, 6 on-board). In some ways, the ASUS M4A78T-E actually has less than the Gigabyte MA770T - for example, the ASUS M4A78T-E has only one Firewire connection. But the ASUS board makes up for it with its integrated Radeon HD3300 graphics. Ironically, this makes the ASUS M4A78T-E a better board for a budget desktop if you're a user who needs something better than basic integrated graphics but don't quite need the power of a video card. At $139.99 the ASUS board is not a budget mobo, but it won't destroy your bank account.
For power users, the ASUS M4A78T-E will impress with its BIOS, which provides numerous options for overclocking as well as some useful utilities. For example, the Q-Fan utility can regulate CPU and case fans so that they operate at high speeds only when your computer requires the extra cooling. The ASUS M4A78T-E also offers CrossFire, making it a good choice for gamers looking to support a high-end graphics solution.
Under $200: MSI GD70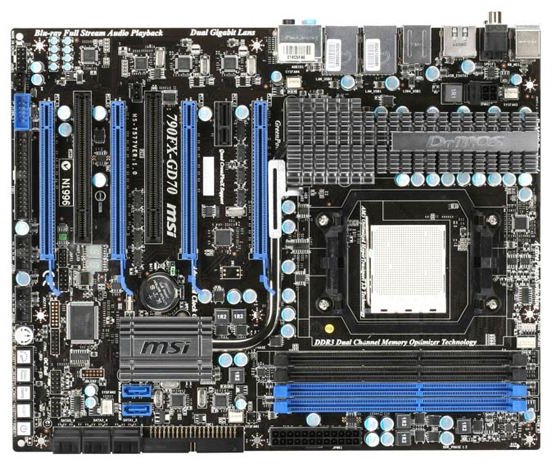 In truth, there are not that many options for high-end AM3 boards. I'd wager this is because AMD customers tend to be looking for both value and performance, but this is only my opinion. Whatever the case, the MSI GD70's price of $170 dollars makes it cheaper than any X58 board that you can currently buy. And that's impressive, because the MSI GD70 is one hell of a motherboard.
The basic features of the MSI GD70 trump both the Gigabyte and ASUS boards. If you thought that the Gigabyte's 6 SATA ports was a lot, well, take a look at the MSI GD70. It has 8 SATA connections. It also supports memory all the way up to the DDR3 2133 when overclocked, although you'll have trouble getting a hold of DDR3 2133 without selling your soul. Notably, the MSI GD70 does lack Firewire, but it gains eSATA. The MSI board also offers more RAID configurations than either of the previous motherboards.
Past that, things go a bit nuts. The MSI GD70 offers a total of four PCI-Express slots which, with four cards installed, arrange to run a x8 on every PCI-E slot. This also means that, with only two cards installed, both will be running at x16. You'd have to spend over $200 dollars to get that on most motherboards, but the MSI offers it here for well under $200. And don't think that MSI as skimped on the BIOS, either. Although it isn't notably better than the one on the ASUS M4A78T-E, that is no knock against it. The MSI's most insane feature is its plethora of buttons, including an overclocking dial which allows the user to overclock the processor by increments set in the BIOS. This is less useful than it sounds, but it can be nice to have when benchmarking an open system. In any case, if you're looking to build an extreme gaming computer, the MSI GD70 is the best bet.