What are the Different Printer Paper Sizes - Common Printer Questions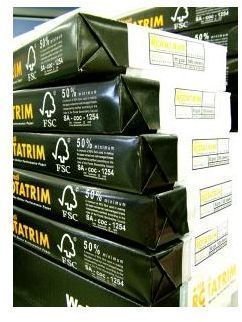 Letter Size Printer Paper
The most standard of all printer paper sizes is 8.5" x 11" paper. At 210 mm x 297 mm, A4 is the closest and most comparable of printer paper sizes outside of North America.) Letter size paper is the size of printer and copier paper reams you will find as the default paper in almost every printer and copier. Letter size paper is used to print letters, standard documents, newsletters and magazines, and a lot of other printed items such as brochures are printed on letter size printer paper and then folded into halves or thirds.
Photo Credit: sxc.hu/LotusHead
Legal Size Printer Paper
Legal size printer paper is the same width as letter size printer paper but slightly longer, with measurements of 8.5" x 14". As its name suggests, legal size printer paper is typically used to print legal documents such as affidavits, loan agreements and contracts. It can also be used to print wider tri- or bi-fold items, such as brochures, menus or order forms. When these types of documents are printed onto legal size printer paper, they are usually printed in landscape orientation so that when folded, they are the same height as those printed on letter size printer paper but a bit wider.
Most office printers and copiers have a special drawer in which the longer legal size paper is stored and used. Desktop printers might require legal size paper to be manually fed into the printer, since the printer tray might not be large enough to accommodate legal size paper.
Tabloid Size Printer Paper
It might sound like something that belongs in the checkout line of the grocery store, but tabloid size printer paper usually has a more upstanding purpose. The measurements of tabloid size printer paper are 11" x 17", and it is often used to print newspaper pages, which are usually long and rather thin, or posters.
Tabloid size printer paper will probably not fit into a standard desktop printer tray. It might fit in an adjusted office copier and printer tray, but if it is not commonly used then the bypass tray is probably the best place to use tabloid size printer paper.
Other Less-Common Printer Paper Sizes
There are unusual printer paper sizes used for specific industries and special applications, as well. For example, 13" x 9" Super B size printer paper is sometimes used for printing sheets of photos or posters. At 11.7" x 17.7", tabloid bleed size printer paper might not seem much different from regular tabloid size printer paper. This is used for newspapers or other publications that want graphics and ink colors to "bleed" out to the paper's edges. 12" x 18" printer paper does not have a special name. It is simply referred to by its size. The uses for this type of paper include brochures, reports, menus and invitations.
Read Where to Get the Best Prices on Printer Paper to save money on all different sizes of printer paper.