Best Netbook Review : MSI Wind Netbooks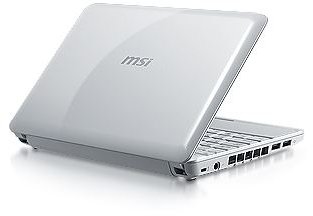 MSI Wind U90
The MSI Wind U90 never really made quite a mark in the market when it was released. In fact, if my memory serves me right, the Wind U90 never really got an official release in the U.S. market. That's why immediately after releasing it, MSI decided to release the MSI Wind U100. The MSI Wind U90 boasts of the following features:
Processor: Intel Atom N270 1.6GHz
OS: Novell SUSE Linux Multi-languages
Display: 8.9 WSVGA LCD
Graphics: Intel GMA950
System Memory: 512MB DDR2
HDD: 80GB SATA I
Communications: Ethernet, 802.11 b/g Wi-Fi, WLAN Card, Bluetooth
Camera: .93 MP webcam
Considering that it already has the Atom processor, the MSI Wind U90 would have been made some splash had it been released earlier or almost the same time as Asus released the Eee PC 901. Unfortunately, when MSI released the Wind U90, Asustek and Acer were already prepping up their 10-inch netbooks.
MSI Wind U100
Again, MSI was a little late in coming out with an upgraded Wind netbook. The Wind U100 came in just when the Eee PC 1000 series was starting to make a splash in the market. Still, MSI pushed through and gave Asus some tough competition with the MSI Wind U100. Officially, there have been 6 variants of the Wind U100 released in the U.S. so far. All six of these Wind U100 netbooks sport almost the same features and specs except for differences in either the color or HDD capacity. But generally these six Wind U100s boast of the following features and specs:
Processor: Intel Atom N270 1.6GHz
Display: 10" Widescreen LCD
OS: Windows XP Home
System Memory: 1GB DDR2
Graphics: Intel GMA950
Camera: 1.3 webcam
Communications: Ethernet, 802.11 b/g Wi-Fi, WLAN Card, Bluetooth
Battery: 3-cell Battery (2.5-3 hours)
The MSI Wind U100 currently retails for around $349. At that price point, despite having only the Intel Atom N270, it is still a dependable netbook that would answer every road warrior's need for mobile computing, portability, power and performance. The only letdown about the MSI Wind U100 is its 3-cell battery pack which only yields up to 2.5 to 3 hours usage time. But you can always find an optional battery upgrade which will give you extended computing time. That is, if you don't mind spending additional bucks.
MSI Wind U120
Released recently is the latest MSI Wind model, the U120. Like its predecessor, the U120 also has several model variants. The first two, U120-001US and U120-024US both sport an Intel Atom N270 CPU. Later on, MSI released new variants of the Wind U120 now sporting the faster Intel Atom N280 CPU and equipped with the exclusive MSI EasyFace (Face Identification software). MSI has also improved the Wind U120 series' audio built-in high-performance 2 Channel Stereo Speakers. Other than these two enhancements, the specs of the U120 Wind series are practically the same as the Wind U100. The MSI Wind U120 series currently sells for around $429.
Images