Vengeance Ware PCs - The New Name in Fully Customized Quality Gaming Computers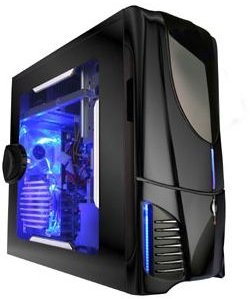 Overview
Being a big gamer as well as a hardware geek, I am always on the lookout for great new companies, good deals, and other interesting things in the industry. One thing that has always bothered me is the gaming PCs put out by companies like Dell, Alienware, HP, and other very large manufacturers. Time and time again I have found that these PCs very rarely have the performance to justify the price, are not held to very high standards of quality control, and aren't built to last.
When I build gaming PCs for myself, friends, and clients, there are several things that I always make sure of. I only ever use the best reviewed parts from respectable brands. I thoroughly test each component that goes into the machine. And, I build with parts that are "forwards-compatible".
Most "gaming computers" from huge manufacturers are built from parts supplied by the lowest bidder, lightly tested (if tested at all), and not built with upgrading and expandability in mind. So if you're a gamer but don't have the technical knowledge to build your own gaming computer to the strict standards a gamer needs (and all users should have), where can you turn for help?
Vengeance Ware Custom Gaming PCs
I've come across a lot of websites that sell customized gaming computers that they claim are built 100% on an individual basis. I have also seen a lot of these websites degrade into favoring certain brands for discounts, or selling out to larger companies that don't uphold the same high standards. That is why I was pleasantly surprised to discover Vengeance Ware PCs. Vengeance Ware is a company started by a couple of people who were sick of seeing their friends and guildmates throw their hard-earned money at major manufacturers that weren't measuring up. For some time they have supplied the highest quality fully customized computers to friends, family, and other associates. As the company has grown, they've recently taken their business online and are offering the same personal service to their new customer base.
What I Like about Vengeance Ware
I'm normally very slow to recommend any PC building company because I have discovered the same evils in virtually all that I have encountered. Vengeance Ware really impresses me, however, and here is why:
No Comprimise
Vengeance Ware has made a commitment to quality that will not be compromised in search of better deals. There are great discounts for companies like Vengeance Ware to get in on, so long as they commit to only using a certain brand or product in their builds. Vengeance Ware earns my respect by only installing the best product for the individual customer, and not streamlining everything to save a few bucks.
Rigorous Testing
Any experienced computer builder knows that no matter how careful you are in selecting parts, there is always a chance that something will be defective. When a Vengeance Ware PC is completed, it undergoes an intense 48-hour testing process where each and every component is "burned in". This process is designed to stress components and reveal any obvious or hidden problems.
The Personal Touch
When you get ready to order a gaming machine from Vengeance Ware you don't need to worry about knowing absolutely everything you want in it. A trained expert technician will help you establish what you want in your new computer, and how much you want to spend. Once your order has been submitted, you will receive constant updates on the progress of the build. If you have any questions or concerns during the ordering or fulfillment process, or up to a year after your new gaming pc ships, Vengeance Ware will happily field your calls and emails.
All in all, its an excellent option for those who can't or won't build their own, but want something with great quality and performance tailored to their needs.