Best Bluetooth Printers - All In One Wireless Printers with Bluetooth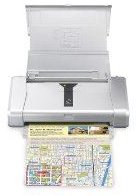 Canon iP100 Mobile Photo Printer
If you're a travel photographer this is the perfect mobile printer for you. The Canon iP100 Mobile Photo Printer measures only 1.27 x 2.4 x 7.2 inches and weighs only 4.4 pounds. It is not a truly mobile printer in an ultra-portable sense, but aside from that the Canon iP100 is a Bluetooth all in one printer that won't disappoint.
It can produce photos up to 9600 x 2400 dpi and comes equipped with a print head featuring 1,856 nozzles, and a 5-color ink system. It allows you to print 4x6 photo lab quality borderless copies in 55 seconds and black and white documents with a speed of up to 20 ppm. Color document printing outputs at 14 ppm. The printer lets you print through its built-in IrDA interface or an optional Bluetooth interface, allowing you to print photos directly from your mobile phone, PDA and other Bluetooth-enabled devices. Price $174.99.
HP H470wbt Officejet Mobile Printer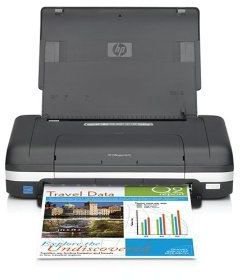 The HP H470wbt Officejet Mobile Printer's most notable feature is that it runs on a lithium-ion battery. Which in essence means you can use it anywhere even if you don't have an AC adapter. Even with this battery power the printer can still deliver 22 ppm black and white print and 18ppm color print. You can also print 1200x1200 dpi B&W prints as well as 4800 dpi color prints, thanks to its 192 MHz processor.
It allows you to print borderless photos ranging from 4x6 to 8.6x11 in dimension. Consumable specifications for the HP H470wbt Officejet Mobile Printer are the HP 98 Black Print Cartridge which has an approximate output of 440 pages, and the HP 95 Tri-Color Print Cartridge, approximate output of 330 pages.
Most importantly this printer comes with HP bt500 Bluetooth adapters that allow you to print photos directly from any of your Bluetooth devices. Price $249.99.
Kodak EASYSHARE 5100 All-in-One - Multifunction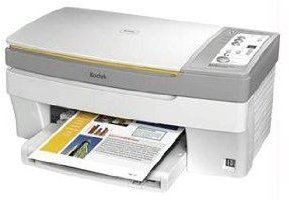 Aside from being a Bluetooth all in one printer, the Kodak EASYSHARE 5100 also produces print lab-quality photos in 28 seconds using a 2-cartridge, 6-ink system. Its maximum speed for black and white prints is 32ppm, while color print speed is at 22ppm. You can also use this printer to produce a range of outputs up to legal size photos or document print output. Price $199.99.
HP Photosmart C5580 All-in-One Printer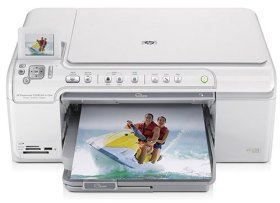 Our second HP Bluetooth all in one printer is the HP Photosmart C5580. This printer allows you to print photos directly from your Bluetooth-enabled devices and features automatic paper-type sensing. It boasts of 34 ppm black print and 25ppm color print and can produce 4x6 photos in 26 seconds. Aside from printing it also allows you to copy and scan both photos and documents. Some of its technical specs would give us 4800x1200 maximum print resolution for optimized dpi color, up to 1200 rendered dpi copy resolution for black prints, up to 1200x1200 black text and graphics, and 1200x1200 dpi for color graphics. ($99.99)
Canon Pixma MP610 Photo All-In-One Inkjet Printer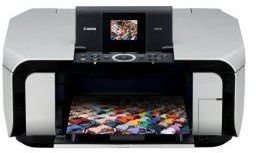 Here's another Bluetooth-enabled all-in-one printer from Canon, the Pixma MP610. It is equipped with 4,608-nozzle print head that is capable of producing vivid images and documents up to 9600x2400 dpi color resolution in 21 seconds. The Pixma MP610 is capable of producing copies that are almost exact replicas of the original. It can scan thick notebooks in vivid 4800x9600 dpi color images. In addition to its printing/scanning/copying features, this printer also boasts of a 2.5-inch TFT display which allows you browse photos before printing them. ($159)