Multi-Room Music System for Idiots - Wireless Audio in Multiple Rooms with the Sonos BU150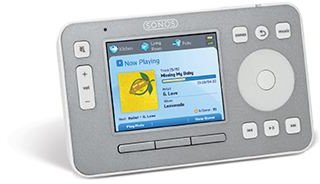 What is the Sonos BU150?
The Sonos BU150 is a wireless multi-room music system which, despite a hefty price tag, is proving to be one of the most popular on the market. The company took an early lead when it comes to multi-room digital music systems, and by continually improving they continue to stay ahead of the competition even though many of their originally unique features are now fairly commonplace.
The bundle allows you to tie together your audio devices and access your PC music collection, Internet radio, or music subscription services anywhere in the home. It comes with a handheld colour LCD remote and two "ZonePlayer units." You can expand all the way up to 32 separate devices if you should feel the need. The ZonePlayer units are small and discrete with an attractive ergonomic design, they support wireless 802.11n, and the whole system is very simple to set up and use.
CR100 Remote
The remote was one of their original innovations and has been much copied by other systems. It is a handheld wireless device featuring a 3.5 inch colour LCD display. Everything can be controlled from the remote, and the system supports synced tracks playing simultaneously in separate rooms. You also have the option of playing completely different audio in each room equipped with a ZonePlayer. You can use software controllers as well with support for Windows and Mac OS. There is even an option to use an iPhone application to control the Sonos system.
ZonePlayers
The ZonePlayer units come in two varieties and you get one of each with the basic package. Each room you want to integrate will require a ZonePlayer. The first is the ZonePlayer 120 which is compact and contains a built-in amplifier, all it requires is speakers. The other is the ZonePlayer 90 which is even smaller but lacks the amplifier and is designed to plug into an existing amplified audio device like a Hi-Fi or surround sound system.
Sonos BU150 Value for Money?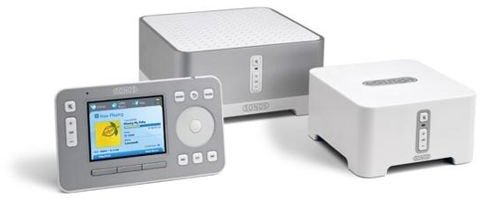 The first base station has to be wired into your home network which is disappointing especially since the basic system only supports coverage for two rooms. When you consider that the package costs $1000 and the ZP120s are $500 each with the ZP90s weighing in at $350 a piece you may decide the price is a bit steep. Additional remote controls, the CR100s cost $400 and they have to be recharged frequently.
With 802.11n wireless the speed and range is better than ever before and the set up is as simple as connecting the ZonePlayer to your network and then pressing two buttons. The device will scan for music files and can access any PC or network attached storage device in your home. The Sonos system will accept any audio source and play the vast majority of formats (although it can't stream protected AAC files from Apple iTunes). Despite the flaws this is a great system and an ideal solution to your multi-room music needs. If you have a healthy budget and convenience is high on your list then the Sonos BU150 will be very tough to beat.