I Can't Reformat my External Hard Drive - How to Reformat a Hard Drive?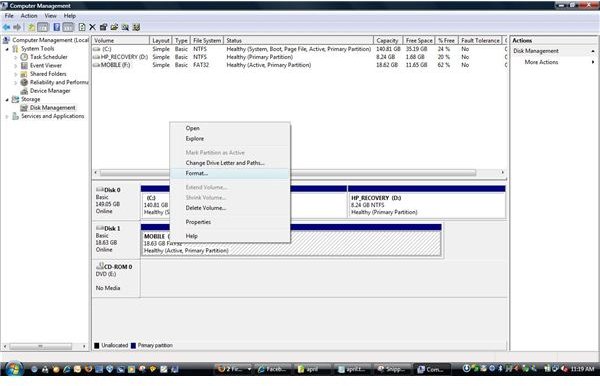 External Storage
Today storage on a computer is more critical than ever. With ever more music, pictures, and videos being stored on your computer, external storage is becoming necessary for both backing up your computer and storing data. 1 Terrabyte hard drives are selling for less than $100 and have both USB and Firewire connections.
Troubleshooting
Users often want to try to reorganize their computer's files. After organizing and moving files around on their main drive, some users want to start over with their external storage and reformat the drive to start fresh.
Western Digital Hard Drives and Seagate Hard Drives are packaged with utilities that will format your hard drive. These installation disk can be used to install the hard disk on your computer (Most are packaged with backup software). Seagate's DiscWizard and Seatools are excellent tools to use when external drives fail to format or aren't recognized by your computer. Western Digital has DataLifeguard tools to assist you with these problems. While these companies package this software utility disk for end user support, sometimes these utilities fail to work.
As a user, you have to determine whether the electronics of the external case is failing or if the hard drive is failing. If the device becomes unreadable or not recognized by your computer, try the external device on another computer. If the device is not recognized, the hard drive could be failing or the electronic connections could be failing. The simplest test is to remove the drive from the case and connect the hard drive to the motherboard in your computer. It is important to remember that these drives generally have a five year warranty and should not be removed if this voids the warranty. Always use the manufacturer's utilities first.
Western Digital Support Files Download
Seagate Utilities Download
Using Windows and Third Party Utilities
Microsoft Windows has a disk management feature built in. This feature can be accessed by right clicking on My Computer and selecting Manage. After selecting manage, select disk management in the left pane. Your computer will try to retrieve the hard drive information (Will appear in the Right Pane). If your external drive is recognized, you can reformat the drive from this location. If the drive is shown and there is no drive letter, right click on the drive and select change drive letter. Click on Add and select a drive letter. This often happens if the USB ports are being used with flash drives or you have several mapped network drives.
If the drive is not recognized, you should try it on another computer, try different cables and turn the drive on and off. If the drive is still not recognized, you may want to remove the drive and try to attach the drive to your motherboard and see if the computer can see the drive.
Another solution is to purchase a universal hard drive adapter. These adapters allow you to retrieve files from computers that have crashed or to attach drives to be formatted or tested when repairing computers. (USB Adapter Link).
Third party utilities can detect and force hard drive formats. Dug IDE and Wipeout are two utilities that can be used to low level format (or force format) hard drives. These utilities will completely wipe out and write zeros to the hard drives.