The Best CPU Cooler Money Can Buy
Keeping Your Cool
For regular use, the stock fans that come with Intel and AMD processors work just fine. But they are purpose-built with cost control in mind, meant only to do the minimum required to keep the CPU cool. They're usually a little loud for the cooling they do, they're incredibly boring, and if you overclock your PC by more than a couple hundred Mhz they simply pack it up and go home, letting processor temperatures raise up to the dangerous 70 degrees Celsius range.
Because of this, there is a large market for aftermarket coolers. There are all sorts of coolers available, for all sorts of situations. In some cases, people simply want a low-end part to cool an OEM processor that did not come with a fan, while other buyers need a gigantic high-end heatsink to cool a heavily overclocked processor. Simply naming the three best coolers can, considering this, be a bit difficult, and it is made more difficult by the fact that most coolers are pretty good. Although there are no regulations guiding how these products need to perform, most cooler does an exceptional job.
But even in market filled with competitive products, there will inevitably be some which win and some which lose. The three CPU coolers listed here aren't the only ones worth buying, but they are extremely well suited for their tasks and competitive at their price point.
Arctic Cooling Freezer 7 Pro
While some people looking for a CPU cooler are going to want the biggest, coolest, most expensive heatsink they can find, many users probably need something a little less extreme. After all, if you're only planning to overclock your computer by 10 or 15%, or if you simply want a cooler that is a little more efficient and little quieter than the stock part, you probably don't want to mess with large, expensive coolers. Those products are fabulous at what they do, but they are large, heavy, and difficult to install. If you don't want to have to contort your fingers around the massive base of your new five-pound CPU cooler, then the Arctic Cooling Freezer 7 Pro is a winner.
The Freezer 7 Pro has been around the block. Along with such classics as the Tuniq Tower, it is one of those components which simply never seems to outlive its usefulness. The formula of the Freezer 7 Pro is simple - attach a small fan to a small tower cooler and then put those two parts onto a small base. The result is cooling potential in an effective CPU cooler that is a breeze to install. Take off the old cooler, put in the new cooler. That's it. Most people won't need to remove their motherboard to attach the Freezer 7 Pro, as it is small enough that manuevering it into position is not difficult, and there is no back-plate that must be attached on the backside of the motherboard.
In terms of cooling, its effective enough. The Freezer 7 Pro is often five to ten degrees hotter than larger heatsinks when running a heavily overclocked processor at full load. However, it is also often ten degrees or more cooler than a stock cooler. That's a big difference, and in most cases will be all you'll need to run your processor at a respectable overclock. Plus, the Freezer 7 Pro carries a small pricetag - it can be found for just over $30 from most online retailers. The Freezer 7 Pro is targeted towards Intel products, but AMD users can use the Freezer 64, which is virtually identical and often a slight bit less expensive.
Zalman CNPS9700 LED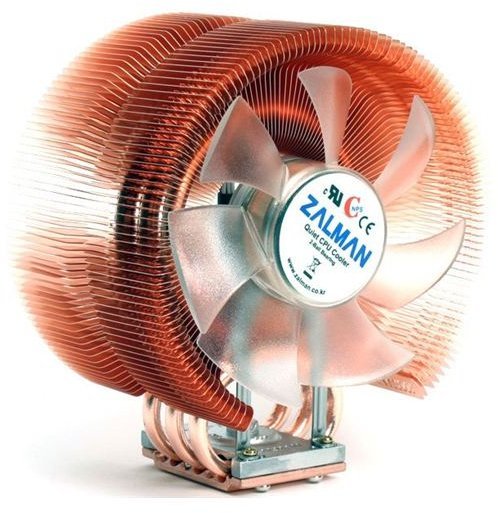 Zalman is famous for its strange, effective, and often expensive products. Their focus has always been on high-performance, quality parts, and the CNPS9700 LED does not deviate from that formula. This massive CPU cooler consists of a single 110mm fan placed in the middle of a large, circular heatsink. It is a design that is unique to Zalman products, and which is found in several other Zalman CPU cooler in the same family as the 9700. The 9700 is the big daddy, however, targeted specifically for those who want a high-performance cooler with few strings attached.
While the 9700 is not the most effective cooler that can be purchased, it very close, coming within a few degrees of the most effective coolers money can buy. This means that it should handle nearly any over-clocking task that you could possibly throw at it - chances are good that you'll run out of voltage headroom before you overclock your processor to a setting that forces it to run hotter than the 9700 can deal with.
What little the 9700 lacks in raw cooling performance is made up for by its build quality and relative ease of installation. Being a Zalman product, everything about the 9700 feels solid. This does stand in contrast to coolers from companies like Coolermaster or Thermaltake, which in my experience have occasionally suffered from bent heatsink fins, untraceable rattles, and mis-placed stickers. The 9700 is also easier to install than most high-end CPU coolers. Make no mistake - it can be tricky. However, the circular design of the heatsink makes it easier to get underneath it for any subtle re-positioning. Trying to do the same thing with a Tuniq Tower is basically impossible.
Although the 9700 is often listed at a price of around $60-$80 dollars, it has been around for years, and is therefore constantly on sale. Newegg has kept it priced at $45 for quite some time now, and my local Fry's carries the cooler for around $50. Even at that price, there are many contenders that offer similar performance. But the high build quality of the 9700 puts it over the top.
Noctua NH-U12P
I love Noctua. While big-name companies like Coolermaster, Thermaltake, and Arctic Cooling put out their fair share of quality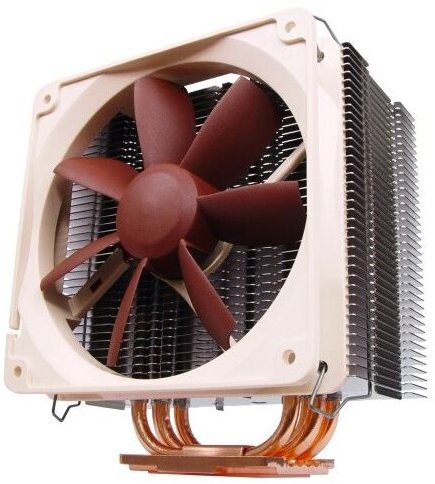 products, they also put out plenty of duds. Look at the sub-$30 dollar range and you'll find tons of extremely boring CPU coolers from these companies, all of which do work and do cool, but none of which provide a particularly good value. Noctua is different. They've carved a niche for themselves by making good coolers which are also very quiet, a combination that is exceedingly rare.
The NH-U12P is a 120mm tower cooler which is more-or-less identical to any other number of tower coolers with a similar design. Its performance is also nearly identical to any number of other tower coolers, which means that it performs extremely well, keeping on par with products like the Coolermaster V8 and the Tuniq Tower. What sets the NH-U12P apart from its competition is its strange tan-and-brown fan. This fan is one of Noctua's specially designed 120mm case fans. These fans typically cost around $30 dollars each, and they use a unique blade design to achieve a high amount of airflow at low RPMs.
The result is a tower cooler that not only turns your CPU into an icebox, but actually manages to keep quiet while doing so. My personal experience with the cooler has been that the Noctua NH-U12P is simply the quietest tower CPU cooler available, and the benchmarks seem to back up that impression. While most coolers of this type achieve a noise level of around 50db, the Noctua usually achieves between 40db and 42db. That is a significant difference. The only downside is that at a price of around $60 dollars, the Noctua is one of the more expensive coolers currently available. But if you want a CPU cooler that is well built, effective, and quiet, then there really isn't any other choice.