How to Overclock ATI Graphics Card with Catalyst Control Center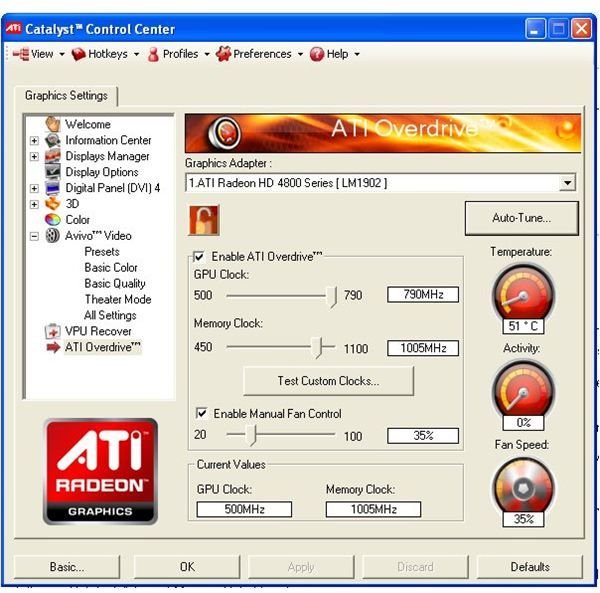 Advanced Configuration Menu
Entering the Advanced Configuration for the ATI Catalyst Control Center is simple. All you have to do is launch the ATI CCC, then click the "Advanced" button in the bottom left hand corner of the window. A dialogue box will pop up, just click OK. In CCC advanced mode, you will have access to a lot more detailed controls, including 3D display settings like anti-aliasing and triple buffering, along with the ATI OverDrive utility for tweaking your graphics card's performance. Here are the menu items and some of the things they cover:
Welcome - Allows you to check for driver updates, contact customer service, send AMD feedback, and more.
Information Center - Displays detailed important information about your graphics hardware and software.
Displays Manager - Allows you to configure multiple displays, resolutions, and refresh rates, as well as how displays are detected.
Digital Panel - Contains several options specific to your display, and may include color options, HDTV settings, and a utility to increase the performance of your LCD.
3D - 3D settings contain all the goodies. The "Standard Settings" option allows you to use a simple slider to select 3D quality, or you can choose to enable custom settings and proceed to more advanced options. Advanced options include, but are not limited to: Anti-Aliasing, Adaptive Anti-Aliasing, Anisotropic Filtering, Catalyst A.I., and Mipmap Detail Level.
Color - Color, vibrance, brightness, contrast, and other display settings.
Video - Video display playback options.
VPU Recover - Enable/Disable recovery of working graphics settings in the event a change causes system instability.
ATI OverDrive
The ATI OverDrive section is the area of Advanced CCC configuration options for very advanced users only. This is where you make changes to the way your graphics card physically operates, including adjusting clock speeds and fan control.
To enable ATI OverDrive: Select ATI OverDrive from the left menu. Settings will be grayed out (locked). Click the red and gold image of a key. A dialog box will pop up encouraging you to turn away and go home, but you can handle it. Click "OK".
First, check the box to enable AMD OverDrive. If you want to overclock your GPU and memory interface, you can do so by moving the sliders. I recommend that you push these settings very gradually, checking for system stability in between each adjustment. This can be done by clicking the "Test Custom Clocks…" button, and should only take a few moments.
Another thing you should do on this screen is check your GPU temperatures. By default, most cards with automatic fan speed will run much faster and louder than they need to. 60 degrees Celsius is still a safe temperature to run your video card at.
If you want to reduce the noise of the fan, check the Enable Manual Fan Control box. Launch a 3D application, like a game, and use it for a little while. Minimize the game and check your temperature. If you can reduce the fan speed more, do it. Just try not to let your temperatures get too high. Personally, I run my HD 4870 at 35% fan speed and have no problems, but it will vary by card.
Auto Tune: Auto Tune is a utility that pushes the overclocking limits on your graphics card. It takes awhile to do, but will give you its best estimation of what the maximum settings you should run your video card at are.
This post is part of the series: User's Guide: ATI Catalyst Control Center
Guide for novice and advanced users for using the ATI Catalyst Control Center graphics configuration utility, with overclocking options for video cards.