Best Liquid Cooling Case? Zalman LQ1000 Review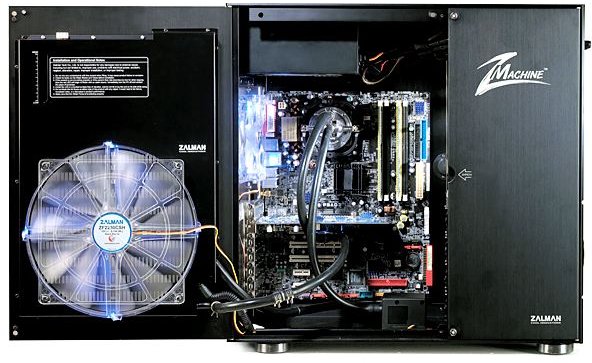 Overview
When it comes to quiet, reliable, and high performing PC cooling, the Zalman brand stands above others. It's no wonder, then, that the Zalman "Z-Machine" LQ1000 computer case is built for fully integrated liquid cooling. The case comes standard with all of the "fixings" of a high quality full tower chassis, including hinge door side panels. In addition to that, though, it comes with its own complete liquid cooling system fully integrated into the case to such an extent that you hardly notice it's there.
Case Features
Just because the Zalman LQ1000 was designed specifically to be a liquid cooling case doesn't mean that they skimped on any of the other case features. As with most things Zalman creates, silence is highly prized. This means that the materials and the craftsmanship of the case are carefully considered so as to ensure that any vibrations caused by the fan or pump are eliminated. For simplicity and convenience, the case also includes tool-free drive installation. It is designed for ATX and micro ATX motherboard form factors, utilizes a top-mounted power supply (not included), sports seven expansion slots, 4 5.25 inch drive bays, and 5 3.5 inch drive bays.
The Liquid Cooling System
Depending upon which model of the Zalman LQ1000 you are looking at (yes, I was surprised to see varying versions with the same model name) the cooling system will look a little bit different. In the original model, heat pipes lined all interior panels of the case for a very stealthy way of radiating the hot liquid coming from the water block. An external rear mounted radiator was also used for additional cooling. In the updated model, a large but thin radiator with a mounted 220mm fan serves as the cooling method of the system. Included in the radiator unit is also the system's reservoir.
The unit's pump, rated for 300 liters per hour, is mounted on a vibration and noise-suppressant pad at the bottom of the chassis. While it seems like a strange place to put anything, it manages to stay out of the way of vital components and quietly does its job. The exception to this is in the instance where someone is using the 6th and 7th expansion slots with long cards, such as in a tri-SLI or crossfire configuration. If the cards are too long, like most high end graphics cards are, the one in the bottom slot will not be able to play nicely with the pump.
The real beauty of this case, though, isn't just in the streamlined and efficient use of space for liquid cooling, but also in the built in monitoring and control offered. The front panel houses several gauges, meters, and buttons used to maintain absolute control over your liquid cooling system.
Conclusions
It is hard to deny that a case specifically built for liquid cooling, so much so that the system is actually integrated into it, is the "best". At least, that is a reasonable conclusion until you hear the price of this beast. It rings in at a retail value of well over $700! Yes, the case and cooling system add up to about the same as a regular productivity PC. In terms of liquid cooling system prices, an above average complete custom setup usually doesn't even run up to $500. While the price tag isn't to other-wordly, considering all that it includes, it is still a lot of cash to drop for one component of a PC. Be sure to read up on reviews before dropping the big bucks on this case, just to make sure that some of the early reported problems, like misaligned screws and fittings, have been completely worked out.
This post is part of the series: Liquid Cooling Reviews and How-To's
This selection of Bright Hub articles looks at liquid cooling units and the process by which you can liquid cool a PC.