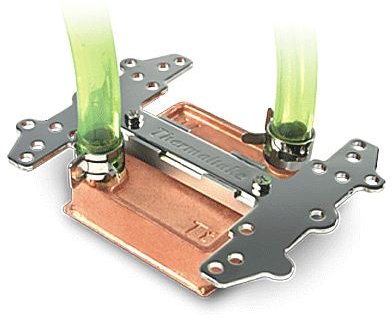 Overview
We've covered the basics of liquid cooling, including a general overview of preassembled liquid cooling kits, but now it's time to take a deeper look. Liquid cooling kits are, essentially, retail versions of something that used to be highly customized, to the point of people fabricating their own components. The kits make the whole process much simpler, especially for a beginner, by offering compatibility with a broad range of system configurations, explicit installation directions, and often times a warranty. We're going to take a look at three of the more popular kits out there.
Thermaltake ProWater 850i
One of the more complete kits, the Thermaltake ProWater 850i is just one of the incarnations of Thermaltake Liquid Cooling Kits, perfected through several different models. In my humble opinion, this kit includes just about everything a person could want or need in a liquid cooling system.
In addition to the standard and required features of a pump, radiator, reservoir, tubing, and fluid, the kit includes the tube wraps for crimp prevention as well as an optional flow meter to ensure that your system is operating within the optimal parameters.
You get all of these features, plus a warranty, for only $140 retail. To assemble these components individually through a company such as Danger Den, which specializes in liquid cooling components, would cost quite a bit more - possibly hundreds of dollars.
Cooler Master Aquagate MAX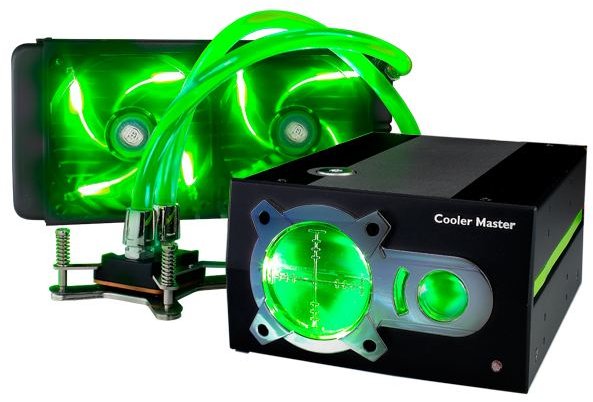 The Cooler Master Aquagate MAX is an impressive liquid cooling system (LCS) all around, but especially in looks. Featuring a green LED glow design, it captures you first with its aesthetically pleasing lines, then makes you fall in love with its performance. The Aquagate uses a 5.5inch bay reservoir and user interface combo, instead of simply a reservoir that sits somewhere inside or outside your case. This of course means that you need at least two linear drive bay spaces available to stick this monster in, with the top most ones being preferable. The faceplate of the reservoir includes a fluid level viewing window and a flow indicator to ensure everything is working as intended. The radiator with this kit is quite large, and designed to mount to the top of a standard full tower case.
Also included with this kit is software designed to interface with it and provide warnings and alarms for low fluid levels, out of parameter temperature readings, and other need-to-know information about the status of your system.
This system carries a little bit higher of a price tag of $230 retail, but includes enough extra and nifty features to justify it.
Swiftech H20-220 Compact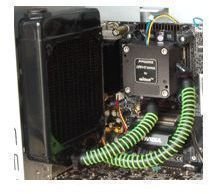 I had to include a smaller sized liquid cooling system that was still on par with the performance of its larger format siblings. The Swiftech H20-220 Compact fit the bill perfectly. The whole point behind this LCS is to provide excellent cooling while keeping the cost and space requirements to an absolute minimum. This was accomplished by combining various features in an innovative way. Attached to the water block is a high performance pump, which not only fulfills its duty in this rather limited system, but is rated to support additional water blocks should the user decide to expand the system. The reservoir and radiator also similarly act as a single unit, taking up very little space mounted to either the back or top of a standard full tower chassis.
Sharing an average retail price with the above mentioned Thermaltake, the Swiftech promises equal if not better performance while taking up much less space.
This post is part of the series: Liquid Cooling Reviews and How-To's
This selection of Bright Hub articles looks at liquid cooling units and the process by which you can liquid cool a PC.