Dell 3115cn All In One Color Printer Review: Wifi Printing with Multifunction Features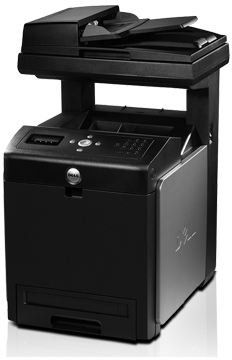 3115CN Basics (5 out of 5)
The first color-laser AIO from Dell prints letter and legal-sized documents at speeds of up to 31 pages per minute (ppm) in black & white and 17 pages ppm in color. It also offers color copying, scanning and fax capabilities that are clean and crisp.
The Dell 3115CN comes with an Ethernet port and cable, plus supplied software, making setting up of network sharing a breeze. It has USB as well as Parallel ports for direct connections to a host PC. Though cables are not supplied; These are available at affordable prices. With an option for wireless connectivity, a WiFi or Bluetooth adapter can be plugged in that do not cost more than $20 and $5 respectively.
The 3115CN MFP has 150-sheet multipurpose and 250-sheet main input trays, which is reasonable for office users, however, you can attach an additional drawer if required. For double-sided printing, a duplexer can also be added. Thus it is a printer that offers great flexibility - for speed, capacity and efficiency. What is more, the 3115CN is a great AIO, which office users will find very reasonably priced, ranging from $800 to $1300.
Design & Economy of Use (3 out of 5)
The 3115CN comes as a one piece unit though it looks like it requires assembly. Unfortunately, this makes the big, clumsy packing box difficult to carry, requiring at least two people to handle and probably more to lift the 80-pound object from the box to a table or desk.
The MFP is shipped with a black cartridge rated for 5000 pages, and cyan, magenta and yellow cartridges rated for 4000 pages. Though this is adequate, you can get even lower cost per page if you opt for an 8000 page high-yield cartridge. Dell says that the resulting cost for a typical page is around 1.4 cents and 9.5 cents for color.
One excellent feature is the Dell Toner Management System (DTMS) which alerts you when the printer cartridge starts to run low. When this happens, the printer's LCD display will show the alert or you can configure it to send e-mail alerts automatically. The printers LCD display is clear and informative, helping to administer and maintain the printer, and you can also check toner levels and print management options from any PC in the connected network.
The supplied ColorTrack2 software lets you set volume limitations and permissions for users to print in color. This is helpful if you are worried about someone wasting color toner and/or hogging the printer. I also really like the 3115CNs feature that lets you check one copy of a job before printing a whole batch, which is great for enterprises that require heavy duty, bulk printing of documents while ensuring the correct layout, text positioning, etc. Moreover, another feature which compliments permissions based print management, is that the printer can be set to delay printing until you enter a code on the 3115CN's keypad.
Performance (4 out of 5)
After a 30-second warm-up from idle, the Dell 3115CN prints with an impressive speed. It takes the printer only about 5.5 seconds to deliver a text document, 13 seconds to print two PDF pages, 13 seconds to print two-page PowerPoint presentations and a 5 mega pixel 6 by 8" photo is delivered in roughly 25 seconds.
Its Automatic Document Feeder (ADF) feature lets you easily copy up to 50 pages without having to feed each sheet manually, which means you can stack up the papers, hit the copy button and walk away to do other work. The 3115CN also allows you to shrink documents to as little as 50 percent and zoom up to 200 percent, and with an excellent range of settings to enhance the quality of images, fine-tune sharpness and color saturation, this is a highly configurable printer for the large workgroup setting.
Many office users will love its speed and the duty cycle of around 60,000 pages per month making the 3115CN a really good choice for fax-intensive businesses that may require keeping a consecrated fax machine. Its 200 auto-dial settings and 4MB of memory for storing incoming faxes make faxing easy.
The 600 by 600 dpi scanner allows high-quality document imaging by placing originals on the glass or putting documents into the automatic feeder. It also lets you convert the scanned documents into PDF, TIFF, JPG and other formats, which can be saved on Windows desktop or other network locations. Its ScanCenter utility allows you to scan documents to a variety of applications such as Word, PowerPoint, etc.
Conclusion (4 out of 5)
The 3115CN is worth a closer look and offers good value for money, for such a high spec workgroup multifunction printer. It is fast, full-featured and above all, a reliable MFP. Dell provides a standard one-year warranty and offers 24x7 phone technical support, plus an additional ease of next business-day on-site service if required. In all it may be more expensive than some models offered by HP and Canon, but for all round performance, features, configurability and reliability the Dell 3115CN is a very nice printer solution.