Building a Liquid Cooling System - Thermaltake Mozart Tx Review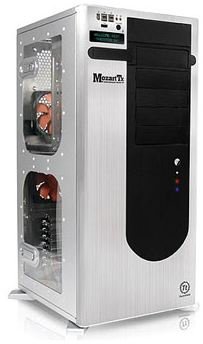 Overview
The Thermaltake Mozart Tx is a massive computer case with room for two separate systems (1 ATX 1 mini ITX) and an optional 7 inch bay LCD screen. It is a system marketed for the ultimate in home entertainment, but how does it hold up as a case for liquid cooling? I have been the proud owner of one of these bad boys for well over a year now and have all along used it with an ambitious liquid cooling system. It has performed beautifully on all accounts. Let's take a look at some of the features of the Mozart Tx that make it exceptional for this purpose.
Liquid Cooling Friendly Features
If there is one thing that the Mozart Tx has an abundance of, it's space. It is important to note, however, that the amount of space inside the Mozart Tx is directly related to decreased space outside the case. Simply put, this case is huge. A good comparison would be to a 3 year old child. You may run completely run out of desk or floor space, but at least you'll still have plenty of room inside this case. That's good for us, since our liquid cooling solutions usually take up quite a bit of space just in themselves.
When I set mine up for liquid cooling I didn't use the dual-system feature it is capable of pulling off just because I needed the other half of the case for reservoirs and pumps. The case is basically split down the middle with a motherboard tray on each side and a communal space for drives in the top quarter. Several areas for cable management through each tray are made available for routing both cables and tubing. In my case, I was able to store two reservoirs, two pumps, and my power supply on the mini ITX side and use the ATX side for everything else. You can tell that the designers had this liquid cooling solution in mind when they designed the case, as there are 1/2'' punch out holes for external tube routing between the ITX and ATX sides of the case.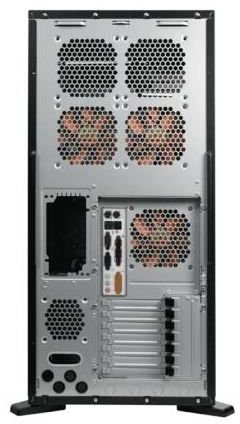 Even with all of my components installed, and using up a whole half of the case for my PSU, pumps, and reservoirs alone, I still had room to mount three radiators on the ATX side. This rear view of the Mozart Tx should give you some idea of how much space for fans / radiators there really is. In mine, the lower right fan (from this image's perspective) is, instead, a Thermaltake radiator. In the two fan spaces above that, is a Danger Den Black Ice XtremeII with two 120mm fans mounted to it. In the spaces above that are two more 120mm fans blowing out. My third radiator is mounted almost directly across from the lower Thermaltake one, only on the front panel instead. Only after all of these things were mounted, installed, and connected did my case start to look "full".
My system has been running like this for well over a year with little change or fluctuation in temperatures, which are consistently in the low 30's on the CPU, low 40's on the video card, and high 20's on the north bridge. The one thing I will admit is it is a pain to clean, usually requiring me to remove all of the fans and radiators, along with the front panel in order to access the dust screens. Fortunately, that only has to be done every six months or so.
All in all, this is an incredible case that can be adapted to almost any liquid cooling setup that your inventive mind can think up!
This post is part of the series: Liquid Cooling Reviews and How-To's
This selection of Bright Hub articles looks at liquid cooling units and the process by which you can liquid cool a PC.