Best Motherboard? Review of the Asus Rampage II Extreme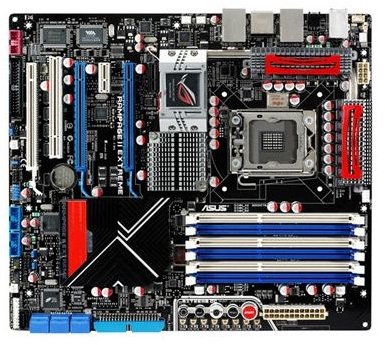 Overview
[Asus' latest offering for the newly released Intel Core i7](https://ASUS Rampage II Extreme LGA 1366 Intel X58 ATX Intel Motherboard) is, so far, living up to the companies motto. Users agree that it is, in fact, rock solid, and it is most definitely heart touching, both in physical appearance and its long list of top end, mind boggling features. You're going to pay quite the pretty penny (in this case, thousands of pretty pennies) in order to make this beauty yours, but any price is worth knowing that you have the best there is in quality, support, and features. With a price tag of just shy of $400 (and that's from Newegg, mind you) this board must really impress because well over 100 consumers there alone have deemed it well worth the price. Let's take a look at some of this amazing board's boasting points.
Step 1: Support Core i7. Step 2: Support Triple Channel DDR3. Step 3: ??? Step 4: Profit
With Intel launching a chip touted to be the most advanced available, Asus, being the fantastic manufacturers they are, had to step up to the plate and build a motherboard not only worthy of the chip, but maybe even a little bit too good. Being touted as a "flagship" model motherboard (essentially, the penultimate of the companies offerings), the board supports all of the latest and greatest new and emerging popular technologies.
Let's turn our attention to the six DDR3 memory slots. Not very many motherboards are available yet (as of writing, 2/25/09) that accept the newest standard in DDR3 memory. The question on everyone's minds though, is if there is a significant speed advantage being offered in DDR3 at this time. The fact of the matter is that, unless you opt for a significantly higher speed than your current DDR2 implementation, the performance boost is going to be negligible, if not non-existent. Newer DDR standards always bring with them a significantly higher latency, and DDR3 is no exception. This cuts down any significant performance advantage in the entry level speeds (DDR3 1333) over the top end of the previous standard (DDR2 1066). While this Asus board claims to be able to support DDR3 speeds up to 1800 MHz (which would offer a significant performance boost) this requires you to manually overclock the memory bus in the BIOS settings of this board, and the 1800 MHz overclock is said to be unreliable at best. Additionally, there is already DDR3 speeds available at 2000MHz and higher, so we're not even getting "the best".
There is one significant advantage we're looking at on this board, and that is the triple channel memory support. You'll notice that the Rampage II has six slots for RAM, and each pairing of slots has a dedicated channel. Of course, you lose this benefit if you don't install three or six modules, so keep that in mind while shopping. It is always faster to install RAM in dual-channel, and now that we have triple channel the same rules apply to it.
Keeping up Appearances
You've probably noticed by now that this board is very pretty looking. I must admit that I favor large bulky heat sinks made of copper on my Asus boards, but these have a neo-tech industrial feeling that, when paired with the red, gives this board a stylistic feeling that is decidedly futuristic. As far as performance goes, the passive cooling that Asus seems to almost exclusively promote may be a tiny bit quieter, but it also lets the chipset reach speeds that border on dangerous. With this board, users have been reporting motherboard temps around 45c, which isn't good, but also isn't dangerous. The unfortunate thing about Asus passive cooling, for me at least, is that I always want to water-cool my Northbridge and always find out that the oddly shaped heat sinks they like to stick on their boards end up putting their attaching pins in places not compatible with any waterblock I've been able to find to date.
An Overclockers Dream - a Casual User's Nightmare
But then again, what casual user is going to spend $400 on a motherboard?
This board is designed with the extreme enthusiast in mind, offering a dizzying amount of overclocking features using their "TweakIt" and "Extreme Engine" utilities. These controls not only give you access to the standard CPU overclocking features, but also you can do a bit of overclocking on other components like the memory and PCI-e slots with the ease of graphical, user friendly software. With Asus all but requiring the consumer to jump in and pump their voltages and speeds, you have to wonder if the usual "overclock at your own risk" rules apply on the warranty for this board. The "Extreme Engine" feature is supposed to mitigate damage to components caused by overclocking speeds and voltages, but is that enough to make pushing this board (and your CPU) to the extreme worth the risk?
All the Other Features
Viewing the rest of this board's specifications reveals all the additional information you may want to know, like number of SATA connectors, PCIE x16 2.0 slots, etc. The only one really interesting enough to warrant mentioning of course is the use of triple PCIe x16 2.0 slots which can be used with either tri- Crossfire or SLI configurations. Beyond that, you'll have to look into the extensive list of utilities and features that I can't even begin to describe.
Conclusion
The Burning question here, is "Is this board worth $400?" Yes and no. If you have $400 that you really just want to spend on a superfluous motherboard for a new computer, then yes, absolutely. But if we're breaking this down into performance-per-dollar then no, you're not really going to get your money's worth out of this board - not yet anyways. There are other very similar options that do not bear the "flagship" role that you might want to look into. They may not boast such an extensive list of features, but I also don't know anyone who is even going to use half of those, honestly. You can also choose to hold-out on a purchase at all, instead waiting for a motherboard to release in a few months that will natively support DDR3 1800 or 2000, or, wait for this one to drop in price (which it inevitably will, sooner rather than later).