Build Your Own Gaming PC on a Budget - Gaming Computer Parts Recommendations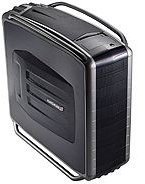 Gaming PCs
It seems that people's recreation is what ends up pushing the technological envelope more often than not. PC gaming is a multi-billion dollar industry, and having the best gear out there to put you at the top of your game is of the utmost importance to a lot of people. On the other hand, figuring out what the tried and true best parts are and what is compatible with eachother can be a challenge. That is why I created this part recommendation guide for the Gamer looking for the best. Here is the gaming PC to rule all others, and we didn't skimp on anything.
All This Great Stuff, for Under $2500
All pricing taken from Newegg.com, as of 2/20/09
CASE: COOLER MASTER COSMOS S RC-1100-KKN1-GP Black Aluminum ATX Full Tower Computer Case - $199.99
MOTHERBOARD: ASUS M4A79 Deluxe AM2+/AM2 AMD 790FX ATX AMD Motherboard - $199.99
CPU: AMD Phenom II X4 940 Deneb 3.0GHz 4 x 512KB L2 Cache 6MB L3 Cache Socket AM2+ 125W Quad-Core Black Edition Processor - $229.00
MEMORY: Mushkin 8GB (4 x 2GB) 240-Pin DDR2 SDRAM DDR2 1066 (PC2 8500) Dual Channel Kit Desktop Memory - $149.98
GRAPHICS CARDS: (2) SAPPHIRE 100251SR Radeon HD 4870 X2 2GB 512-bit (256-bit x 2) GDDR5 PCI Express 2.0 x16 HDCP Ready CrossFire Supported Video Card - $828.00
POWER SUPPLY: Thermaltake Toughpower W0132RU 1000W ATX12V / EPS12V SLI Ready CrossFire Certified 80 PLUS BRONZE Certified Modular Active PFC Power Supply - $299.99
HARD DRIVES: Western Digital VelociRaptor WD3000HLFS 300GB 10000 RPM 16MB Cache SATA 3.0Gb/s Hard Drive - $229.99
Western Digital Caviar Black WD7501AALS 750GB 7200 RPM 32MB Cache SATA 3.0Gb/s Hard Drive - $89.99
CD/DVD/BluRay Drives: ASUS Black 22X DVD+R 8X DVD+RW 12X DVD+R DL 22X DVD-R 6X DVD-RW 12X DVD-RAM 16X DVD-ROM 48X CD-R 32X CD-RW 48X CD-ROM 2MB Cache SATA 22X DVD Burner with LightScribe - $27.99
LG Black 6X Blu-ray DVD-ROM 16X DVD-ROM 40X CD-ROM SATA Internal Blu-ray/HD DVD-ROM & 16X DVD±R DVD Burner - $119.99
CPU COOLER: ZALMAN CNPS9700 LED 110mm 2 Ball CPU Cooler - $53.99
TOTAL BUILD COST: $2,498.90
The Case
With the large format components I knew would be going into this beast, I wanted to make sure I selected a case with a ton of room, a reliable reputation, strong build-quality, as well as visual appeal. Tons of bright flashy LEDs and a viewport to show off all your gear has its place - in the redlight district of your favorite sleezy city.
This case is in no way boring, however. It does, in fact, feature more subtle LED tinting, in the less common red color. It also features aesthetic and functional handles to make transportation that much easier. Another notable feature is the bottom-mounted power supply, allowing for better cable management and air flow.
Cooler Master cases have an excellent reputation for durability, intuitive case design, and excellent airflow systems. I use them almost exclusively in all of my PC builds, both for myself and for clients and friends.
The Power Supply
When choosing a power supply I had three important things in mind: Reliability, Cable Management, and Lifespan. The 1000w Thermaltake Toughpower fit the bill perfectly. Coming from a highly reputable brand like Thermaltake, we know that the chances of this beast going bum on us any time soon are next to none. Additionally we can rest assured that with a full 1000w spec, it will be able to handle absolutely anything we throw at it now, as well as in the future. With "upgrades" in mind we want to make sure that our power supply can stick with us through several PC "rebuilds", and that is exactly what this is designed to do. Additionally, the modular cabling makes cable management and airflow optimization a cinch.
The CPU and Motherboard
With all of the questionable business Intel is up to lately, I opted instead for a top-of-the-line AMD CPU with unlocked multipliers for maximum overclocking potential. I had difficulty selecting a quad core CPU seeing as that most games can not take advantage of more than two cores. However, we also are building with future development in mind, so opting for a new tech CPU and motherboard adds to the life span of the whole computer. The selected motherboard can handle up to 16GB of DDR2 1066 RAM, and has quad PCI-Express x16 2.0 slots, allowing you to potentially upgrade down the road by adding 1-2 more video cards and doubling the amount of memory. It also comes from the tried and true Asus brand, touted for reliability and cutting edge features. The board additionally features integrated gigabit LAN, 8-channel HD Audio, SATA RAID, and an eSATA port.
Memory
With the popularity of 64-bit operating systems we now have the freedom to pack as much RAM onto a board as it can take. Our motherboard has 4 slots for RAM, so we opted for four 2 gigabyte sticks of DDR2 1066 - the recommended speed for the board. This Mushkin gaming memory features heat spreaders and is one of the best rated in its class. It is worth noting that getting the full 1066MHz performance with the recommended 5-5-5-15 timings will likely require you to set the BIOS up accordingly.
Graphics Cards
ATI and AMD are practically made for eachother, so opting for dual top-of-the-line Radeon cards in our build was a no-brainer. Together these two monster cards will give our build 4GB of VRAM, and will both run in full x16 mode for optimal performance. While the price per card may bring a slight grimace to your face, having the best is well worth the cost. The x2 designation essentially mean that its crossfire on a stick. Two GPUs, double the memory, and two memory interface buses, are combined onto a single card - and we got two of them. Each card takes up a full two spaces, with the cooler making up the bulk of the device. You will probably have to use the Catalyst Control Center to manually set the fan speed in order to keep GPU temps in the cooler range. If left to its own devices, this card is rumored to let itself sit at 75c and not bump of the fan speed.
Hard Drives
In gaming, speed is of the essence. We will spend hundreds of dollars to ensure that our FPS is 80 instead of 60, so it seems logical that we'd want similar speed when it comes to our operating system and game load times. In order to get the highest speeds we can, we opt for the 10,000 RPM WD Velociraptor, featuring seek times that are unrivaled. Additionally this drive runs on the ultra fast SATA 3/Gb data path standard, and boasts a large 16MB cache. 300GB isn't a lot of storage these days, so we opted for an additional, standard 7200 RPM 750GB SATA3 drive, simply to store all of those movies and music files that you payed for and legally downloaded.
CD/DvD/Bluray
Ah, yes, the cheap, small, and easy to forget component that all computers need. I used to be a firm believer that you only ever needed one DVD ROM/Burner. Then, my mother started handing me stacks of DVDs and demanding that I copy them. That day, I became a believer in two. Instead of simply doing two of the same drives, we had just enough room in our budget to opt for one that also reads Bluray. Personally, I'd rather keep the PC on gaming and the TV on Bluray, but I suppose not everyone is me. You could certainly cut just under $100 off the build's pricetag if you're like me. Or, if you want to get a tad bit more spendy, you can drop another $80 and get a Bluray burner instead.
We went with these two products because they are from reputable companies, the products are well reviewed. What more could one ask for?
CPU Cooler
We got a Black Edition CPU, so overclocking that bad boy is a requirement. I'm pretty sure that, if you don't, AMD will sue you. If we're going to overclock, though, we can't go with a stock cooler - that just won't cut it. AMDs tend to run hot anyhow, so going for a top-notch aftermarket CPU cooler was a high priority. Pages and pages of reviews revealed that enthusiests love Zalman coolers. With over 1000 reviews, the cooler we chose got a top scores. We also confirmed that it is, in fact, compatible with our CPU - so no worries there. Our cooler is huge, but is tell instead of wide leaving plenty of space for the motherboard's passive chipset cooling system. There is also plenty of space in our case for this large cooler. It is a top performer that won't wake your mom up in the next room - in fact, it is quieter than most stock CPU coolers.
In Closing…
What did we learn? That you can get an amazing top of the line computer for just $2500 bucks. So called "gaming machines" from major computer manufacturers will run you way more cash than that if you want the specs we get from building our own. Plus, we know that our system features only the most reliable, top rated components available. Can you put a dollar amount on peace of mind? I can't.
If you're looking for a way to cut down the price tag on this, one thing you can do is drop the Velociraptor drive in favor of a standard one. While the VR is nice to have, it's advantages are more convenient then they are crucial. You can also drop the Bluray player to save another $90 or so. Another thing you can do is scale back the Power Supply to around 800w and non-modular - but make sure that you choose a reputible manufacturer.