The Evolution of the Asus Eee PC from the 700 to the PC-900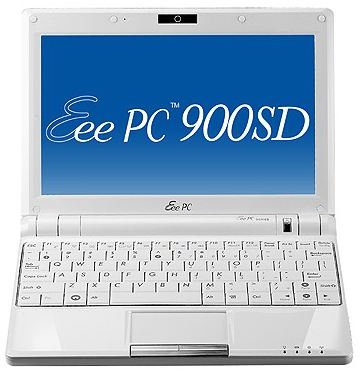 Introduction
Sometime in July 2007, the PC Hardware community was greeted by the entry of a diminutive notebook brandishing a 7-inch LCD screen, a minute 4GB storage utilizing Solid State Drive technology, and a bucket of determination to make waves in the PC industry dominated by giants. To cut the long story short, Asus' Eee PC was born, and so was the term "netbook" for referring to this kind of portable PC and the other brands that followed it later on.
Originally, Asus was planning to release a sub-$200 notebook but has to raise the price of the Eee PC to around $249 when it was released. This didn't stop consumers and the whole PC market to embrace and love the Eee PC 700. The Eee PC offered an affordable and highly mobile computing option for consumers. But the idea was so good that consumers clamored for more computing power. This prompted Asus to release more upgrades of the Eee PC in the months that followed its release of the first Eee PC.
Eee PC 700 series
The first base model of the Eee PC was dubbed the 2G Surf. It features a 2GB Solid State Drive, Linux OS, 256MB RAM, an Intel Celeron M processor, and Wi-Fi capability. Soon after, another version was released, this time with 512MB RAM, 4GB SSD, still with the Linux OS, and a 0.3MP VGA camera added. Sometime in October 2007, Asus released some more variants of the Eee PC - the 8GB version, 4G with 1GB RAM, and the 4GB Surf.
By this time, users were asking for a Windows XP version of the quickly popular netbook. Asus responded by releasing XP-powered Eee PC sometime in January 2008. The Eee PC was starting to make waves in the PC market, and users wanted more upgraded features and a slightly bigger screen. This prompted Asus to release an upgrade, and so the Eee PC 900 series was created.
Eee PC 900 Series
Sometime in May 2008, Asus released the slightly bigger and more powerful Eee PC 900 series. The Eee PC was starting to become a cult phenomenon by that time and users were soon excited about the Eee PC 900 series.
The first Eee PC 900 debuted with a price tag of around $299 in the U.S. It came with various upgraded features from the original Eee PC including Windows XP OS, a multi-track pad, and a slightly bigger size measuring 225 x 165 x 35 mm. It was also heavier at around 1KG. For storage the Eee PC 900 came with a 12GB SSD storage which was either contained in a single SSD or separately as 4GB and 8GB SSDs. And since the Eee PC 900 now ran Windows XP, the netbook featured Microsoft Works and Windows Live Suite.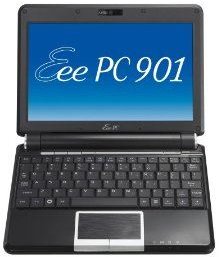 Specs-wise, the Eee PC 900 was loaded with 1GB RAM, an Intel Celeron CPU running at 900MHz, 1.3MP webcam, and an 8.9-inch LCD.
The Eee PC 900 also became an instant hit among the continuously growing netbook users. But as they grow fond of the Eee PC netbook, these users started to feel that they needed more power. Incidentally, sometime in June 2008, Intel released its new CPU called the Intel Atom processor which was made specifically for netbook use.
And so, Asus released its first Atom-powered Eee PC called the Eee PC 901. It sported the same chassis as the Eee PC 900 but with the Intel Atom Processor with a clock speed of 1.6GHz. It utilized the Intel 945GSE chipset which was required to run Windows Vista Aero version.
Specs-wise, the Eee P 901 certainly was a big improvement with a 6-cell battery providing longer usage time and Bluetooth and Wi-Fi connectivity. The Eee PC 901 debuted with a price tag of around $559 in the U.S.
Following the Eee PC 901, Asus has also released the Eee PC 904. Finally, it was time for the Eee PC netbook to graduate from the SSD storage into a full-blown SATA HDD. The Eee PC 904 was the first Eee PC to come packed with an 80GB HDD. If also has the same features and specs as the other Eee PC 900 models though.
Other models of the Eee PC 900 series include the 904HA, 904HD, 900SD, 900HA, 900HD, and 900A.
Eee PC 1000 series
Just in time for the 2008 COMPUTEX event in Taipei, Asus launched a bigger and more powerful version of the Eee PC netbook. It was time to say goodbye to the 7-inch and 8.9-inch netbooks and say hello to their bigger 10-inch big brother. And the Eee PC 1000 series was born.
Like its predecessors, the Eee PC 1000 series also got several variant models. Asus is becoming notorious in this department (either to confuse us consumers or to confuse its competitors).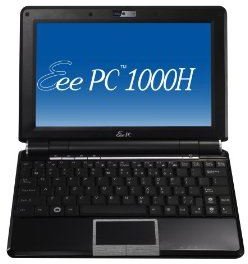 Anyway, the Eee PC 1000 series all sport a 10-inch display, 1.6GHz Intel Atom CPU, and various storage variations. To the delight of many netbook users, the Eee PC 1000 series also comes with a full-featured and more comfortable keyboard. The different Eee PC 1000 models include the Eee PC 1000, 1000HD, 1000H, 1000HA, and the recently announced 1000HE. Each of these varies in storage capacity, mobility features, and battery life.
Aside from the Eee PC 1000 series, Asus has also introduced an upscale 10-inch model of the Eee PC dubbed S101 and S101H. This 10-inch netbooks stands out from the rest of the Eee PC crowd due to their elegant design, and more expensive price tag.
Conclusion
Of course with the popularity of the Eee PC product line, many skeptics are saying that this phenomenon is just a fad that will soon fade away as time goes by. But whether that is true or not, there are still a lot of things in store for the Eee PC and other netbook brands in the future. With Microsoft fully supporting the netbook phenomenon with the release of their newest OS Windows 7 with a netbook-friendly feature, anything could happen.
Although Asus has recently announced that it will reduce the number of new models of Eee PC that it will introduce this year, we expect other brands will not be following Asus this time. If Asus will not make more Eee PC models, expect other brands to take full advantage of this and come up with their new netbooks fully loaded with Windows 7.
Netbooks are here to stay, whether Asus decides to stop manufacturing them or not.