The 10-inch Acer Aspire One D150 Netbook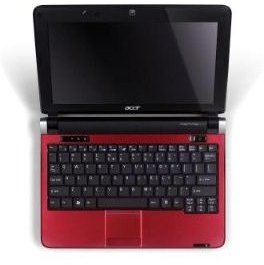 The Acer Aspire One Netbook Series
Back in 2007, Asus was dominating the netbook market when it introduced its first netbook, the Eee PC 700. Since then, Asus has introduced variations to the Eee PC 700 with newer models while upgrading its features as well. Asus enjoyed the top netbook spot for quite some time and no one seems to be challenging the Eee PC. But that was until early last year, when Acer finally decided to join the netbook fray. It introduced its Aspire One netbook. To the delight of the growing hordes of netbook fans, the Acer Aspire One had some features which the Eee PC didn't have. These included a better keyboard, longer battery life, and a sleek graphics interface. In short, the Acer Aspire One gave the Asus Eee PC a run for its money, and if not for Asus's lead, Acer would have overtaken the Eee PC in the netbook race.
Fast forward to now. Acer, after enjoying good breaks from the 8.9-inch Aspire One netbook has finally decided to upgrade their netbook amidst the slew of netbooks that are coming out in the market.
The Acer Aspire One D150 (AOD150) was formally introduced during CES 2009 in January. Acer Aspire One fans rejoiced and have since then eagerly awaited the arrival of the Aspire One to the market. In fact as early as last week, some U.S. online stores started accepting pre-orders for the Aspire One D150 netbook.
And their wait would soon be over as a few days after the AOD150 passed through the US FCC, Acer finally and officially announced the Aspire One D150.
Features of the Acer Aspire One
Why are netbook users too excited about the Aspire One D150? Well, primarily because most if not all of them loved the original Aspire One. But due to the small size of the original Aspire One, fans and netbook users clamored for something bigger, especially since Asus had introduced its Eee PC 1000 netbook series. Other netbook manufacturers followed Asus and released their own 10-inch netbook.
Looking closely at the Aspire One D150's features, you would notice that there aren't really any unique features in it. It has the usual features of most netbooks today. So why would netbook users prefer the Aspire One D150 despite its similarities in features with other netbooks in its class? Obviously it has to be Acer's reputation in the notebook market. Acer is a popular PC brand; there's no doubt about it.
Two other outstanding features of the Acer Aspire One D150 are its 6-cell battery pack which could give you around 6-7 hours of usage time, and of course it's relatively affordable price.
Technical Features and Specs:
Intel Atom Processor N270 (1.60GHz, 533MHz FSB, 512KB L2 Cache)
Windows XP Home with Service Pack 3
10.1-inch WSVGA Acer CrystalBrite TFT LCD 1024 x 600
Mobile Intel 945GSE Express Chipset
1024MB DDR2 533 MHz SDRAM Single Channel Memory
Integrated Intel Graphics Media Accelerator 950
160GB SATA 5400RPM Hard Drive
Multi-in-1 Digital Media Card Reader
Acer InviLink 802.11b/g Wi-Fi CERTIFIED
Acer Crystal Eye Web Camera
Two Built-in Stereo Speakers
Three USB 2.0 Ports
6-cell Li-ion Battery (4400 mAh)
2.95 lbs.
$349.99
Conclusion
The Acer Aspire One D150 is a pretty normal netbook with the Acer branding. And that would be enough reason to believe that it is one of the much-awaited netbook to arrive this year. Personally I've been mulling about getting the Aspire One D150 or the HP Mini 2140 netbooks., but neither netbooks is yet available in my region. So I guess my trusty old Eee PC 4GB Surf will suffice for my need for mobile computing for the meantime.