The Year That Was: 2008 - The Birth and Rise of the Netbooks - Looking at 2008's Ten Best Netbooks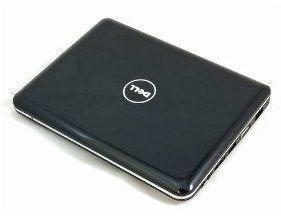 Introduction
There's no doubt that 2008 belonged to netbooks and netbook- related products. During that year, netbooks came of age and emerged as a vital, and a vitalizing, segment of the PC industry. It was the year in which Asus, the prime mover of the Eee PC, saw one rival after another threatening to take away the company's stronghold in the netbook market. More than fifty netbooks were released in 2008. Of these, we have selected ten for a closer look. Here are the top ten netbooks of 2008.
Dell Inspiron Mini 9
Dell's Inspiron Mini 9 netbook showed up in one the sorties attended by Dell's CEO. It was a good way to tease the netbook crowd. Effectively since then everyone eagerly awaited the release of the Inspiron Mini 9. And the wait was all worth it when Dell finally released its first ever netbook, the
Dell Inspiron Mini 9. This netbook is among the nicest looking netbook ever to hit the market and Dell has even partnered with Box.net to offer buyers 2 GB of free online storage.
Key Features of the Dell Inspiron Mini 9:
Intel Atom Processor N270 1.6Ghz
8.9-inch LED display (1024x600)
1GB RAM
8GB SSD
Wi-Fi and optional Bluetooth
Windows XP Home Edition
4-cell battery
Lenovo IdeaPad S10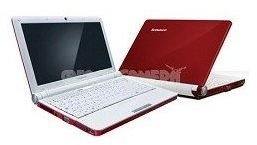 Another highly anticipated netbook last year was the Lenovo IdeaPad S10. This small and lightweight netbook features easy-to-use interface, a well built form factor, and nicely design bezel and netbook body. While Lenovo successfully delivered a good and trusty netbook to compete with other netbooks, the IdeaPad is not without some minor flaws. But these flaws are the usual problems encountered with portable machines and include heating up temperature, toy-like over all look, only two USB ports and most important of all, just a 3-cell battery which can only max out 3.5 hours of usage time.
Key features of the Lenovo IdeaPad S10:
Intel Atom Processor N270 1.6GHz
10.2" WSVGA AntiGlare TFT (1024x600)
1GB RAM
160GB HDD
Windows XP Home Edition (SP3)
3-Cell Li-ion battery
HP Mini 1000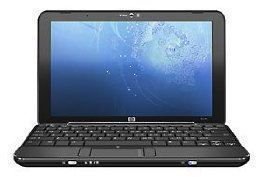 I'm really wondering why it took HP so long to come up with another netbook after coming out with a great 8.9-inch metallic HP Mini Note 2133? The HP Mini 1000 is not a direct successor of the Mini Note 2133 since it was officially announced that its successor is the 2340. But it still is a major upgrade from the specs and features of the Mini Note 2133. Actually I'm seriously thinking of getting the HP Mini 1000 or the Acer Aspire D150 for my next netbook upgrade. Additionally, one notable feature of the HP Mini 1000 is its nicely laid out full keyboard which even prompted CNET.com to call it as the best netbook keyboard ever. (Price: $699.78)
Key Features of the HP Mini 1000:
Intel Atom N270 Processor 1.6GHz
10.2" diagonal WSVGA HP LED Brightview Infinity Display (1024 x 600)
1 GB RAM
60GB HDD
Windows HP Home
3-cell battery
Eee PC 1000H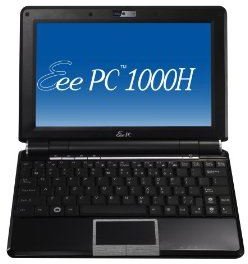 When Asus released the Eee PC 1000H last year, it has the largest LCD screen display for a netbook at that time, as well as the biggest capacity SSD of 40GB. But then, others follow suit and released their netbooks with larger SSD storage and similarly size LCDs. The good thing was that Asus was able to set the mark once again. The only gripe of Eee PC fans with the 1000H was its relatively steep price. In fact, Asus initially planned to sell if for around $600+ but decide to finally release it for around $599. Soon after releasing the Eee PC 1000H, Asus followed it up with other upgraded models to suffice the needs of users. (Price: $468.78)
Key Features of the Eee PC 1000H:
Intel Atom N270 Processor 1.6 GHz
10.2-inch diagonal LCD
1GB RAM
40GB SSD
Linux OS
6-cell battery
Acer Aspire One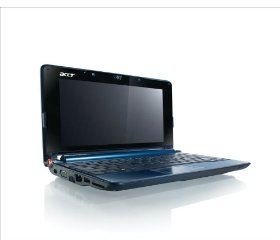 Among the netbook manufacturers who challenged the Asus dominance in the market, it was Acer which gave the Eee PC the toughest challenge. Good thing for Asus, the Aspire One was introduced when Asus was about to introduced the bigger Eee PC 1000 series. It's Eee PC 900 series was way ahead of the Aspire One and Acer's entry might have prompted Asus to release a bigger netbook. The Acer Aspire One became such a big hit because it carried the fan base of its bigger regular notebook counterparts. And the Aspire One's longer battery life was well appreciated by users.
Key Features of the Acer Aspire One:
1.6GHz Atom N270
8.9-inch LCD
1GB RAM
160GB HDD
Windows XP
6-cell battery
Samsung NC10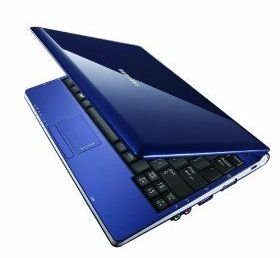 In terms of design, the Samsung NC10 may not be the best that a netbook had, but it has some share of good quality design that pits it equally with other high-end notebooks. One notable feature of the Samsung NC10 is its wide and spacious keyboard. With a machine as small as a netbook, this is a very important feature. The netbook also features multi-touch controls and drivers from Synaptics. This allows for pinch-and-zoom functions for pictures and web pages. Although not as instantly popular as the Acer Aspire One and the Eee PC 1000, the Samsung NC10 managed to pull off some good sales during its initial days of release. It even managed to get into the top 10 on Amazon's PC device weekly sale.
Key Features of the Samsung NC10:
Intel Atom N270 Processor 1.6GHz
10.2" Wide, 1024 x 600 WSVGA
1GB RAM
160GB HDD
Windows XP Home Edition
6-cell Battery
2.8 lbs.
Toshiba NB100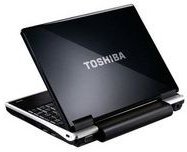 Although Toshiba was a little late in arriving to the netbook market, it's first offering was only an 8.9-inch netbook, the Toshiba NB100. Like all the other netbooks available in the market, the Toshiba NB100 still managed to offer some good features and specs.
Key Features of the Toshiba NB100:
Intel Atom Processor N270 1.6GHz
8.9-inch Wide SVGA TFT
1GB RAM
160GB HDD
Windows XP Home
4-cell battery
LG X110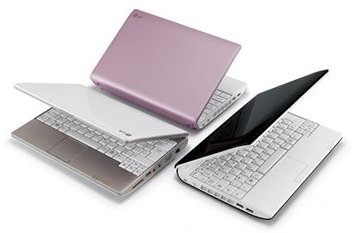 LG's entry to the netbook wars has something that other netbooks didn't have, 3G and GPS features. One drawback of the LG X100 is its 512 MB RAM which for some would not give enough speed. The LG X110 is actually a rebranded MSI Wind U100 and as such offers almost the same features as the said netbook.
Key Features of the LG X110:
Intel Atom Processor N270, 1.6GHz
10-inch wide LCD display (1024x600)
512 RAM
80GB HDD
Windows XP Home
1.19kg.
MSI Wind U100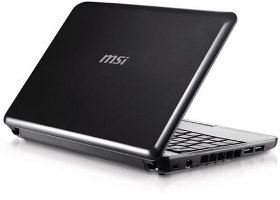 Aside from the Acer Aspire One, another close rival of the Eee PC is MSI's Wind U100 netbook. Industry analysts who have tested, used, and actually purchased the netbook attested to have satisfied they were with the power and features of the MSI Wind. In fact, the MSI Wind netbook was so good that most local OEM companies have rebranded the original MSI Wind with their own names. In built in technical prowess, the MSI Wind has everything it takes to become a most sought after netbook, although still not enough to dislodge the Eee PC from its throne. That is despite the fact that the MSI Wind U100 is equally powerful as its Eee PC counterpart.
Key Features of the MSI Wind U100:
Intel Atom N270 Processor 1.6 GHz
10.2-inch display
1GB RAM
160GB HDD
Windows XP Home Ed
6-cell Battery
8 lbs.
Eee PC 901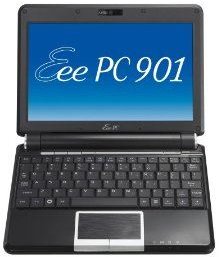 Before the Eee PC 1000H, Asus released the Eee PC 901. It was Asus's first Atom-powered netbook and gave users an option to have it with Linux OS or Windows XP. With Intel Atom inside, the Eee PC 901 was able to give fast processing power, longer battery life, and a multi-touch trackpad, as well as a resolution switching button. The Eee PC 901 became as expensive as its predecessor - the Eee PC 700/701.
Key Features of the Eee PC 901:
Intel Atom N270 1.6GHz processor
8.9-inch WSVGA Display (1024x600)
12-20GB SSD
1GB RAM
Linux based / Windows XP
6-cell battery
7 lbs.