Review of the Dell Latitude D531 and the HP Compaq dc7800: Best PCs for Business Use

Dell Latitude D531 Notebook PC
When considering this Notebook PC, keep in mind that Dell made this for users who are on a tight budget and, yet, are hesitant to sacrifice computing power. Dell has managed to come up with computer parts that would be at par with the features of most of Dell's high-end models.
The Dell Latitude D531 has the following for its specs and technical details:
2.6GHz AMD Turion 64 x2 TL-60 CPU
120GB Hitachi SATA HD with 5400 RPM
15.4-inch WXGA+ TrueLife Display
Integrated ATI z1270 Graphics
Dell Wireless 1505 draft-N card
8x DVDRW Optical Drive
Standard Ports including 4 USB 2.0, headphone out, modem, and more
9-cell battery pack
Design-wise, the Dell D531 is simple, yet elegant, especially with its two-tone black and grey casing. Its greyish silver color definitely looks stunning, but it is subtle rather than flashy. It features a full ergonomic keyboard that would please those who use their notebooks for longer periods of time.
The best thing about the Dell D531 notebook PC is the fact that it is highly customizable. You have various options for configuring the Dell D531 including CPU upgrade, bigger and more powerful RAM, larger battery with a longer life span, and a choice between Windows XP and Windows Vista as the notebook's operating system.
The Dell Latitude D531 retails for around $1,499 - a reasonable price to pay for a powerful, portable computing machine with so many useful features.
HP Compaq dc7800
HP's answer to the Dell D531 notebook PC is an equally powerful and yet relatively cheap desktop PC called the Compaq dc7800. When talking about affordable and compact desktop PCs, the Compaq dc7800 should probably be on top of the list. Here are some of the reasons why: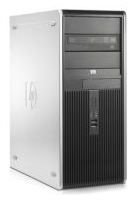 2.66 GHz Intel Core 2 Duo E6750 CPU
1GB RAM
HP Motherboard
60GB HD
Intel GMA X3100 soundMAX
Integrated digital HD audio dual-layer
DVD Writer D-SUB 8
USB ports
Windows Vista Business Edition
Aside from these, the HP dc7800 desktop PC features a well-crafted body design which is the primary reason why HP notebooks are so accepted by many consumers. Barring all these features, what caught our attention to the HP dc7800 was its energy-efficiency, which means that this desktop PC will not fry itself due to excessive use.
The HP Compaq dc7800's retail price varies from $649 for the ultra-slim desktop PC, $699 for the small form factor PC, and $829 for the convertible mini-tower PC.