Bright Hub Reviews the Brother MFC 465CN Printer; With Information about Ink and Combo Pack Costs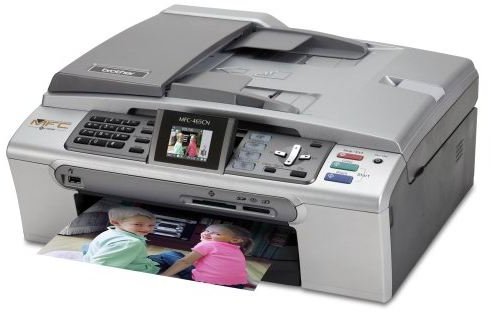 Brother MFC 465CN: The Features
The Brother MFC 465CN is an inexpensive ($130 USD) color inkjet printer. It has a maximum duty cycle of 2500 pages per month, which means the user should try to keep printing to under 800 pages per month, for longest printer life. It has multiple color cartridges - which are a savings over a single color cartridge, because you don't need to throw it out as soon as one color is empty. But you should also consider that the printer needs to make four passes over a sheet when printing in color, which works out to a best usage of about 200 pages per month, printed in color. What this really means is if you will need more than 200 or so pages printed in a month, you should consider a printer with a higher duty cycle.
While suited for a home office, the 465CN can be networked via an Ethernet connection if you have more than one PC. If you are using a network in your home office, you can print, scan, and fax from any PC on the network. It can be installed on PCs using Windows, Mac or Linux operating systems.
It can print up to 30 ppm in black and white, or 25 ppm in color, if you are printing in draft mode. If you want higher quality printing, such as the potential resolution of 6000 x 1200 dpi, you should expect much slower printing. The input tray can hold 100 sheets of paper, up to legal (8.5 x 14 inches) size, which is handy, because it can make up to 99 copies of a document. The special 4 x 6 photo paper tray can hold 20 sheets. It also can print photos directly from a memory card, without using your PC. It has a 2 inch flip up color LCD for photo preview before printing.
You can put up to 10 sheets of paper in the ADF for copying, and it copies at 22 ppm B&W or 20 ppm color. The copy resolution has a maximum of 1200 x 600 dpi. If you are using the ADF for multi-page copies, it can sort the output. It can reduce down to 25% or enlarge the original up to 400%, in increments of 1%.
Scanning can be done at 600 x 2400 dpi resolution in both color and B & W, with objects up to 8.5 x 11 inches on the glass, or 8.5 x 14 inches through the ADF. It can scan to an image, email, a file, or a memory card. Scanning software comes with the printer, being simple to use and intuitive. Scanning can also be done from your home office network, and it can scan to a memory card or USB drive attached to the printer.
Fax capability is six pages a second, with the ability to hold 400 pages in memory, in case the printer runs out of paper. It can receive faxes in color and B & W, as well as do fax forwarding (in B & W) and automatic redial.
Ink Cartridges and Combo Packs
Ink costs are the most expensive part of owning an inkjet printer. We look at how the ink for this printer compares.
Brother MFC 465cn LC51 printer cartridges can be found online for prices ranging from $9 to $20 USD. Black ink cartridges are rated for about 500 pages, and color for 400 pages each.
The best bargain I found for cheap OEM ink for the Brother MFC 465cn was in combo packs, and the best place to get the combo packs of OEM Brother ink was actually Amazon. A color combo pack of printer ink with yellow, magenta and cyan was $28.49 (LC513PKS), while the individual cartridges were selling for $9 to $11 each, depending on the color. Another reason to get the Amazon deal is their free standard shipping over $25. At Amazon, their two pack combo of Black L51 ink goes for $29.28 (LC512PKS). That size cartridge will cover about 500 pages each at a normal 5% coverage. Buy.com also sometimes sells the OEM cartridge combo packs for a similar price, with free shipping.
You may see a LC51HYBK cartridge advertised, covering 900 pages, but do not get it for this printer. The Brother MFC 465cn does not have the space to hold the high yield cartridge it is actually meant for the Brother MFC-5460cn & MFC-5860cn printers.
Many companies have emerged which sell what they call compatible cartridges, for sometimes as little as 20% of the OEM price. User reviews about these cartridges were very mixed. The references section gives a link to what various users said about a 12 pack of LC51 compatible ink. For those who had problems, their problems were severe, however many more people left satisfied reviews than unsatisfied ones, and most of the reviews with issues were dated in 2009 & 2010. It is possible that the issues with the cartridges were solved.
A word of warning; Brother says use of non OEM ink voids the printer warranty. Brother also offers a program to return used cartridges or toner to them postage paid, with a label you print out.
User Reviews
Now, we need to find out how well these features work. Researching user comments and forum posts, one of the first things noted is that it will do none of these things as well as a high end printer. That said, the Brother MFC 465CN was rated as a quiet printer, and that it did a good job printing photos. Users said it was very easy to set up, on a single PC or on a network. They did note that you have to pull open a drawer to load paper but it was not considered a printer that gave a lot of problems. Overall, it was rated a good deal for a light duty office or casual home use, with inexpensive ink costs.
Adding It All Up (5 out of 5)
In conclusion, Bright Hub recommends this printer for home offices without heavy printing needs, who would find handy the other features such as scanning, faxing, and copying, and for students or families who need to print casually. The networking capability might even be used more often as a family printer than in a home office.
References