Your Guide to the Top 3 eSATA Enabled Thumb Drives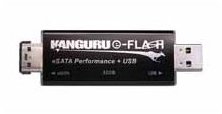 eSATA Thumb Drives
While most computers are still getting up to speed when it comes to eSATA ports, there are still some great ways that you can use these eSATA enabled thumb drives so that your file uploads will be lightning fast, no matter where you go. Most of these thumb drives may need an eSATA adapter, which aren't expensive at all, normally around $34.99 or less. So, if you find that you are using these eSATA enabled thumb drives more and more, then an adapter is a great investment to make.
So, let's take a look at the three top selling eSATA enabled thumb drives right now to help you see where the quality and the investment comes from, before you spend your dough on one.
Kanguru e-Flash
This is an eSATA and USB flash drive in one, which is great, as you have both ports without having to purchase an adapter. These start at $69.95 for the 16GB model and go to the $119.95 for the 32GB model, which really isn't that bad when you consider that a) you don't need another adapter, and b) it offers you a massive amount of storage. The company touts this flash drive as being one of the first to feature eSATA connectivity, which so far, hasn't been contested. They offer a USB 2.0 connection so that you can also use them on our old dinosaur computers that aren't cool enough for eSATA quite yet.
Supposedly, there isn't any file type that you cannot load on these either, and from the different reviews that I found, a 4GB folder full of photos takes approximately 15 minutes to upload completely, which really isn't that bad I guess. I didn't find any exact numbers on how quickly it takes to upload a file of this size with the eSATA port, but I'm curious to see just how much time it shaves off. (I have heard that it cuts about 5 minutes off of the upload time though.)
Here are some of the key features of the Kanguru e-Flash:
Dual connections (eSATA & USB)
Strong aluminum housing to protect the interior components
Massive storage capacity
Comes with a powered eSATA bracket and cable for your PC
Comes with HotSwap! software
You can custom engrave this flash drive for your business
OCZ Throttle eSATA Flash Drive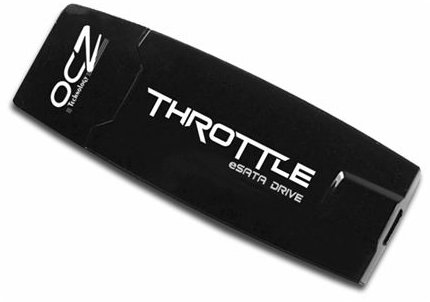 These are a lot cheaper, starting at $24.99 for the 8GB, $47.99 for the 16GB, and going up to $83.00 for the 32GB. So, you can get the amount of space you need without a high cost. Supposedly, these offer the same amounts of speed and ease that the Kanguru does, although I found no exact numbers to prove this.
The company states that their eSATA flash drives offer a 90MB per second reading speed and a 30MB per second writing speed, which is pretty darn good. The OCZ doesn't offer a USB port built in though, so you will have to get an adapter for this one for those computers that do not have eSATA capabilities yet - which evens out the pricing a bit with the Kanguru flash drives. But it is very easy to attach the adapter and plug it in to any computer.
So really, the cost of the adapter doesn't make that much of a difference and doesn't make any difference in the upload or download speed either. These also come with a full 2-year warranty, so if you have any problems at all with any part of your OCZ Throttle eSATA flash drive, you will find their customer service able and willing to help you fix the problem asap.
Here are some of the key features of the OCZ Throttle:
eSATA interface that plugs directly into any compatible computer (including laptops)
Has adapter for USB 2.0 ports
Plug and Play capabilities for music, videos, and more
Has 3 different storage sizes
Comes with mini USB cable for those non-eSATA ports
Has a 2-year warranty
RiData eSATA SSD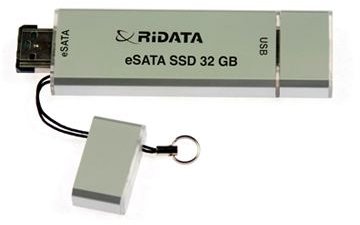 The last eSATA flash drive is also one of the pioneers of the "eSATA flash" era. While they don't tout themselves as the first, they sure love to let you know that they were one of the first companies out there to produce these. Now, their flash drives feature basically the same things as the other eSATA flash drives out there. Except these come as standard with both the eSATA and the USB ports, so there is no adapter to buy and no worries that it will work on the computer that you are headed to.
So, it's a great one to look into as it offers both ports, the same GB sizes (16 & 32), and is reasonably close in pricing ($59 and up). Their speeds are a bit different, as they offer up to 79MB per second for reading your files and 45MB per second for writing to the drive. So these are a bit slower reading but faster writing.
Now, these speeds are through the eSATA port, and if you use the USB port for transfers, you'll find slower speeds - 24MB per second for reading and 12MB per second for writing. The beauty of this eSATA flash drive is that you don't need a driver to use it. And, it works on a ton of different operating systems, from Windows ME up to Vista, and anything Linux Kernel 2.4 or over. Another perk, you can actually use this flash drive as a bootable device when you are in Fix mode on a computer, which is nice.
Here are some of the key features for the RiData eSATA SSD:
eSATA and USB ports included
Compatible with any Windows operating system ME or higher
Compatible with any Linux operating system Kernel 2.4 or higher
Shock resistant
Bootable device on any computer
No external power device needed to run
Overall
For those looking for an eSATA compatible flash drive, look no further than these three awesome devices. While the higher you go in memory, the higher the price goes, the amount of memory that you are getting is amazing when you think about it. For a stick that you carry around in a pocket or briefcase that allows you to take just about any file you can imagine with you - the price is pretty sweet.