High End Graphics Card Review: Zotac Geforce GTX 280 AMP! Edition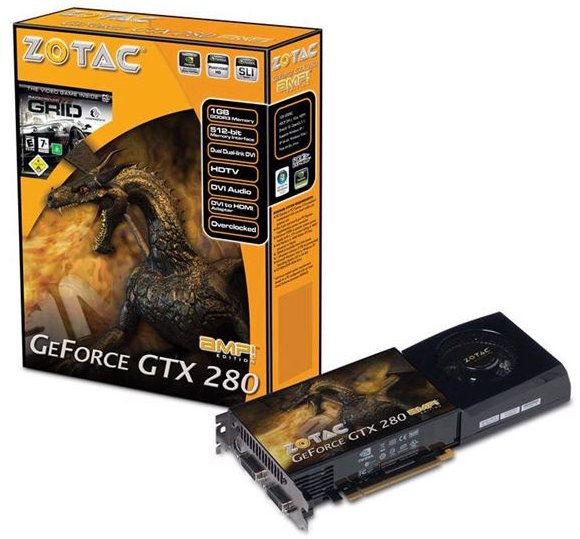 Zotac Geforce GTX 280 AMP! Edition
Zotac GeForce GTX 280 AMP Edition is slightly overclocked compared to Nvidia's reference design. Shader Units (240), amount of memory (1 GB), memory bus (512-bit) are all the same, but the core clock is overclocked to 700 MHz from 602 MHz and memory clock to 1150 MHz from 1107 MHz.
Zotac comes in an easily recognizable Zotac packaging and includes Quick Install Guide, Manual, Power supply label, Driver CD, DVI, HDMI and TV Out adapters, 2 PCIe power adapters, S/PDIF audio cable and being a high-end card, Racedriver Grid game comes as a gift. The card, as you have already realized does not have a VGA/D-Sub adapter, assuming that you already have a graphics display having DVI and/or HDMI ports. The card uses PCIe X16.
You shouldn't be surprised that the card takes two slots. So, when you are purchasing this card, be aware that you will not be able to use the adjacent slot on your motherboard. The card is capable of three way SLI (the SLI slots are hidden behind a rubber closure), but I can not stop myself from questioning in how many motherboards you can use three of this graphics card. If you are thinking of overclocking, this card has room to go.
If we look at frames per second (fps) values for Crysis, Call of Duty, and S.T.A.L.K.E.R. we see values changing from 50 to 200 plus, meaning that you will not have any problems playing current games as well as the ones that will be released in the near future.
This card is one of the top cards on the planet, overclocked in the factory but still has room for more, incredible performance increases compared to the 9000 series, and all other pluses you can think of. The only downside is, the card is about USD $700, which I believe is too expensive. 3 SLI's with this card will cost you a cool USD $2000.
Sapphire HD 4870
Sapphire HD 4870 has features very close to ATI's original design. The core clock is at 750 MHz and 512 MB of memory running at 900 MHz. The card uses PCIe X16.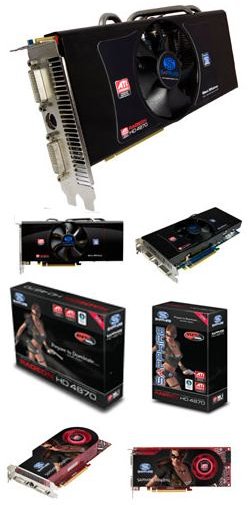 Sapphire comes in beautiful packaging. Inside the package we see DVI to HDMI, DVI to VGA, S-Video to Component adapters, CrossFire bridge, 4 to 6 pin power adapter, and 5 CD/DVDs which include User Manual, Drivers, 3DMark06, DVD Suite and a flash drive which is labeled as "Sapphire USB Sampler". We really weren't expecting a flash drive in the box . Sapphire has two DVI plus and one S-Video ports.
The card uses two slots, as you would expect. The cooling is very nice and it seems that there has been a lot of effort to keep the card cool. The fan can not be called quiet, but this can not be expected from a high-end graphics card. The heating pipes seen through the transparent plastic are thicker than what we are used to see and placed well in front of the fan, resulting in very good cooling.
With the benchmarking games, such as Call of Duty, Crysis and S.T.A.L.K.E.R., we see frames per second (fps) values well over 50. Considering 30 as the minimum fps to have a fluent and pleasant gaming experience, Sapphire HD 4870 can deliver more than you ask for.
Our verdict is that the card is a very good value compared to Zotac GeForce 280 AMP Edition. Over 30 fps, we will not notice any visual difference in games because our eyes will not be able to understand the difference. So the question is whether to pay USD $700 for the features that you will not be able to see/use but having a long-term utility (I am not sure what long-term can be in terms of technology) or pay half with the same experience. If you are not a serial gamer, if playing the newest games in the highest details and if you can not invest USD $700 for a graphics card, then Sapphire HD 4870 should considered for your shopping list.