Best External Hard Drives: A List of External Hard Drives on the Market for $100 or Less and Reviewing More Expensive Options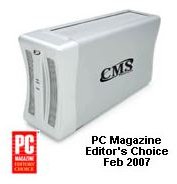 Why Should You Buy an External Hard Drive
External hard drives are quite useful for most consumers. Most require little to no installation; basically you just have to plug it in and transfer the files that you need backed up onto the drive. Also, with many, you can set timers to where it will back up a file either after you have worked on your project or during certain intervals on a daily, weekly or bimonthly basis.
Plus, the external hard drive is portable. You can attach it to any computer from which you wish to save material. And, laptop users can store information on the external hard drives either permanently or as a backup. That way, you always have the information when you reattach the information back to your laptop or another computer.
Many of the external hard drives also don't require a power source. They only need to be plugged into your computer's USB port. The prices that are quoted in this article are based on the prices found on online retailer sites.
CMS Velocity 2
The CMS Velocity 2 Series Backup system is a good choice for consumers that just want extra protection in case their computer fails; you don't need to worry about losing all your files once you have backed them up onto this drive. Plus, the CMS V2ABS-CE-120 (between $150 to $200 from online retailers, 150GB/5,400rpm) is lightweight, perfect for an already busy desk, and comes with the CMS Bounceback Express software.
This system comes with the Serial ATA 2.0 eSATA interface and a USB 2.0 interface. It is extremely fast. It can backup your files at 2.6GB per minute by using the BounceBack Enterprise Server software. These systems come in various sizes from 160GB to 2TB. The larger the system, the more it can hold. So, if you have high-capacity files or just need a lot of space to hold something like photos, you always want to go with the larger drive capacity. This drive is a little larger in size than the normal drives.
Western Digital My Book Studio Edition
But, if you need more space and speed for big projects, including video editing, then you probably need something like the Western Digital My Book Studio Edition (approximately $210 online retailers) external hard drives. They're easy to install. All you have to do is plug it in, and, it will automatically back up your files. You can even attune your projects to your external hard drive so that they're always up-to-date. Western Digital also has a line of internal hard drives that are well worth the price.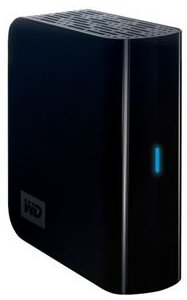 The Western Digital My Book Studio Edition comes in a more compact physical size so that it can easily fit on your desk. It uses a USB 2.0 cord to plug into your machine. At 1TB, it can store large files easily, especially large video files, up to 76 hours of digital video. It will turn itself off if you haven't used it in a while, saving you money on your energy bills. It can transfer 480 Mb per second, making it relatively fast. It will take about as much space on your desk as many of the other drives.
SimpleTech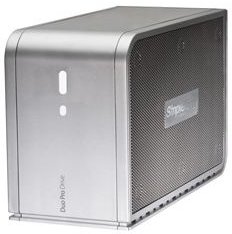 SimpleTech has a couple of models that provide both speed and performance: the Duo Pro Drive (1000 GB, approximately $280 retail) and the reDrive (500 GB, approximately $140 online retail). For pure performance for larger projects, then the Duo Pro Drive is a nice choice. It comes with a high-speed USB 2.0 and 3Gb eSATA, which makes this a very fast machine. Plus, it has a three-year warranty, which is above industry standards. Different models have a storage capacity between 1TB and 2TB. The sizes of this drive are physically larger than most other drives on the market.
But, if you're only going to be backing up standard data files, then the reDrive should suit your needs. At the lower-capacity 500GB, it won't be able to store too many large files, but plenty of smaller files. It uses the Turbo USB 2.0, which is a lot faster than the USB 2.0 port. It also uses less power than most drives, but it is physically about the same size as other drives. This drive is made from ecologically-friendly materials.
Apricorn EZ Bus Desktop SATA
If you're looking for something sometimes under $100 from online retailers, than the Apricorn EZ Bus Desktop SATA should satisfy your needs. It's relatively fast at 7200 RPM and holds up to 500 GB. This model is perfect for standard file encryption and data backup.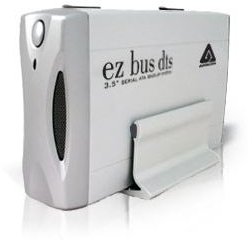 The EZ Bus Desktop SATA comes with the fast 7200RPM SATA drive and can transfer about 300 Mb per second, making it a little slower than some others on the market. But, the size is comparable to many other drives out there. It comes with a fan to keep it cool even on the hottest of days.
I/O Magic 250GB 3.5" External Hard Drive
For those still seeking an inexpensive, yet reliable external hard drive, the I/O Magic 250GB 3.5" External Hard Drive ($70.00 to $90.00 from online retailers). With 7200RPM and 250GB, this device is very small physically, but can still hold a lot of files, music and other data on it.
Plus, this little device packs a punch with its I/O Magic's DataBank software. It will secure your data with 256-bit Blowfish level encryption, which protects you against someone hacking or stealing your files and viruses. It will transfer files at 60 MB per second. While not as fast as some of its higher-priced competitors, its great for the wallet-conscious consumer.
Final Thoughts on External Hard Drives
While not as fast as internal hard drives, the usability makes these drives perfect for the average user and businesses on a budget. With an external hard drive, you can easily backup all your data and expand your overall storage capacity.