MSI Wind NetTop D130 Dual-Core Atom Mini-Desktop Vista Multimedia PC Review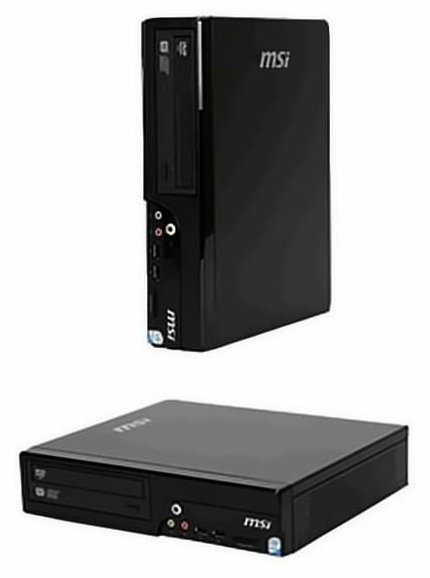 What would you get if you crossed an early DVD player and a multimedia desktop PC? Whatever it would be, it might look a lot like MSI's new Wind NetTop D130 miniature PC.
Images: Micro-Star International
MSI touts the energy efficiency and compactness of the design. They call it "Nordic Simple Design," which may another term for inoffensive.
Borrowing a chassis from its sibling the MSI Wind netbook, the D130 features a matte-textured black metal case and a tray-loaded Super-Multi DVD burner. At the back are 7.1 channel sound connections and VGA out. The PC runs Vista Basic and features an Intel "330" dual-core Atom processor. 2 GB of DDR2 RAM and a 160 GB hard drive are standard.
And all of this is in a small package that can sit on a shelf or the corner of a coffee table.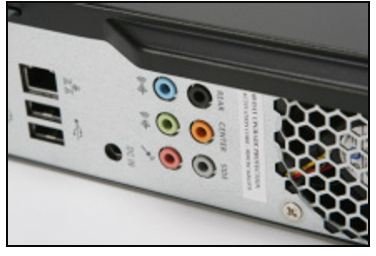 What it's not is a Blu-ray player or high-definition playback device. There's no HDMI or dual-link DVI output, so hooking it up to a high-definition TV would not be satisfactory. In fact, although they are proposing it as a multimedia device, there is also no television tuner. It is a bit more multi-media inclined with the multi-channel sound output than some far more elaborate PCs, but it's not the device to push 1820p to your TV.
The D130 simply is what it is: a very tiny Vista PC that can play standard DVDs and display them on a computer monitor.
Other attributes include quietness (30 dB average) and low power consumption (35W). In fact, the very low power consumption is an interesting point. Here's how MSI figures it. The D130 uses about 265W less power than a standard PC. If you leave it running all day long for a year, it's "saved" 2321 kWh of power. Where I am, that's about $126.31 per year.
No price has yet been given for the D130 in the US, but in New Taiwan Dollars, the pricing is from 7500 to 8000. Today that's the equivalent of USD $224.75 to $239.74. I think it would be safe to say that it would sell for about $300 or less in America.
MSI has in effect invented a smart personal (standard-def) DVD player. After learning about this device, I tried to imagine where I would use it. The lack of HDMI would take it out of the living room, but it could be hooked up to a standard VGA LCD, to the Internet, and to a bunch of speakers. It could be a dedicated DVD playback device. It could be placed in the kitchen. It could even be mated up with a seven inch touch screen and put in the car.
This, with the netbooks, could be the dim beginning of ubiquitous personal computing. It's certainly cheap enough. In fact, it sort of is a netbook with the keyboard and monitor left out. (It even uses a power brick like a laptop.)
This little PC could be all the computer that some people need, but I can't shake the thought that another $100 or $150 will get a real netbook that's portable and not a lot larger. That netbook wouldn't have Simple Nordic Design, but it just might be far the better value.
That said, it's nice to see a dual-core Atom PC hit the market at such an attractive price, and it's nice to see that it's mainstream OS-capable. Now all we need to figure out is where to use these little boogers.