AMD's Deal with Abu Dhabi Needs Numerous Approvals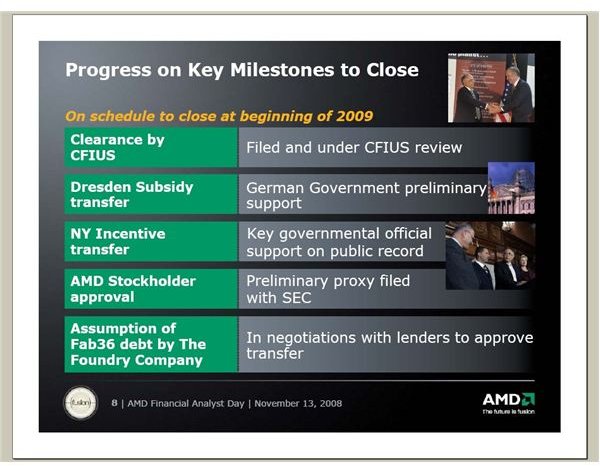 The list on the right indicates (from a slide presented at AMD's Financial Analyst Day, November 13th) some of the groups that have a say in AMD's plans to spin off its semiconductor fabs. The creation of the new business, called The Foundry Company (TFC), needs approval from the German and American governments, the latter via the Committee on Foreign Investment in the United States (CFIUS). The New York Government, via the Empire State Development Corporation (ESD), has approved $1.2 billion in incentives and subsidies towards the establishment of Fab 4X in Saratoga County. Holders of AMD's debt ($1.2 billion of which will be transferred to TFC) and, of course, shares, need to give the green light. Even Intel may get some input, as they hold the patents for the x86 architecture, which they license to AMD.
This article will discuss which groups are very likely to support the spin-off and why. Then a few articles dealing with possible legal issues Intel could bring up. Another series discusses CFIUS, which will probably take a longer look at the plans than the bodies discussed below.
In a Perfect World
Many of the groups that will gladly get on board would likely rather see things work out differently, but they all have to accept the financial reality that AMD can't afford to compete against larger Intel on the manufacturing side indefinitely. For instance, while not mentioned on the slide above, AMD's filing with the Securities and Exchange Commission did state that if antitrust issues threatened the deal, it could be amended or even called off. Though antitrust legislator and enforcement interests would likely rather see two Integrated Device Manufacturers (IDMs) in the CPU microprocessor industry, that really isn't an option.
If forced to keep up its own Fabs and battle Intel directly, AMD probably goes under, and you are left with not just one CPU IDM, but you also have only one CPU designer. This deal keeps AMD in the game on that side. Furthermore, TFC, as a merchant foundry providing contract semiconductor manufacturing, increases competition not only in that industry, but arguably in electronics in general, by making it easier for small firms to get their products made (economists call this removing barriers to entry).
We'd Rather Not Have AMD Go Under, Thank You
German government interests, involved because of Fab 36 and 38's location and incorporation structure, are likely to choose keeping Fab 36 running and $2 billion to finish ramping up Fab 38, over interfering with the plans unduly – despite occasionally being accused of protectionist policies relative to the American government.
Shareholders may grumble a bit about the exact terms of the transaction: AMD is giving up a lot, but again, the other option, where AMD continues having to find the money to make its own plants to make its own chips, is decidedly less attractive.
The lenders are faced with a pretty clear decision. You have sub-let your condo to a young couple, and they come to you and say they are running low on cash so they'll be cutting down on their expenses and moving to a cheaper locale. They have, however, found a wealthy businessman from the UAE who needs a place in the area for the next few months and would like to take over the remaining part of the lease. Do you let him take over the lease, or risk having someone in there that might not be able to pay what they owe?
More Challenging Approvals
AMD doesn't need an explicit approval from Intel, but a tacit one wouldn't hurt. Intel could cause legal problems for the deal, and we discuss that next. Also, from our sub-let example above, you wouldn't be remiss to want to make sure that the non-resident has all his papers and permits in order. To scale the analogy back up, those papers can be thought of as CFIUS approval (see this series). We'll then wrap up with a look at the $1.2 billion package ESD approved.
This post is part of the series: CFIUS, ESD, and Possibly Even Intel Have a Say in AMD Spinning Off Its Manufacturing Business
With numerous approvals needed from investors and regulators, and possible legal issues tied to the x86/x86-64 cross-license agreement with Intel, AMD's spin-off plans to create The Foundry Company need more than a rubber stamp. Who is for it, who doesn't mind, about whom we aren't sure, and why?