This Day in Computer History: December 14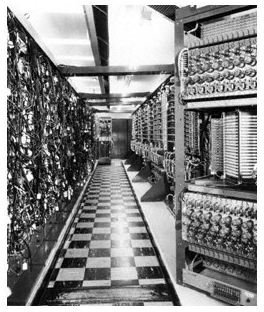 This Day in Computer History
1952
The United States Navy first contacted the Massachusetts Institute of Technology (MIT) regarding the possible development of a flight simulator for training bomber crews. The letter marked the beginning of project Whirlwind, which would eventually grow into the ground-breaking Airplane Stability and Control Analyzer (ASCA) program and the first high-speed electronic digital computer capable of operating in real time. Though the Navy initially requested a simple system that would update a simulated instrument panel and respond to pilot inputs, it would eventually implement a highly realistic and adaptable system capable of accurately modeling a range of areodynamic models.
1954
Two years to the day after the conception of the project that eventually lead to its development, the Whirlwind computer would be featured on Edward R. Murrow's extremely popular television news program See It Now. The story was possibly the earliest news story ever to report on a computer.
1970
The IBM Data Processing Division (DPD) released the IBM 2319 disk storage unit for its popular IBM System/370 and IBM System/360 mainframes.
1994
The Massachusetts Institute of Technology held the first meeting of the World-Wide Web Consortium (W3C), founded by Tim Berners-Lee and Albert Vezza in order to develop and maintain standards for the World Wide Web, in Cambridge, Massachusetts.
1996
The management of memory manufacturer Kingston Technology informed the company's 523 employees that they would share one hundred million dollars in bonuses between them, at an average of seventy-five thousand dollars a piece. For some, their share of the bonus would amount to as much as three time their annual salary. The bonuses were the result of the company's acquisition of Softbank Corporation of Japan for $1.5 billion.
Microsoft released the Service Pack 2 for its Windows NT 4.0 operating system.
1997
Three websites, including Diversified Data Systems and Sarah Lawrence College, were hacked and defaced by a hacker known for only leaving a tribute to actress Claire Danes as a signature.
1998
Mattel announced the acquisition of the education software firm The Learning Company, Inc. in a deal valued at roughly $3.8 billion.
Oracle and Sun Microsystems announced a new collaboration under which they would develop a line of computer systems that wouldn't require an operating system.
1999
Monica Gilmore announced that Free-PC had merged with PC manufacturer eMachines. Follow the merger, Free-PC would no long offer free computers to consumers. Instead the new company would continue its business model of manufacturing and selling low-cost computers.
Yahoo! launched its Yahoo! Pets service.
2002

Version 1.0 of the CRUX Linux operating system was released. CRUX was a Linux distribution i686-optimized designed for experienced Linux users.
2006
The Free Software Foundation announced that it would make a $60,000 donation to the Free Ryzom Campaign, which had been established in the hope of purchasing the massively multiplayer online role-playing game Ryzom from its defunct developer, Nevrax, to release it into the public domain. Ryzom was a pay to play MMORPG that had gained notoriety as an excellent game, even earning the Best Story award at MMORPG.COM's 2005 Reader's Choice Awards. However, on November 20, 2006, Nevrax announced that it would enter receivership in December and that it would cease to exist within weeks. The Free Ryzom Campaign was launched November 14, 2006 to rescue the game.
This post is part of the series: A Chronology of Computer History for the Month of December: This Day in Computer History
This series provides a daily account of what happened on this day in the history of computing and technology. It discusses developments, breaking news, new releases and global implications that occurred as a result of these ground breaking events.