Cooler Master Black Label Cosmos - PC Case Reviews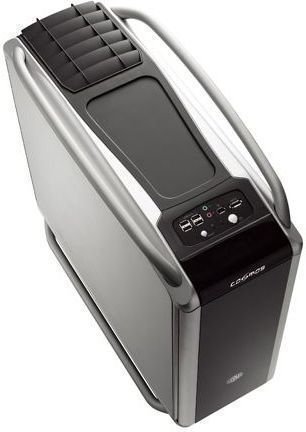 .
Cooler Who?
Cooler Master was founded a decade ago to provide the best thermal solutions to its customers world wide. Cooler Master has been a trusted brand for people in need of a quality, reliable PC. Cooler Master's technology line-up includes Heat sinks, Chassis, Water Cooling, Fans, PSUs and Function Panels.
What is the Cosmos? Being an owner of the Cosmos 1000, the first release of this great case, I can tell you I love it. Its as quiet as a mouse and still cools my hardware to a nice temperature, even in the hot California summers.
The Black Label Edition
Unfortunately I have only seen pictures (supplied by Cooler Master, and included here) of the new Black Edition because there are only 500 of these special edition sets. The sets all come with a black Cosmos chassis, Z600 processor cooler and a powerful PSU. As an owner of a Black Label edition Cosmos you will become a member of a club with only 500 members (the Black Label Lounge). There are Black Label graphics and a laser etched series number on the case to remind you of that exclusivity.
Let's pick the set apart and talk about the pieces individually.
The Processor Cooler Hyper Z600
The Hyper Z600 Black Edition has 6 massive heat pipes and is Cooler Master's first ever all-black CPU cooler. The Z600 has a PWM controlled fan for less noise when your rig isn't running at full tilt.
Hyper Z600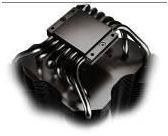 The PSU
MCooler Master offers two PSU's with this great deal to choose from.
The UCP 700 and the Real Power M850 the M850 is a modular power supply.
The Specs.:
UCP 700
Model RS-700-AAAA-A3-US
Type Intel ATX 12V V2.3 / SSI EPS 12V V2.92
Output Capacity 700W
Max. Output Capacity 840W
Fan 120mm Fan
Certification SLI / 80 Plus
M850
Model RS-850-EMBA
Type ATX Form Factor 12V V2.3 / SSI standard EPS 12V V2.92
Output Capacity 850 Watts Continuous
Max. Output Capacity 1,000 Watts
Fan Ultra-silent 135mm fan with intelligent speed control
Certification nVIDIA SLI / 80 Plus
Black Goodness


The Cosmos Enclosure
Many improvements have been made to the Cosmos chassis for this Black Label Edition release. The unique tinted side panel and improved cooling ability further improve the reliability and performance of this already awesome case. The logo on the inside (visible through the side panel) and black finish inside and out of this case makes a proud, but subtle, statement.
The Chassis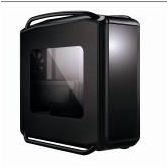 The Price
The MSRP for this case is 599.00 USD or 499.00 EUR, which seems like a very good price for such a quality parts and limited edition cachet, with only 500 of these exclusive sets being built. Of course what street price will be is anyone's guess, assuming you will be able to buy these cases at all (Newegg.com and Micro Center have purchased some). You may have to win them or hope Cooler Master offers to sponsor your gaming team.
If I didn't already own my Cosmos I would buy this set (provided I could track one down) in the blink of an eye. It's a great set with a good power supply, excellent CPU cooling, and a beautiful Black Label Cosmos case.
For more information go to the Cooler Master website.