3 Top Notebooks - Acer Aspire One Review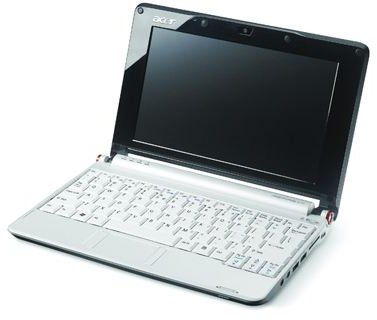 Sexy like a Mac
When it comes to stylish laptop computers, Apple had the market cornered for years. Manufactures of Window-based notebooks never made notebook computers that had the same simple, youthful styling that made Apple computers stand apart, and for the most part, they didn't really try. Of course, Apple used to a nearly irrelevant niche brand, with a market share that hovered around five percent. But times have changed. Apple is now widely considered as one of the best notebook manufacturers in the world, and the Apple's world-wide market share is looking to be around 10%. Macs probably won't overtake Windows-based PCs any time soon, but that doesn't make Apple's computers look any less sexy. In fact, the exclusivity is probably boon to the Apple image.
In response, makers of PC laptops have begun to change their tune. What once was a sea of silver, gray, and black now has hints of color. In fact, some of the most stylish new laptops look absolutely stunning, giving Apple some stiff competition when it comes to styling. And just what laptops might I be referring to?
Acer Aspire One
Two years ago, netbooks didn't exist. Now, tech websites are constantly talking about them, posting reviews of new models and comparing size and battery life. These small, light, cheap, efficient products represent a segment of the market that is completely new, and make it possible for almost anyone to own a laptop capable of basic tasks. They have also revolutionized PC laptop styling by introducing friendly, bright color schemes and wonderfully simple silhouettes, and the Acer Aspire One is no exception.
What sets the Acer Aspire One apart from many other laptops and netbooks is contrast. Its base black-on-white color scheme is glossy yet simple, and accents all of the right areas. The white exterior dominates the netbook when shut, ensuring that the thin, black USB and ethernet jacks grab the eye, giving the exterior a pleasant mixture of business and fun. Open the Aspire One, and things get better, as the 9" LCD is perfectly framed by glossy black, which contrasts well with the white keyboard and chassis. This distinction between screen and chassis gives the netbook the appearance of having a serious, high-quality screen attached to a friendly, ergonomic base.
Of course, those who want something more unique can pick one up in blue, brown, or pink. However, the blue an brown models seem to upset the striking, high-contrast visuals, making the product look less, well, inspiring.
Price: Approximately $399 as of 12/07/08
Asus Lamborghini VX3
At first glance, its hard not to laugh at the Asus Lamborghini VX3. Geeks have been comparing PCs to fast cars for decades, and those comparisons have often felt awkwardly macho. That might lead you to think that the VX3 is simply a cash-in, built to appeal to people who want a little bit of Lamborghini in their life, but can only afford a Toyota Camry. In fact, you'd be very wrong.
Like the cars, the VX3 has no low end. Prices start around three grand and go up from there. For that you get a 12.1" LCD, 4GB of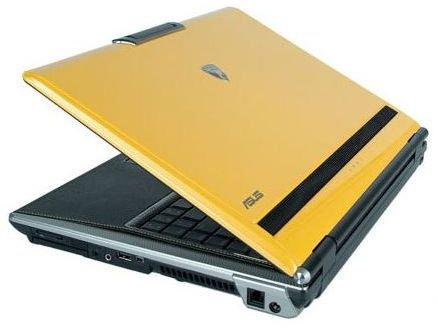 memory, and a Core 2 Duo processor. That isn't to shabby, but it is really the exterior details that justify the VX3's astronomical cost. The exterior is coated in a classic Lamborghini yellow which is sure to turn heads the moment you slide it out of the included messenger-style bag, and if that wasn't enough to grab attention, the authentic Lamborghini logo will be.
And that's not all. Open the case, and you'll find the interior lined with genuine leather, complete with stitching which has to do with keeping the leather attached to the chassis, but looks stunning. The titanium-alloy case, finished in a glossy dark gray, looks and feels strong. The VX3 also comes with a custom Bluetooth mouse which matches the color scheme, a custom sleeve, and the already-mentioned messenger bag. It is undoubtedly a luxury product, and like any good supercar, the VX3 will turn heads wherever it goes.
Price: $3,299.99 at Buy.com as of 12/07/08
Voodoo Envy 133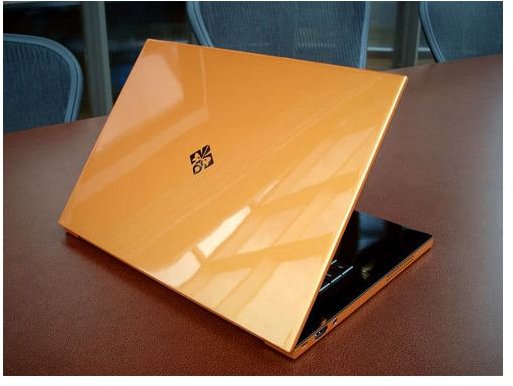 Want to be the Envy of every Apple user fondling his new Macbook Air? Look no further than the Envy 133, made by Voodoo. Once known for it's gaming computers, Voodoo was recently bought by HP, which as changed the company into a maker of premium quality computers. The Envy was built to be HP's rival to the Macbook Air, and it shows. Like the Air, it has a 13.3" screen, and like the Air, it is well under an inch thick. In terms of functionality, the Envy is a home-run. It's chassis is built out of carbon fire, resulting in high stiffness despite the thin profile. This allows the Envy to equip a removable battery. The Envy also has more usable USB ports and a power cord which attaches at a much better angle.
But functionality isn't what the Envy is really all about. This is a computer built from the ground up to be sexy. It's ultra-glossy finish gives the illusion that the Envy is made out of aluminum rather than carbon-fiber, and while the Air appears smooth and tame, the Envy appears rough-edged and wild. The logo on the lid says it all - where an Air would have the ever-friendly apple logo, the Envy features Voodoo's menacing tribal mask.
On a basic level, Envy has looks a-plenty, but if you really want to set yourself apart from everyone else hopping on the thin-and-light bandwagon, the Envy has a party piece you just might be interested in: custom colors. Besides the base Black Weave, fourteen other colors are available. My favorites are Moroccan Blue and Sunset. Being unique does carry the hefty price-tag of $500 to $600 dollars, but if you've got money to burn and want to get noticed, its a worthwhile upgrade.
Price: $1,899.00 to $2,999.00 as of 12/07/08