Holiday Shopping Guide: Five Best Small Comptuer Speakers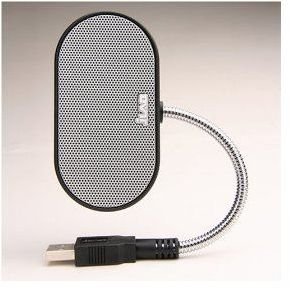 JLab B-Flex Computer Speakers
Measuring 3.2 x 1.2 x 7 inches and weighing only 4 ounces, JLab's Bflex is a compact and portable computer speaker system offering plug and play setup with its USB flex cable. It boasts dual 1 watt digital amps and 2 full range paper cone micro drivers that provide crystal clear sound. And, in case you have a computer system without a sound card, the B-Flex will still work, thanks to its digital circuitry. What's best about this computer speaker setup is its patented flex design which lets you position the speaker in a location which would provide you with optimum listening pleasure. Other features and specs of the JLAB B-Flex computer speakers include PC and Mac compatibility, USB 5V input power, 2 36mm paper cone drivers, 200Hz resonant frequency, and greater than 80db signal to noise ratio. The small JLAB B-Flex computer speakers will set you back only $29.95.
Chill Pill Mobile Speakers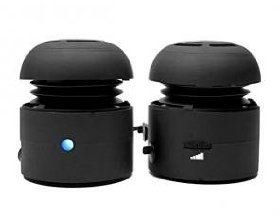 Chill Pill's mobile speakers definitely fit the "small computer speakers" category. This system only measures 2 x 4 inches, hence it is the perfect companion while you are travelling, camping or simply lying around on your back porch, enjoying the cool soothing sound from your laptop or even from your iPod. These speakers are encased in a rugged, matte-black case which protects them from environmental extremities as well as from accidental bumps and falls. If you're bringing it along when you travel, you can easily retract the cable that connects the two speakers and click them together to save space. Soundwise, the Chill Pill Speakers provide rich bass and loud sound that you wouldn't expect from such small speakers. For all this, you just need to spend $29.99.
Coby CS-P14 Personal Mini Stereo Speakers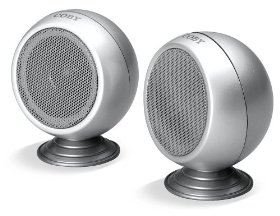 This speaker system fits well with its branding because it is certainly a personal mini stereo speaker set, measuring only 3 x 2 x 3 inches and weighing 11.4 ounces. Despite its size, the Coby CS-P14 can provide decently clear and crisp sound. It features a 3.5 mm mini plug which makes it compatible with most portable audio devices, and it does not need a separate external power adapter. But, the best part is these computer speakers will only cost you $8.99.
Creative Labs 51MF120AA022 SBS Vivid 60 Speaker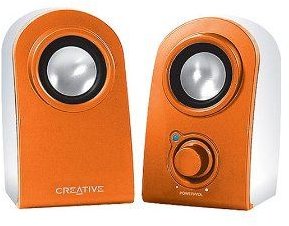 These speakers are not only small and portable, but they are good looking, too - well, that is, if you like funky and shiny colored devices. You can set up these speakers almost anywhere you like without worrying about occupying too much space, and they offer a single-step connectivity with any audio/video device. Other features of these speakers include 7 watts total system power, 2 watts RMS per speaker, 110 Hz~20KHz frequency response, and a maximum speaker power output of 6 watts. The Creative Labs SBS Vivid 60 Speakers will set you back $19.99.
Genius SP-i200U USB Portable Digital Speakers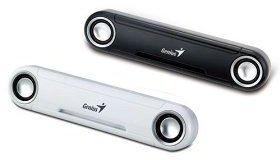 This slim and portable USB speaker system features a foldable stand which will be most useful for users who are always on the move. It features two full-range neodymium micro drivers inside its aluminium cones which provide better digital sound. This speaker system is a plug-and-play device which you can easily connect to your PC and laptop, and it does not require a separate power supply. It is also easy to carry, and Genius even included a pouch which you can use for storing the speakers after wrapping the cord-wrap into the body. And yes, the Genius SP-i200U USB portable digital speakers are small too, measuring a mere 3 x 5 x 3 inches and weighing only 1 pound. Likewise, this speaker system is not heavy on your wallet as it will cost you just $23.69.