AMD vs Intel in 2009: Phenom II 45nm CPU, 6 Core Opterons, and Netbook AMD Processors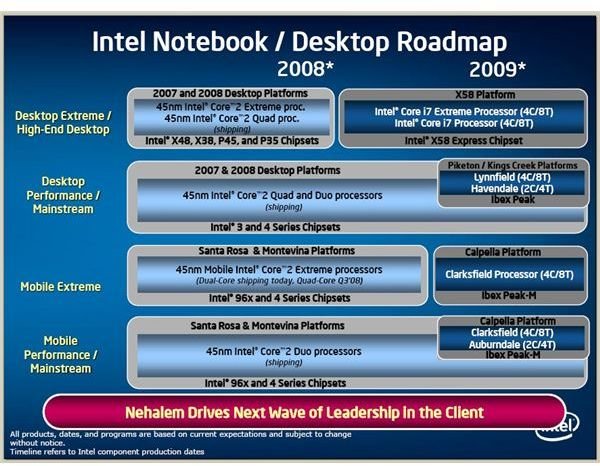 AMD has had a rough time recently. Eight quarters of losses, product delays, and an inability to compete in the flagship extreme performance desktop market are not easy to swallow when you're head to head with the Intel juggernaut. Despite being fairly valued and in some cases superior (e.g. the 780G is a low power chipset with integrated graphics) this has rarely translated into a gain in market share. The only bright spots have been the Opteron's popularity in the server field and, more recently, their very expensive ATI acquisition showed signs of life with the outstanding performance and value of the 48xx line of video cards.
2009 Looks OK Thanks to 45nm Phenom II
AMD stands to benefit from Intel's recent move to the X58 platform at the extreme desktop end and their planned move to Ibex Peak for performance, mainstream, and eventually value. By not only forcing users to leave behind their current 775 sockets, but choosing between 1136 (Ibex Peak) and 1336 (X58) sockets, there may be a lot of hesitation before an upgrade takes place. See Intel's desktop/laptop road map from a slide used at the Intel Developer Forum, Taipei '08.
AMD's 45nm Phenom II (codenamed Deneb) is due on the 8th of January '09; followed by a mainstream derivative with lower clocks and smaller cache (codenamed Propos, likely to carry on the Athalon brand) as soon as April. Depending on the exact motherboard, both will run in socket AM2+; as should their other CPUs. Better still, even when they move to DDR3 memory later in the year, AMD is saying the memory controllers in these CPUs will be compatible with DDR2 or DDR3, and will be able to run on socket AM2+. Hopefully, you can keep an AMD motherboard until you are ready to move to DDR3, and not be forced to upgrade your board and memory just to get new CPUs, which is required of the Intel Core buyer.
Reports are that the Phenom II narrowly outperforms an Intel Core 2 Quad clock for clock and overclocks like mad. Price data is very hard to come by for now, but could leave existing Core 2 prices quite high. Fudzilla Editor Fuad Abazovic is "quite sure that this will lead to [a] new price war, as Core 2 Quad might have to drop in price as soon as Phenom II hits the market."
Granted, the new Core i7 is way faster in most benchmarks, but there are the aforementioned upgrade choices and costs to deal with. More importantly, the Core i7 might benchmark really well, but unless all of its 8 threads are working (which is only the case if you run specialized professional applications like 3d rendering or large scale numerical analysis), a fast Core 2 Quad or even Duo will keep up clock for clock with the newest Intel tech in normal use and gaming. If the Phenom II is indeed the superb overclocker it shows signs of being, and as fast as or faster than a Core 2 Quad at the same clock speed, the AMD Phenom II will be a far cheaper and possibly faster choice than Intel's Core i7.
Is That All?
Server side, AMD has a similar advantage in that its recent Shanghai and next year's Istanbul will be drop-in upgrades, while Intel server buyers are coping with the move to Core from Core 2.
In the netbook or ultra mobile or what have you market, Intel's Atom CPU has been a runaway success. AMD is going after that pie now as well with a part codenamed Conesus. No real guarantees, but that market is growing so fast that they should be able to find at least a few customers.
The 2009 lineup from AMD actually looks a lot better than lineups in the last two years. – the 2010 lineup, not so much. We discuss AMD CPUs for 2010 and beyond in the next article.
This post is part of the series: AMD Creates a Subsidiary for It's Manufacturing Operations: Will this Create Better CPUs and Create American Jobs?
Can money from Abu Dhabi help AMD stay competitive with Intel past 2009 and provide opportunities in the beleaguered US manufacturing sector?