Reviewing 5 Great Laptop Backpacks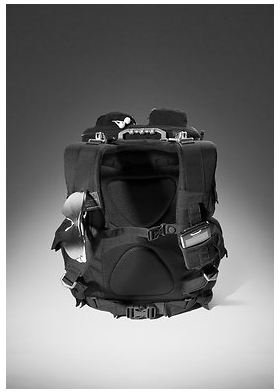 Maybe it's just me, but I'm rather picky about my bags. I like heavy padding in the straps, lots of pockets and sections for organizing peripherals, protection for my laptop, and, of course, it should appeal to my aesthetic sense.
I also tend to carry around a lot of gear. I have a 17" MacBook, external hard drives, microphones, audio recorder…and it all has to be organized so I can find what I need quickly. It also gets very heavy, so I prefer a backpack to a messenger bag.
Here are my 5 favorite laptop backpacks:
Oakley AP Backpack 3.0
The Oakley AP Backpack 3.0 is versatile enough to take to your daily Starbucks write-and-be-seen sessions or hiking through the concrete jungle. It holds laptops up to 17", has plenty of pockets, and boasts a waist belt for extra support.
Crumpler Beer Back 2.0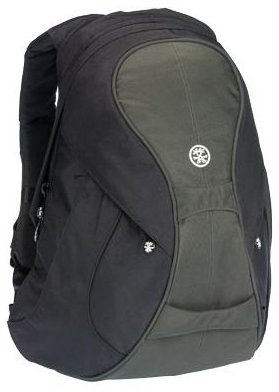 Never mind the bizarre website design, Crumpler is after serious baggies.
Looks can be deceiving. The Beer Back might look like an ordinary backpack, but its rugged enough to handle anything you can through at it.
This backpack is waterproof, opens wide, and, of course, holds up to a 17" laptop.
The removable laptop sleeve is padded and has 6 pockets for accessories. There are another 5 pockets built into the bag.
Timbuk2 Track Daypack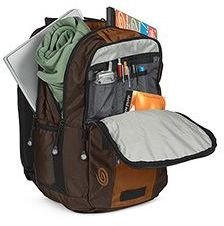 The stylish Timbuk2 Track Daypack bag has three inside compartments, including a corduroy-lined section for your laptop. The front compartment allows easy access to the organizer pockets.
The strap and back padding on this one is excellent; they did not cut any corners here.
Timbuk2 Underground Daypack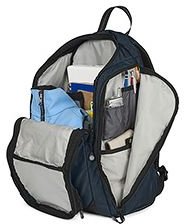 The Timbuk2 Underground Daypack has a unique feature: side panel pockets instead of front-to-back layered compartments.
The main compartment will hold your laptop, books and other large items, while you can fit smaller objects easily into the side panels.
Think Tank Airport Addicted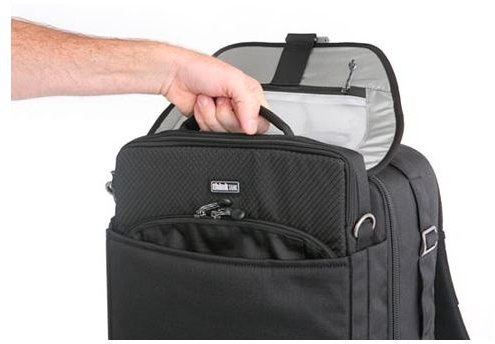 If you carry around as much as I do (or even more), the Think Tank Airport Addicted might be the bag for you.
Whether or not you're headed to the airport, this bag lets you fit as much as possible into a legal carry-on sized bag. Unfortunately, it (and the rest of the Airport series) only holds up to a 15" laptop.
I love these bags for their design, flexibility and organizing capabilities. They are all great choices, it just depends on your own preferences.