Holiday Shopping Guide: Top Five New Computer Speakers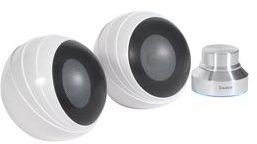 Swans S3W 2.0 T-Amp Powered Multimedia Speaker System
This sleek-looking multimedia speaker system offers a rich, full-sounding speaker system with a Class T amplifier that can rival commercial tube amplifiers in both sound quality and clarity. It has two built-in 3.5 mm inputs which provide permanent connection to the computer and personal music player. This multimedia speaker system would be of great use to owners of laptops as well as iPods and MP3 players. The Swans S3W 2.0 T-Amp Speaker system is composed of the amplifier and the speaker system itself. Its amplifier boasts 2x sensitivity amplifier power output, 80DB signal ratio, 300 mV input sensitivity, and 33k ohms input impedance. As for the speaker specs, we're looking at a 15 watts max power handling, 65-20,000 Hz FR, 8 ohms impedance, and 85DB sensitivity. If you have no idea what we've just enumerated, it simply translates to meaning this speaker system is capable of giving out maximum audio satisfaction. And that's for $59.86.
Altec Lansing Expressionist Classic (FX2020)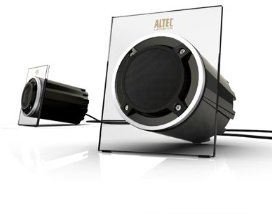 This Altec Lansing speaker system for PCs also works well with MP3 players. It is among Altec Lansing's smallest PC speaker system so far and was designed with precision and style. It includes cylindrical cabinets containing two full-range 3-inch drivers for the speaker system. The design might appeal to those who feel like going retro or turn off those who might find it intriguingly weird looking. Anyway, these computer speakers boast 90DB sound pressure level, 15 watts RMS total continuous power, 7.5 watts per speaker, 50Hz-19kHz system response, and 80DB signal to noise ratio. The Altec Lansing Expressionist Class FX2020 will set you back for a bit more than the first item we mentioned as it retails for $79.99.
Creative Gigaworks T40 PC Multimedia Speakers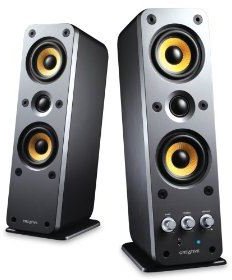 Featuring a 3-driver design, these multimedia speakers boast a Midrange-Tweeter-Midrange driver configuration for improving overall audio balance and providing deeper and richer bass effects. Even without a subwoofer, Gigaworks T40 can provide dynamic bass sound. Its midrange drivers are protected by woven glass fiber cones, and each of the speakers' tweeters has a cloth dome to deliver crystal quality sound. The speakers' power, volume, bass, and treble adapter controls are all conveniently located at the front of the speakers making it easy to operate them. Overall, these features make the Creative Gigaworks T40 PC Multimedia Speakers capable of delivering acoustic audio quality with complementary style. If you don't mind spending $119.97 for such a powerful computer speaker system, I don't see any reason why you would not want to pick this item up.
Altec Lansing Expressionist Bass FX3022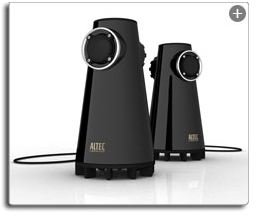 Altec Lansing's other new computer speaker system is equally powerful than the previous one we mentioned. The Expressionist Bass FX3022 is also capable of producing crystal clear sound aside from its appealing design and form factor. It features a subwoofer which is built into the speakers to make the whole package as compact as it is right now aside from providing powerful and deep bass sound. In addition, this speaker system also boasts of built-in 40mm drivers which provide the mids and highs of its audio output. These two drivers are sealed in a chamber to separate the subwoofers' sound from the audio output of the main speakers. Finally, the Expressionist Bass FX3022 features 25 watts RMS continuous power, which is capable of filling up a room with satisfying sound output. The Altec Lansing Expressionist Bass FX3022 will set you back $127.24.
Logitech Z-5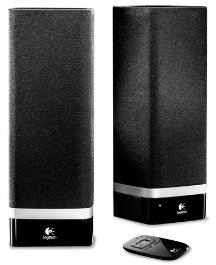 Boasting of omnidirectional acoustic technology, the Logitech Z-5 produces consistent sound level regardless of where you are located relative to the speakers' location. This technology, which is commonly found on expensive home-theater systems, enables the speakers to reach a wider angle inside a room by using forward- and backward-firing drivers for transmitting sound evenly. This speaker system also features USB connectivity to enable quick connectivity with laptops without the need for power adapter or batteries. It also comes with a remote control to make it easy to manage the speaker system. The Logitech Z-5 computer speakers cost $79.19.