Holiday Shopping Guide; Top Five Rugged Laptops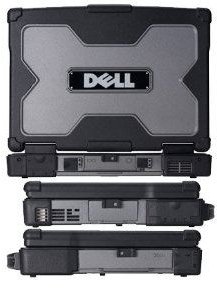 Dell Latitude XFR D630
Dell's first ever ruggedized laptop definitely comes with a high-price - a whopping $4,899! But then again what do you expect from such a highly durable computer which passed strict military standard MIL-STD 810F? This means that it can withstand extreme temperatures, shock/drop, moisture, altitude and other environmental extremities. Its chassis is made of solid die cast magnesium alloy and features a slew of great specs and details which make it worthy of its price tag. This rugged laptop's features and specs are definitely impressive. And this includes:
2.0 GHz Intel Core 2 Duo T7250 CPU
14.1-inch 500 nit Outdoor-viewable LCD
2GB DDR2-667 SDRAM
80GB shock-mounted HD
Intel Integrated Graphics Media Accelerator X3100
Wireless 1395 802.11 mini card
Bluetooth module
Genuine Windows Vista Home Basic
24x CD-RW/DVD with Cyberlink PowerDVD
The Dell XFR D630 also features shock isolated protection for its HD and LCD and a protective seal for its keyboard.
HP EliteBook 6930p Ruggedized Laptop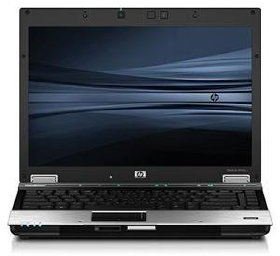 This 14.1-inch business laptop is the first model in HP's EliteBook ruggedized laptop series. Like the Dell XFR 630 rugged laptop, the HP EliteBook 6930p also passed the military standard MIL-STD 810F, so you are pretty much sure that the laptop can withstand all sorts of environmental extremities. It features a shock-resistant HD and a spill-resistant keyboard. Design-wise, this laptop features a brushed anodized-aluminium exterior with a mix of magnesium alloy to complete its form factor. But the most notable feature of this rugged laptop is what HP claims as its "all-day battery life". The laptop is a great mobile computing machine specifically because it was based on Intel's Centrino 2 "Montevina" mobile platform which also features vPro management technology. You can also replace the default optical drive with a secondary hard drive. Quickly running down its features will give us:
Intel Core 2 Duo 9000 and 800 series mobile CPU
Intel's integrated graphics/AMD's Mobility Radeon HD 3450 Dedicate GPU
8GB of DDR2 memory
250GB of HD
LED backlit display 1280x800 or 1440x900
un2400 EV-DO/HSPA mobile broadband module
Wi-Fi 802.11a b/g/draft-n
Bluetooth
ExpressCard slot
3 USB ports
VGA output, Firewire port
Windows Vista
Averatec Voya 4473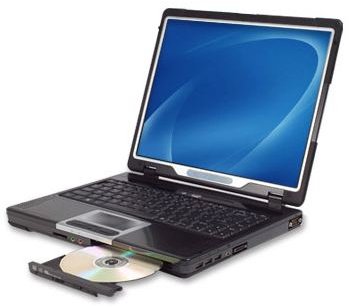 Offering military grade reliability against accidental bumps and bruises as well as a spill resistant keyboard, the Averatec Voya 4473 is a full-featured, semi-ruggedized and stylish notebook which you would wish to have. This rugged laptop features a magnesium alloy outer cases, corner bumpers, and an anti-shock mounted hard drive which were built to withstand the rigors of daily usage. Retailing for $1,299, the Voya 4473 boasts of the following key features and specs:
Windows Vista Home Premium
14.1-inch XGA LCD Screen with AveraBrite (1024x768)
1.73 GHz Intel Pentium Dual Core Processor T2080
1GB RAM
120GB Hard Drive
Intel Graphics Media Accelerator 950
SuperMulti Dual DVD Burner
Wi-Fi 802.11 a/b/g
Panasonic Toughbook 19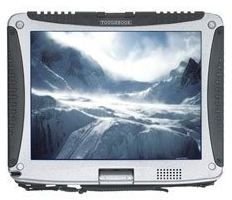 Panasonic's entry in our list is by way of the Toughbook 19, a rugged laptop that converts into a tablet PC by one quick swivel. Once it is transformed into a tablet PC, it becomes handwriting-friendly which even allows you to convert handwriting to printed text. Like other rugged laptops, the Toughbook 19 can also withstand extreme levels of damp, dust, heat, cold and vibration. One of its most notable features is its optimized display technology with extra low reflection rate that makes the LCD display clear even when in a bright-lit environment. Specs-wise, this rugged laptop's got plenty to brag about including:
U7500 1.06GHz Intel Core 2 Duo Mobile Professor
1GB RAM (DDR2) standard, expandable to 4GB
10.4-inch XGA daylight-readable LCD (1024x768)
Intel 965G (GMA X3100 video controller)
80GB shock-mounted and quick release HDD
Wi-Fi 802.11 a/b/g
Bluetooth v2.0
Optional integrated Gobi 3G mobile broadband (WWAN)
If those specs and features excite you to seriously consider getting this rugged laptop, wait till you learn about its price. The Panasonic Toughbook 19's price ranges from $3,199 to as high as $4,227.
Getac B300 Rugged Laptop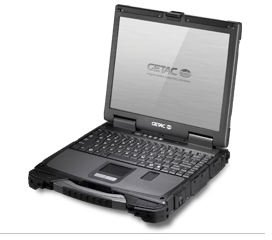 If you're really serious in getting the real deal in rugged laptop, the Getac B300 could probably be your best bet. This ruggedized laptop speaks of toughness inside and out. It is both MIL-STD-810F and IP54 compliant which specifically means that this laptop has a shock mounted HDD, is vibration and shock resistant, and features sealed I/O caps and doors which prevents solid particles and moisture from damaging this touch machine when subjected to extreme environmental conditions. In addition, the B300 rugged laptop also boasts of an ultra-bright 13.3-inch LCD display which can be read even in bright sunlight. You can also opt for a 1200 NITS display to have an effective contrast ration in bright sunlight. Plus, this rugged laptop also features a Mercury-free LED lamps and touch screen option. Other notable features include fingerprint scanner, optional smart card reader, and TPM (Trusted Platform Module) v1.2. Are you ready for the Getac B300's awesome specs? Here's a complete rundown of the key features and specs:
1.6GHz Intel Core 2 Duo Merom L7200 CPU
512MB DDR2 expandable to 4GB
13.3-inch XGA TFT LCD (1024x768)
80GB SATA HD expandable up to 250GB
Water resistant keyboard
DVD Super Multi Drive
Windows XP Pro (downgraded from Vista Business)
Expectedly, with such powerful, tough, and rugged features, the Getac B300 has a high price. Price of this rugged laptop starts at around $3500. Yes, that's the price we all have to pay for a highly-durable laptop.