Five Best Laptop Bags for Your Newly Bought Machine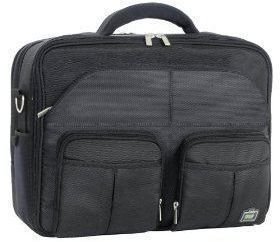 Skooba R101-101 Checkthrough Checkpoint-Friendly Laptop Bag (Black)
The checkpoint-friendly laptop bag is starting to become the choice laptop bag for many laptop owners who travel frequently. If you're one of these laptop users, you might find the Skooba R101-101 Checkthrough checkpoint-friendly laptop bag a good choice for your needs. Although this laptop bag was designed for 15/15.4 inches laptops, it can also hold 16-inch and 17-inch laptops which are compact and slim in form factor. The Skooba R101-101 features around 20 pockets that hold various gadgets and personal stuff including liquids, ticket/passport holder, ID holder, file section, cargo pockets, and more. This laptop bag has a Ballistic exterior and smooth nylon interior. It was crafted with brushed nickel hardware, fine tailoring, and stitching details. Its check-through compartment unzips easily to reveal your laptop inside when undergoing security checks and quickly zips close as soon as the inspection is done. Price-wise, the Skooba R101-101 Checkthrough laptop bag is on the high side with an SRP of $91.48, but this is still reasonable considering its special features.
Belkin 15-inch Messenger Bag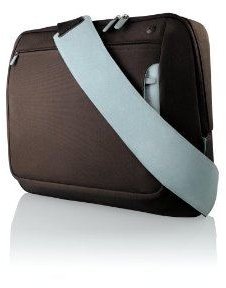 If you have a 15-inch laptop, it would fit nicely into this [Belkin laptop messenger bag]( https://www.amazon.com/Belkin-15-Inch-Messenger-Chocolate-Tourmaline/dp/B000S5CY38/ref=sr_1_23?ie=UTF8&s=electronics&qid=1227344675&sr=1-23 &tag=brihub02-20). It offers a large storage capacity but most importantly it protects your laptop from bumps and scratches with its fully padded compartment. Made of 100% polyester fabric, the Belkin 15-inch laptop messenger bag is both durable and waterproof plus you'd get an extra feature with its sleek and elegant design in chocolate/tourmaline color. A separate pouch is included to hold your laptop's power adapters and cables, ensuring that your laptop won't get any scratches from the said accessories. Available in jet/cabernet, chocolate/tourmaline, dove/peony and dove/tarragon color design, this messenger bag still leaves some more room to hold your MP3 player and other important accessories. The best part is this laptop bag will only set you back for $35.70.
Targus TXL617 17 XL Notebook Backpack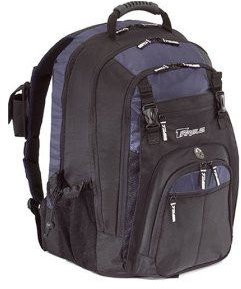 When traveling with my laptop in tow, I prefer to bring only one big bag that will also hold my other stuff. Hence, I prefer to have a laptop bag with extra room for my other gadgets and my laptop's accessories. That's why I'm seriously contemplating getting this laptop bag. This Targus laptop bag is roomy enough to accommodate a laptop with up to a 17-inch screen. In addition, it features a main compartment to hold important documents and files. To make it even more useful, Targus has also included a mesh-water bottle pouch, a soft pouch for sunglasses, and an audio player sleeve. The backpack is made of 840D Nylon and 420D Nylon Ripstop, so rest assured that this backpack is durable enough. The Targus TXL617 17 XL Notebook Backpack retails for $50.89.
Case Logic VNC-17 17-inch Value Slimline Laptop Case (Black)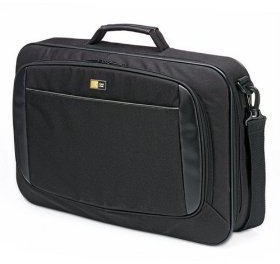 If you're not into the bulky type of laptop bag, the Case Logic VNC-17 Value Slimline Laptop Case offers the right laptop bag, or case for this matter, for you. Case Logic is well known for their gadget bags which are durable, and yet affordable, in price. This laptop case is a good example of that. It offers an adjustable internal compartment complemented by a movable padded divider that enables you to put in laptops of various sizes. It also has a speed pocket which you can use for your valuables. This would come in handy when you're about to check in at the airport. Additionally, its interior sleeves hold your other documents, files, newspapers, and magazines. Like we said, Case Logic bags are usually affordably priced, and this laptop case is no exception, retailing for only $27.35
Kenneth Cole Reaction Business and Luggage Full-Grain Leather Laptop Messenger Bag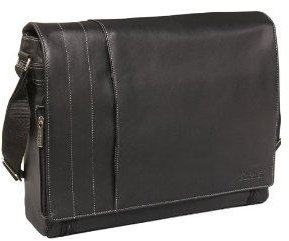 If you've got extra money to splurge on a laptop bag, the Kenneth Cole Reaction Business and Luggage Leather Laptop Messenger Bag might interest you. Its current price tag is listed at $97.99. If you're wondering why this laptop bag is more expensive than the four laptop bags we've already listed, it's probably because of its full-grain leather finish plus the fact that it bears the Kenneth Cole brand. Feature-wise it's basically your standard laptop messenger bag fare with added special items such as a front flap with magnetic closures and a roomy single gusset construction with lined interior. It also features a front zipper pocket organizer for holding your business paraphernalia and a side zipper pocket for keeping your cell phone and other gadgets. For laptop users with a highly-developed fashion sense, the Kenneth Cole leather laptop messenger bag would definitely match any business class attire.