Actual Prices and Availability of X58 Motherboards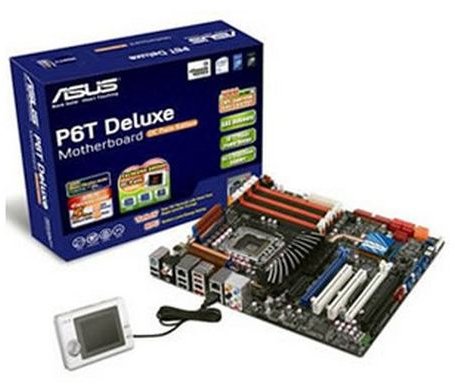 Many board makers are hyping their products, but it is hard to judge them with out real price data. Manufacturer suggested prices are notoriously innaccurate with hot new tech parts. See this piece at Xtreview pointing out that EVGA's SLI FTW has a $299 MSRP but has been seen online for $407.99.
If you are surprised to see nVidia's multi-GPU SLI (Scalable Link Interface) on an Intel chipset, you can start getting used to it. Previously the only Intel platform with SLI was the odd-ball Skulltrail. Many of the new X58 boards will have SLI. Originally there was some talk of having to use an nVidia nForce 200 chip as a PCI-E controller, but it appears nVidia cut a licensing deal instead.
It's good news for the consumer; the fiver shouldn't add that much to the end price. Plus you no longer have to tie yourself to ATI's Crossfire or nVidia's SLI for the life of your motherboard. The nForce 200 chips would have apparently been in the neighborhood of 30 bucks; plus the costs associated with engineering the extra chip into the board.
We found prices in Australia, Canada, the EU, and the UK for a total of seven X58 motherboards from Intel, ASUS, MSI, and Gigabyte. The American prices are those offered in that currency by the Canadian shops.
All of these boards have the X58 chipset features we discussed in the previous article, such as an LGA 1336 socket and triple-channel memory.
ASUS P6T Deluxe: Did You Want Handheld Overclocking with That?
With Palm O.C.: USD: 365 UKP: 270 EU: 276 CND: 425 AUD: 610
Without: USD: 328 UKP:240 EU: 252 CND: 382 AUD: 530
The first X58 board from ASUS won't be the flagship Rampage II, but the P6T Deluxe. This motherboard is no slouch though. All the basics are covered in spades: SLI or Crossfire via 3 PCIe 2.0 slots (16/16/1 or 16/8/8); dual gigabit LAN; 14 USB ports; 2 Firewire; 8 channel audio; S/PDIF Out (coaxial + optical); 6 SATA 3G ports inside and one eSATA at the back and a 16+2 phase power.
There are also two SAS ports for folks with elaborate storage demands, mostly workstations. Though the SAS is mostly there for the business buyer, it does offer some interesting possibilities to the deep pocketed enthusiast. Cooling is passive but plentiful, and specially contoured to benefit from the CPU cooler's down draft. An optional fan is included.
This board is my no means restricted to high-end office use, though. Enthusiasts will be pleased with the cornucopia of BIOS options and tweaks. Furthermore, Turbo V, which allows overclocking from inside windows. You can even step up to the O.C. Palm edition, which includes the little white thing pictured. In conjunction with the Windows Vista's SideShow feature, you can use the extra screen for basic features like Instant Messaging, system monitoring, and on-the-fly overclocking.
It also comes with Express Gate SSD; a little Linux OS that lets you get online, Skype, IM, and even look at the pictures on a thumb drive without booting the whole system: Perfect for checking the weather and confirming your reservations if you are leaving town and have already shutdown your PC.
The next article covers boards from Gigabyte, MSI, and Intel.
This post is part of the series: Core i7 and X58: Nehalem and Tylersburg Hit the Streets
Intel's new microarchitecture has been talked about for a long time. The time has come to really see what it is all about, how much better it is, who should get it, and where to it.