Multi-Media Speakers for PC - Top Ten Computer Speakers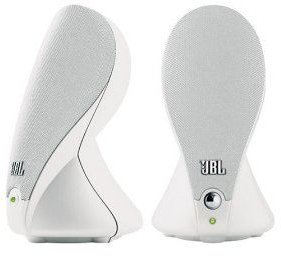 JBL Duet Speakers
OK, I have to admit that the reason I included this speaker system is not so much because of its price but more because it immediately caught my attention due to its "sexy" form factor. This white-colored dual speaker system was manufactured by Harman and boasts a 60Hz to 20KHz frequency response at 70dB signal-to-noise-ratio, which means that it can provide smooth and accurate sound even for your portable audio devices. Other features of these sleek-looking speakers include 20 watt power consumption, volume controls on the satellite speakers, and superb portability since they measure only 9" x 6" x 6" and weigh a mere 1.6kg. Current retail price with discounts is $39.99.
Logitech Z-4 2.1 Speaker System with Subwoofer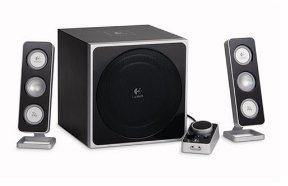 From an ultra portable computer speaker, we go now to a not so portable one this time from Logitech, one of the more popular computer speaker manufacturers. This speaker system comes packed with its own subwoofer capable of giving out distortion-free bass sound. Their form factor resembles most home theater speaker systems and yet it would blend well with your desktop system at home with its sleek high-gloss finish and its cast-metal stands. Technically it boasts 17-watts RMS powered satellite speakers, 23 watts RMS power subwoofer, 40 watts RMS total peak power, a frequency response of 35Hz - 20kHz, and a signal-to-noise ratio of less than 92db. In other words the Logitech Z-4 2.1 Speaker System is capable of producing high-quality sound. If you're keen on getting this speaker system, what are you waiting for? It will set you back only $54.58.
Creative I-Trigue 3330 PC Multimedia Speaker System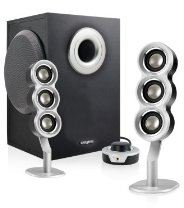 If we're talking about computer speakers, we shouldn't end without mentioning a model from Creative. Creative is one of the better known computer speakers manufacturer like Logitech. And their I-Trigue 3330 PC Multimedia Speaker System is just one tiny proof of their expertise when it comes to producing speaker system for our computers. The I-Trigue 3330 sports slim design with sleek looking satellites in glossy black enclosures. The I-Trigue also features a NeoTitanium Tri-Array Technology that produces balanced sound. It also has wired control module for easy control of volume, bass and power. Other technical details include 6 watts RMS per channel speaker power, 40Hz~20Khz frequency response, and 80dB signal-to-noise ratio.
Creative Labs GigaWorks T20 2.0 Speakers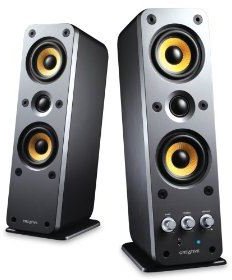 I personally like Creative's Gigaworks T20 2.0 Speakers for three main reasons - 2 way design, front access to controls and its woven glass fiber cone driver. It's 2 way design enhances bass quality even without a subwoofer. It's tweeter and mid-range driver layout enables the speaker system to produce balanced and natural audio sound quality. It's front access control provides for easy adjustment of bass, treble, volume and the power on/off switch. Connecting the speakers to your desktop and other devices is easily done as well with its headphone-out and auxiliary-In ports. And its woven glass fiber cone driver aside from delivering natural and accurate lower frequency response is ideal for listening to music. Other features of the Creative Labs Gigaworks T20 2.0 speakers include BasXPort for lower mid range tones, and a TV adapter. Current price tag of this speaker system is a bit on the expensive side at $89.99.
Altec Lansing FX4021 2.1 Powered Audio Speaker System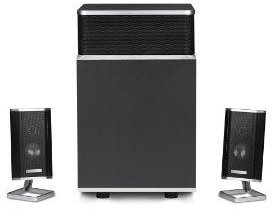 Altec Lansing's FX4021 2.1 Powered Audio Speaker System features a decently tasteful design and features a dual 5.25-inch drivers with an isofabric subwoofer. Isofabric means having two woofers in a single cabinet. According to Altec Lansing, this two-way speakers provides clean and crisp sound with an enhanced bass sound quality. It also features a Sound Field Expander Technology that can provide wider stereo image, wireless remote and control pod for controlling volume, bass, treble, and loudness. Even nicer is the fact that it allows you to connect other external devices such as your iPod, MP3 player, or CD player at the same time as your computer. It also comes with a headphone jack. You'll get all these features of this Altec Lansing speakers for $83.22.
Klipsch Groove PM20 2.0 Speaker System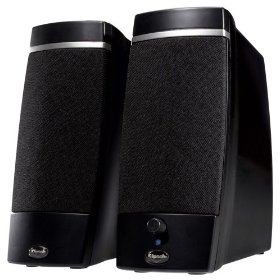 From the more sleek and elaborately designed speaker system, we go now to something simpler - the Klipsch Groove PM20 2.0. Quite honestly, I've never heard about Klipsch until now. And impressively, their simple and straight forward speaker system is publicized to be capable of producing great sound. Aside from providing your desktop or laptop with a good speaker system, it can also power up the sound output from your TVs, iPods and DVD players. The Groove PM20 will set you back $59.99.
JBL Creature II 3-Piece Powered Speaker System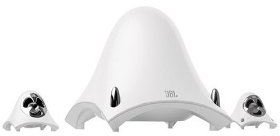 Take two for JBL on our list with this Creature II 3-Piece Powered Speaker System. It's got an odd-looking main speaker with two miniature satellite speakers, with the right satellite featuring a capacitance touch volume control button. Both satellite speakers also have green LEDS which emits a cool desktop look when under dim lighting. This speaker system is also compatible with Macintosh desktop and MacBooks as well as with portable MP3 players and CD players.
Bose Companion 2 Multimedia Speaker System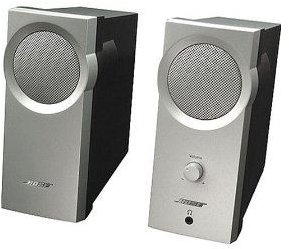 Although Bose is well known for its home entertainment audio and speaker systems, it's Companion 2 Multimedia Speaker though can prove that it also know how to manufacture PC speakers. This 2 Multimedia Speaker System features TrueSpace, a surround digital processing circuitry which simply gives maximum audio performance. It also has a ported cabinet design that enables it to produce deep low musical tones as well as special effects for gaming. This speaker system also boasts dual inputs that enable it to connect to a PC and other audio device simultaneously. And finally, the Bose Companion 2 Multimedia Speaker system features a magnetic shield design, so you can place the speakers near a monitor and you don't have to worry about hampering the picture quality of your PC monitor. On the technical side, the Bose Companion 2 Multimedia Speaker System features monopole directionality, magnetically shielded, weighs a mere 2.12 pounds, and measures 3.38-inch x 7.5-inch x 6 inch. The Boss Companion 2 package connects to your computer via a standard speaker jack. This PC Speaker System will set you back for $79.52
Cyber Acoustics CA-2022R 2.0 Computer Speaker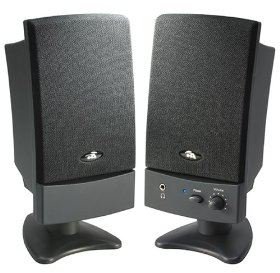 Continuing its tradition of offering highly affordable computer audio and speech recognition/voice interactive microphones and handsets, Cyber Acoustics' PC speakers retail only for $24.99. But don' think that this speaker system pales in comparison with other PC speakers. This speaker system features high excursion, efficient drivers, low distortion, high power amplifier, bass reflex ported enclosure, magnetic shields, and convenient power on/off switch, great desktop volume control, and headphone output jack.
JBL Spyro 2.1 Speaker System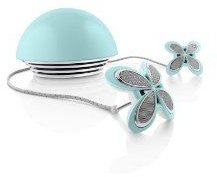 Our third PC speaker system coming from JBL utilizes Odyssey transducers for providing clean, accurate, and high frequency sound. It boasts of advanced technologies, large excursion woofer, and one touch volume control. This speaker system looks odd yet it's a powerful audio system. The package comes with a stereo mini-jack that you can use to connect the speakers to multimedia devices such as iPod and other MP3 players. And it costs only $29.