How Does Microsoft Surface 3 Compete With Apple and Google? Here's What You Need to Know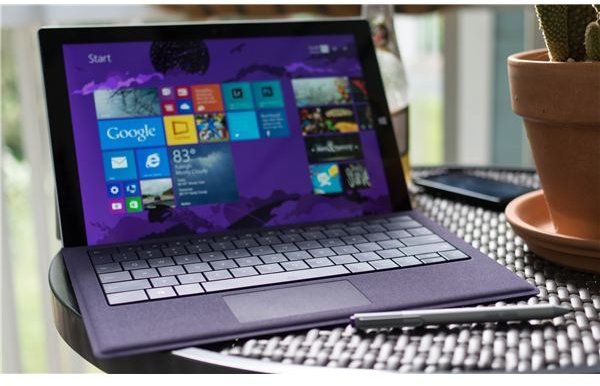 The Surface
First introduced in 2012, the original Surface and Surface RT confused consumers and failed to sell well. The Surface 2 released late in 2013 was likewise met with a lack of enthusiasm. Microsoft is touting the Surface 3 as a potential Mac killer. Let's take a look at Microsoft's claims and see what's new with the Surface 3.
While the original Surface and Surface 2 offered a stripped-down version of Windows called Windows RT, Microsoft wisely chose to offer the Surface 3 with only Windows 8.1 Pro.
One of the biggest issues with the first (and arguably the second) Surface was the difference in operating systems. On one hand, you had Windows RT and on the other, Windows 8 Pro. The tablet interfaces for both RT and Windows 8 were identical, but RT lacked the ability to drop to the Windows desktop and thus didn't allow you to install full-fledged Windows applications. Unfortunately, Microsoft failed at clarifying these important distinctions and ended up alienating consumers. Again, the elimination of Windows RT is a welcome move.
The Surface 3 will only be sold with Windows 8.1 Pro, which is the same operating system running on millions of laptops and desktops.
The Specs
As expected, the Surface 3 improves specs of the tablet over previous Surface versions. Not only has the screen size been increased from 10" to 12", the processor is now a standard Intel Core i3, i5 or i7 processor as opposed to a lower-specc'd Atom processor.
Microsoft also offers additional storage options that appear tied to the amount of RAM in the tablet. The 4GB RAM models come with either 64GB or 128GB of solid state storage. The 8GB RAM models come with either 256GB or 512GB of storage.
What does this mean for you? Essentially, the Surface 3 is a full-fledged computer and in most circumstances can easily replace the need for a separate laptop and tablet. I think with the general consumer confusion surrounding the Surface 1 and 2, Microsoft is changing their marketing posture and aiming the Surface 3 at the enterprise.
Enterprise users love having the mobility of a tablet, but the lack of full desktop OS limits how widespread these devices will be used in an enterprise. With a tablet form factor and full laptop specs and operating system, the Surface 3 could easily be deployed as a laptop replacement.
Pricing
The high technical specs of the Surface 3 are reflected in the high price of this device. This isn't just a simple tablet. The low end model –Surface 3 with i3 processor, 64GB of storage and 4GB of RAM—runs $799 without the keyboard cover. At the high end is the Surface 3 with i7 processor, 512GB of storage and 8GB of RAM. This guy will set you back about $2,000.
Final Thoughts
So can the Surface 3 take on Apple and Google? On one hand, yes. As a laptop in a tablet form factor, the Surface 3 can easily take on the likes of the MacBook Air. As a pure tablet, the Surface 3 will work fine, but there are much cheaper options out there, including the iPad and price-conscious Android tablets. Microsoft's response to those who are only interested in the Surface as a tablet? "Pick up the Windows RT powered Surface 2."
References