Toshiba Satellite L735D Laptop Review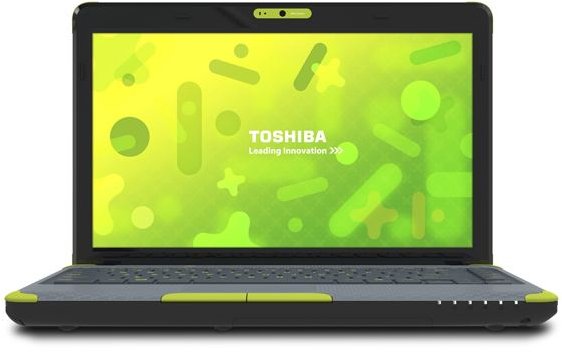 Are you forever trying to keep sticky fingers off your keyboard? Is your laptop always the center of a traumatic argument over Facebook time? Are you looking for an affordable laptop that won't fall apart the first time it hits the hardwood floor? Check out the Toshiba Satellite L735D, the latest kid friendly computer.
It's not going to knock your socks off with ultra-fast graphics or a quad core processor but it has everything that a youngster needs to keep connected socially and explore the Internet safely. It has quick launch features that make it easy to use, a kid friendly (and did I mention cool looking) finish and a host of built in kid centric applications.
Processor and Graphics (3 out of 5)
While you can't expect a top of the line processor or graphics card in a computer for a kid, you shouldn't be stuck with a machine that won't handle popular programs either. The L735D sports an AMD E-300 Dual-core Processor and an AMD Radeon HD 6310 graphics card which will allow your child to watch streaming videos, play Flash games, have video chats, and still handle all but the most graphically intensive online games. While not top of the line, it is more than you'll find in most "kids" computers.
Build Quality (3 out of 5)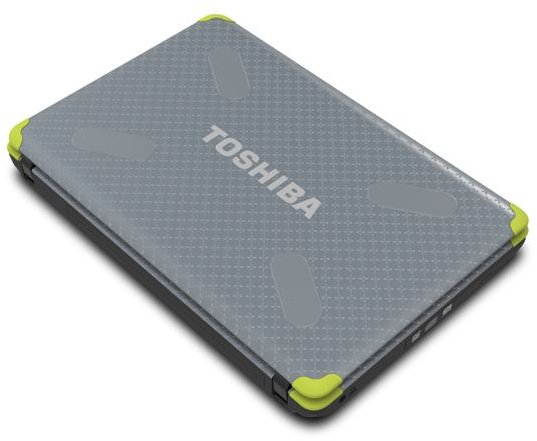 You'd expect a laptop designed for kids to be made with a sturdy case that can withstand abuses that a normal laptop would never have to handle. Unfortunately, this laptop is constructed of the same lightweight molded plastics as other Toshiba products. That's not to say that the build is cheap, because it's not, but the quality is just not any better than other Toshiba laptops. This is the major concern with this particular laptop, as it may not withstand the day-in, day-out abuse that a younger user will dish out. It does come with a one-year parts and labor warranty, but extra coverage might be a good investment here.
Tech Specs (3 out of 5)
The Toshiba Satellite L735D doesn't skimp on hardware, either. It comes with 3GB DDR3 1066MHz memory and a 320 GB hard drive. That's plenty of RAM and storage space for the young user to save pictures and videos. The multi-touch touchpad allows those familiar with touch screen interfaces to pinch, swipe, rotate or scroll through images in the same manner as an iPod or tablet computer. They will be looking at all of these wonderful images on a 13.3 inch HD "TruBrite" LED Backlit display with a native resolution of 1366 x 768 pixels and support for 720p content. The built-in DVD drive will allow your child to use the laptop as a portable high definition movie theater.
The Toshiba L735D also comes with a memory card reader, built-in web cam and microphone. For green conscious parents, it comes with an Eco Utility and is Energy Star Compliant and EPEAT Gold Compliant. The 6-Cell Li-ion Battery Pack offers up to 5.5 hours of continual usage but you can expect about 3.5 hours because of the graphics heavy programs, like games, that your child will probably use.
Toshiba had originally announced that this computer would ship with the Windows 7 Starter operating system, but upgraded it to Genuine Windows 7 Home Premium (64-bit) just before its release on October 2, 2011.
Kid (and Parent) Friendly Upgrades (4 out of 5)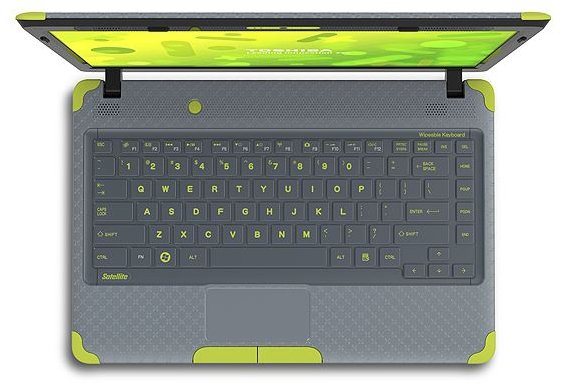 After looking at of the basic specs you're probably wondering how this is any different than a typical low to mid-range laptop. Physically, the keyboard is easy to clean with a disinfectant wipe or buffing cloth and the Neo X textured finish is fingerprint resistant (not glossy like other Toshiba laptops). It's also very light at 4.6 lbs, so your child won't have trouble lugging it around from place to place. It also has added bumpers at each of the corners. These rubber bumpers are an added layer of protection that should keep the laptop from getting damaged from the everyday edge banging that can happen when sliding it onto a tabletop or banging it against the arm of a chair.
There are even more kid friendly features on the inside. The hard drive is equipped with an impact sensor that 'parks' the hard drive heads in the event of a drop or sudden movement preventing physical damage.
Toshiba packed several software programs in as well. The kid safe KidZui web browser, Lego Harry Potter, Multiple-Level Password Utilities, Toshiba Supervisor Password Utility, and the Toshiba Face Recognition program for use with the built-in webcam.
Overall (4 out of 5)
With a decent processor and adequate memory, the Toshiba Satellite L735D is one of the better options out there for a younger computer user. It's currently only available from Best Buy or BestBuy.com and retails for $497.99. Sure there are more powerful computers out there around this price range but they don't come with the software or safety features of the L735D. For the price, you'll be hard pressed to find a more complete child's computer.
References