Low Profile Wireless N Network Card Roundup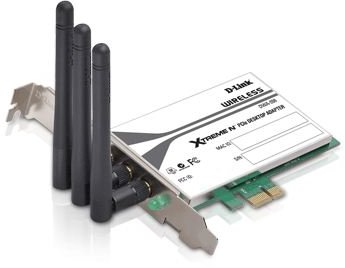 Unplug the Desktop
Laptops, tablets and phones connect effortlessly to wireless networks, but many homes and offices still have their desktop computers and home theater PCs chained to wired Ethernet connections. You might think that you can't upgrade these computers to use your wireless network because normal expansion cards don't fit. Help for you is here.
HTPCs and mini-desktop computers use low profile expansion cards to conserve space. By using these specially designed cards, you can upgrade and expand your computers if they have an available PCI or PCI-E slot. This low profile Wireless N network card reviews/roundup highlights some of these adapters and points out their features and strengths. The information presented here will help you find the card that's best for you.
Best PCI-E Adapter: D-Link Xtreme N Wireless PCI Express
The DWA-556 Xtreme N PCI Express Desktop Adapter earned a place in our roundup because its unique triple-antenna design which improves reception and provides enough bandwidth to simultaneously support multiple network-based applications. Also, its PCI Express configuration creates an interface that can improve performance by up to 50 percent over a standard PCI card.
Designed for large homes or offices equipped with D-Link's DIR-655 Xtreme N Router, this card lets desktop computer users talk via VoIP, transfer files, and stream HD video all at once.This card delivers its best performance when connected to a D-Link 802.11n router, but it also features backwards compatibility so it fits in well with older wireless specifications and routers from other brands.
Setup for this card is easy. When installed, the D-Link Quick Adapter Setup Wizard takes over, quickly creating a secure connection. This card costs $69.99 from the D-Link online store.
Make sure that your computer has an available PCI-E slot before buying this card.
Best Budget PCI-E Adapter: ASUS PCE-N15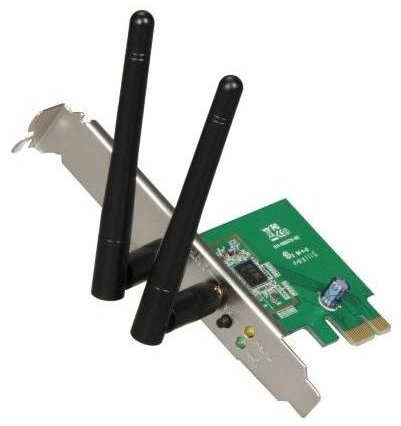 ASUS PCE-N15 low profile wireless offers a small price but is big on features. This adapter caught our attention with its unique virtual access point feature that can add remarkable range and flexibility to any network.
If installed in a computer that has a wired Ethernet connection, this card can serve as a wireless access point. With that setup, game consoles, tablets and smartphones can connect to the network wirelessly, even if they are outside the range of the nearest router. This card can even introduce wireless connectivity to a legacy network that does not have a wireless router.
This card works in computers with an empty PCI Express slot. It complies with IEEE 802.11b/g/n standards to send and receive data at 300/300Mbps. This card supports 64-bit WEP, 128-bit WEP, WPA2-PSK, WPA-PSK and WPS for maximum security. A unique Wi-Fi protected setup button on this adapter makes it easy for anyone to quickly create a secure network connection. Newegg offers this ASUS card for about $30.
This card offers a cost-effective way to add Wireless N connectivity to a PCI-E slot. It lacks the cool three-antenna design of the D-Link solution, but it does well in most environments.
Best Budget PCI Adapter: Airlink 101 AWLH5075 150Mbps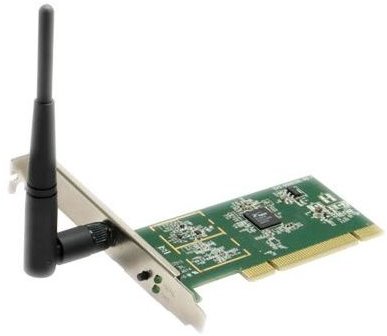 Don't let its single antenna mislead you; this card will get the job done in open environments without heavy bandwidth demands. What makes this card an appealing choice for the budget-minded is its Cisco Compatible Extensions (CCX). When implemented, CCX will choose the wireless router or access point with the most available bandwidth. This offers the opportunity to have consistently good performance from an economy-minded card.
For less than $20, this adapter delivers data at a rate of 150 Mbps under ideal conditions and uses WPA2/WPA-PSK (TKIP & AES) and WEP 64/128-bit security.
This card will easily install using drivers compatible with Windows 7/Vista/XP/2000. After installing this low profile Wireless N card, users can press a button to automatically create a connection with their wireless router.
Choose this card if you're on a tight budget or are building a bare-bones workstation.
Author's Choice: Zonet ZEW1690 Wireless Adapter with Dual 7dbi Hi-Gain Antenna & Bonus Low-Profile Bracket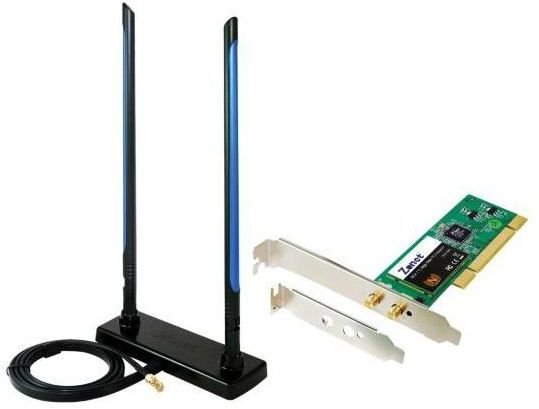 Dual external 7 dB omnidirectional high gain antennas caught our eye while reviewing the Zonet ZEW1690 card. The wide coverage and 300 Mbps throughput on this card eliminates dead spots while improving computer performance and user productivity. It supports all major security protocols and is compatible with older wireless standards.
I chose this adapter because of its performance and flexibility. The ZEW1690's virtual access point mode gives the card power to extend the life and the range of the legacy wired network in my home office. Also, the card features a built-in USB 2.0 port so it expands the capabilities of older machines at multiple levels. The author likes the price too: it costs about $40 from Newegg.
Best for VoIP and Multimedia: SIIG CN-WR0312-S1 DP Wireless-N PCI Adapter PCI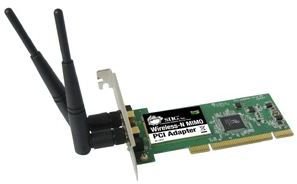 The CN-WR0312-S1 by SIIG comes with credentials to back up its higher price. We included this card in our roundup because of its QoS capability and Wi-Fi Multimedia (WMM) support.
Quality of Service capabilities means that this card can recognize and prioritize data based on user and application requirements when connected to a QoS-aware router. This capability makes the CN-WR0312-S1 a top pick for computers used for voice over IP (VoiP) and streaming multimedia.
WMM means that this card will always prioritize multimedia, gaming, movies and other applications. This means that even when another network user starts downloading files, movies and games will continue uninterrupted.
This card also has a mode that allows it to act as an access point, making it possible to create small local wireless networks centered on a single desktop computer. This card fits in a standard PCI slot. It supports WPS (WiFi Protected Setup) and supports Cisco CCX. This SIIG Wireless N card costs about $84 at Amazon.
Best Overall: LinkSys Wireless-N Low Profile PCI Adapter with Dual-Band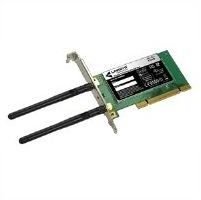 We included the LinkSys WMP600N PCI adapter in our roundup because its Ultra RangePlus Dual-Band technology makes it a unique and excellent choice for wireless desktop connectivity. This card achieves superb performance using its user-selectable radio bands. These serve to separate data traffic for maximum multimedia performance and to avoid frustrating wireless data congestion when multiple high-bandwidth applications are used.
Backwards compatibility means this card works with almost any wireless network, although a LinkSys Wireless N router is preferred. The dual-band wireless signal operates in both the 2.4 and 5 GHz bands, offering superior bandwidth than single-band cards. Users can separate the bands based on their use. Video or voice can stay on one channel while the other band handles standard data to improve performance. Overall, the price of this card (less than $50 at Amazon) and its performance makes it the best value of all the cards in this roundup.
Choose the Best for You
We intend this low profile Wireless N network card roundup to direct readers to some of the best products currently on the market. Readers must choose the adapter that they believe will work best for them. Let us know about the low profile Wireless N card you picked in the comments section below.
References
Airlink101 AWLH5075 Wireless-N 150Mbps PCI Adapter. http://www.amazon.com/Airlink101-AWLH5075-Wireless-N-150Mbps-Adapter/dp/tech-data/B003O2RXPQ/ref=de_a_smtd.
D-Link Xtreme N PCI Express. http://www.dlink.com/products/?pid=549.
ASUS PCE-N15 Wireless Adapter IEEE 802.11b/g/n PCI Express 300/300Mbps Transfer/Receive Rate 64-bit WEP, 128-bit WEP, WPA2-PSK, WPA-PSK, WPS support, http://www.newegg.com/Product/Product.aspx?Item=N82E16833320074.
Images from respective retailer sites linked to below
Cisco-Linksys Wireless-N PCI Adapter with Dual-Band (WMP600N). http://www.amazon.com/Cisco-Linksys-Wireless-N-Adapter-Dual-Band-WMP600N/dp/B0028N6VN2/ref=pd_rhf_dp_p_t_2.
SIIG Wireless-N PCI Adapter - Network adapter - PCI - 802.11b, 802.11a, 802.11g, 802.11n (draft 2.0) WLS-N MIMO PCI ADPT Manufacturer Part Number CN-WR0312-S1. http://www.amazon.com/SIIG-Wireless-N-PCI-Adapter-Manufacturer/dp/B0052UQQV0.
Zonet ZEW1690 Wireless Adapter with Dual 7dbi Hi-Gain Antenna & Bonus Low-Profile Bracket IEEE 802.11b/g/n PCI Up to 300Mbps Wireless Data Rates WPA/WPA2, 64/128-bit WEP, TKIP/AES, 802.1x, WPS. http://www.newegg.com/Product/Product.aspx?Item=N82E16833130081.