How to Receive Your Xoom 4G Verizon Upgrade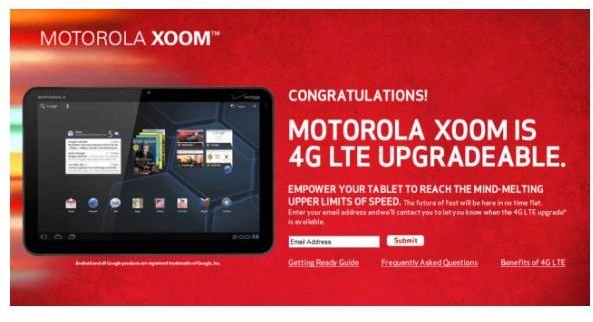 Verizon will upgrade your 3G Xoom to the new 4G LTE for free as long as you mail it in, but the entire process will take up to six days. Yes, six days. There is no quick software fix here. The 4G chip has to be physically installed in your Xoom necessitating the physical presence of the machine for the upgrade to happen.
Qualify Your Xoom for Upgrade
Before attempting any of the back-up procedures on your Xoom you should first make sure that your unit qualifies for upgrade. This step is more like registration than qualification and let's Verizon know that you will be contacting them for an upgrade. You'll need your MEID & MDN numbers for this process. To find them tap the 'Apps' icon in the upper right hand corner of the main screen. Once Apps is open tap the 'Settings' and then 'About Tablet' choices. Tap the 'Status' choice to display the MDN and MEID numbers. If you don't currently subscribe to a 3G service for your Xoom you won't need the MDN number because it is simply your 3G account number. Write these down on a scrap piece of paper and then go to the Verizon upgrade qualification page. Once you've completed the qualification you will be prompted to print a packing list or have it sent to your email. Because you will need this to ship your Xoom it is best to have it sent to your email where you can print it multiple times in case you lose the first one. Once the qualification is completed Verizon will send out a pre-paid shipping container to your home.
Data Back-Up
Whenever an upgrade is made to an existing piece of equipment there is a chance that data can be lost, files can be corrupted or physical components can be damaged. Even though Motorola says they will do everything is their power to keep your data safe they also say that they may need to enter certain apps to configure the new hardware. Because there is the possibility of accessing your files it is in your best interest to back up any data you may have on your Xoom before sending it away for the upgrade to make sure you don't lose anything important.
If you are using a Window XP or Vista PC to back up your data use the following steps:
Connect your Xoom to the computer using the USB cable supplied with your Xoom
Open the Start menu and click on My Computer, the Xoom device will be located there
Open the Xoom device and navigate to the 'Other' tab
Open 'Other' and then click and open 'Device Storage'
Click Edit on the menu bar and then 'Select All'
Press CTRL-C or open the Edit option on the menu bar and select 'Copy'
Create a new folder and name it 'Xoom Back-up' or something else you'll remember.
Open the new folder the select Edit in the menu bar and choose 'paste'
For a Windows 7 PC follow these steps:
Right-click on an open area of the desktop
From the drop down menu, choose 'new' and then 'folder'
Name the folder "Xoom Back-Up" or something similar
Connect your Xoom via the supplied USB cable
The Windows 7 Auto play will start and offer you several options, choose 'Open device to view files'
Open 'Motorola Xoom folders'
From the folder selection screen, select 'Organize ' then choose 'All'
Drag and drop the folder contents into the 'Xoom Back-Up" folder
If you are a Mac user these are the step to take:
Download the Mac Transfer Tool from the Android file transfer site.
Install the Transfer Tool
Make a new folder on the desktop and name it "Xoom Back-Up" or something similar.
Connect the Xoom via the USB cable that came with the Xoom.
Once the Mac File Transfer opens highlight the files to transfer and drag and drop them into the 'Xoom Back-Up' folder
Once you have backed up all of the data on your Xoom you may want to back up the system settings, especially if you've tweaked them to your liking. Google offers a tool specifically designed for this.
Save Your Google Account Information
The Xoom comes with a built-in feature that allows it to access the Google server to save your system settings, application data and Wi-Fi connection preferences. Here's how to do it.
Tap on the 'Settings' choice.
Choose 'Privacy'
Tap on 'Back up my data' or the checkbox in front of it
Tap on the 'Automatic restore' or the checkbox in front of it
This will automatically create a connection with the Google server and make a back-up of the entire Xoom system. When you get your Xoom back from Verizon you can turn off the back-up and restore features by simply tapping on the 'back up my data' and 'automatic restore' choices to remove the check marks.
Reset the Xoom to Factory Settings
While it is not required to reset your Xoom to factory default settings, it is the most efficient option if you want to keep your data from falling into someone else's hands. If you've already backed up your data then this is the next sensible step. Motorola suggests an alternative using the encryption mode available on the Xoom but I suggest you stick with the back-up and factory reset option. Here's how to reset the Xoom to factory settings:
Tap 'Apps' in the top right hand corner of the home screen
Tap 'Settings'
Tap on 'Privacy' and choose 'Factory Data Reset.' A warning will appear that tells you to make sure all of your data are backed up or it will be lost.
Tap 'Reset Tablet.' There will be a second warning before you can continue.
Tap 'Erase Everything' to reset your Xoom
The Xoom will power off and then turn itself back on.
Pack and Ship the Xoom
Once your pre-paid shipping container has arrived you can package up your Xoom and send it back to Verizon for your upgrade. Make sure your Xoom is powered off and slip it into the tray in the shipping box. It will fit snugly. Cover it with the thick foam pad that has been provided. Only send the Xoom, keep all accessories at home. Accessories are not covered in the shipping cost and are not covered by insurance so there is no guarantee that you'll get them back. Next, place the packing list that you printed from your email on top of the padding. Close the box and slip it into the shipping envelope. AS of the time of this writing, Verizon is using FedEx for this service. You'll need to drop the envelope at the nearest FedEx shipping center. To find one near you visit FedEx.com.
Wait
Now you know how to get your free Xoom 4G upgrade from Verizon and you've prepared for it. All that's left is the wait. When your shipping package has been received, you'll receive a confirmation email from Verizon with a link to track the status of your return shipment. Keep in mind that shipping times will vary depending on the distance you are from a service center. This is why you may have to wait up to six days to get your Xoom back. Once you get it back, though, you'll find it was well worth the wait. The 4G speed allows you to stream video without delays and download files in a fraction of the time it took on the 3G network.
References