Apple iPad Camera Video Apps and More - iPad Video Cam Options for Work and Play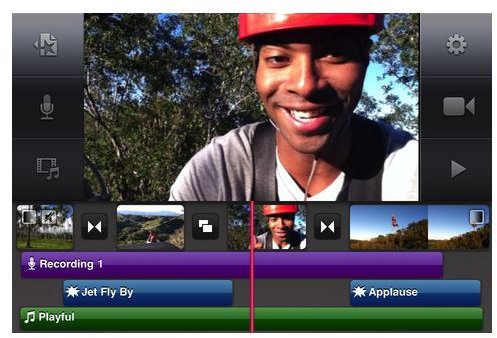 When Apple released the iPad 2, it added several new features to make it stand above the original iPad. It features a faster processor to make apps run better, plus it is thinner and lighter. One of the biggest new additions is that of video cameras, just like what you can get on the iPhone. There are cameras on the front and back of the screen, so you can have both going at once or switch between them. With this big new feature being a major selling point of the iPad 2, here we'll show you some really cool Apple iPad camera video apps and how they can be used for work or fun.
Tech Specs
In case you were wondering about the quality of the iPad 2's cameras, here's the info straight from Apple's site:
Rear camera: 720p (1280 x 720 pixels) HD quality, recordable up to 30 fps (frames per second) with audio
Front camera: VGA (640 x 480 pixels) quality recordable up to 30 fps (frames per second) with audio
As for why the rear camera is of much better quality than the front camera, the answer is pretty simple. The front camera is on the same side as the screen, so if you're using it then most likely you'll be sitting right in front of it, or holding the iPad at arm's length. At that distance, there is no need for super high quality video, plus it cuts down on bandwidth when video chatting. The rear facing camera is what you'd be more likely to use for taking photos or video of other things, so it is of much better optical quality.
Video Editing
Think of your iPad 2 as a computer with a video camera built into it. For movie makers, this makes the tablet a self-contained portable studio capable of shooting and editing video as well as audio. You can even upload your videos to other sites when they are ready to be shared. Steven Spielberg got his start making movies in his back yard with his parent's old home video camera. What will you create?
iMovie - If you want to get into video editing on the iPad 2, this is the app to get. Its Mac counterpart is actually used by major Hollywood studios to edit films, and now you can get it on your iPad 2 for just $4.99. It lets you trim videos, arrange scenes, add music and sound effects, and so much more. You can even build your own credits. While this doesn't have quite as many features as the full Mac product, it does have more than enough to get you started with editing videos.
Splice - Another solid video editing app is Splice, and it has many of the same features as iMovie, but also lets you download additional sound effects and themes. It allows for some minor visual effects and does HD output. This app sells for $3.99, but the additional content is extra.
Online Chat and Conferencing
Remember how cool it was on The Jetsons when they could see each other while talking over the phone? The technology has been around for years thanks to webcams on computers, but it has never been easier than on the iPad 2. Consider a couple of very popular options:
Facetime - This built-in app lets you make video calls to another iPad 2, iPhone, or iPod Touch. Imagine being able to dial up a friend and give them a walking tour of your new home or even introduce them to the latest addition to your family. Each person gets to view the other in full screen, rather than some tiny little window on a computer. Since your iPad 2 has two cameras, just tap the screen to switch between the front or rear camera so that the other person can see you or what's in front of you. This app only works over a Wi-Fi network, so it's best used at home or any place you can get a wireless Internet connection.
Skype - Whereas Facetime is only meant for fellow Apple users, the Skype app lets you talk across multiple platforms. Use your iPad to have a video chat with someone on a Windows 7 laptop, or even let them view you on a Skype-enabled television. With this software, you can use it to make online telephone calls. You can even get your own phone number for it. This essentially turns your iPad 2 into a video phone. If you already have a Skype account, it uses all the same contacts, so you can jump from iPad to PC without any problems. For more info, read our iPad Skype guide.
Fun Stuff
Your iPad video cam options don't always have to be about business, so why not have a little fun with its capabilities? There are a ton of photo apps that let you do crazy things with pictures, and likewise there are more advanced video apps that do some pretty amazing stuff.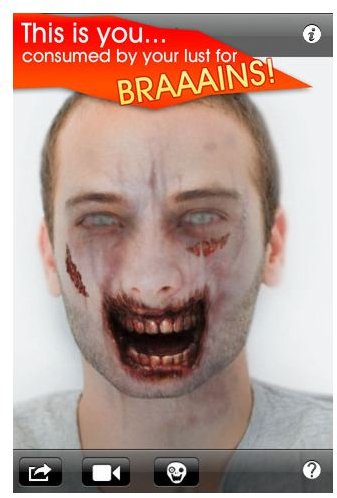 AR Magic Mirror - The AR part of this app title stands for 'augmented reality' and the magic mirror part should be obvious. When you run this app, you turn the camera on yourself and then select from a variety of decorations like hats, sunglasses, silly hair, and so on. What makes this so cool is that whatever you choose will stay in place even while you move around. It detects your face and head, then adapts accordingly. Not only is this incredibly silly fun, but from a tech standpoint it's pretty impressive how smoothly it works, and it's totally free.
ZombieBooth: 3D Zombifier - You've probably seen somebody post one of these pics on Facebook, especially around Halloween. This 99 cent app lets you take any photo or even a video, then it detects your face and head and 'zombifies' the image by turning the mouth into a snarling maw and adding blood and injuries to make the subject look like a zombie. Yeah, it's pretty morbid, but still a lot of fun. It works on any face - including dogs!
References