Timbuk2 Review: Should You Buy a Timbuk2 Laptop Bag?

Timbuk2
Timbuk2 is a San Francisco based company that has been creating messenger bags and backpacks since 1989. They offer
customization options, allowing customers to design their own bags, and focus on making the most durable and well made bags available. While they started out making messenger and camera bags, they have also started making cases for laptops and netbooks, which are extremely durable. In fact, they are even water resistant, as a customer testimonial on their website stated that his girlfriend had accidentally dropped his bag, complete with laptop, into the water by accident one day. He was able to fish it out after half a minute or so, and no water had seeped inside the bag, which had completely protected the computer inside.
While these testimonials portray Timbuk2 bags as amazing pieces of equipment for anyone who is mobile with their laptops, is there a downside to these bags? Read on to find out.
Laptop Bags
The laptop bags offered by TImbuk2 are varied in size as well as price, and you can actually buy full size backpacks with laptop carrying spaces inside of them. However, the most convenient and innovative feature on Timbuk2's website is the laptop sizing application, which allows customers to provide their make and model of laptop, and will then match them up with a bag that fits that specific laptop. If a specific brand isn't listed (which isn't a likely possibility, as at least 100 different manufacturers are on the list), the customer can instead simply enter the dimensions of the laptop to find a bag instead.
The least expensive laptop holder on their website is a simple laptop sleeve, with no handles or extra pockets, that is designed to protect your laptop from outside hazards. This currently sells for $20.00-$25.00 depending on the size, and comes in a variety of colors to choose from.The highest rated bag on the site that can hold a laptop is the Wingman suitcase, a $150.00 suitecase that can hold all of your stuff, including laptop and clothes.
Messenger
The Laptop messenger bag is a customizable bag dedicated to carrying around a laptop in an over the shoulder messenger style. The bag itself comes in three sizes, small ($140), medium, ($150) and large ($160) and can be fully customized so that your bag is guaranteed to be unique. These sizes are built to fit 13", 15", and 17" laptops respectively, and have enough room to fit a fair number of documents and folders in them as well. The laptops are kept in studded sleeves that allows the laptop to cool down while still protecting it from the outside environment.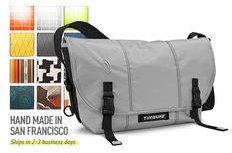 The filling of the bag is molded foam 'Loveglove' that keeps your laptop and other items securely cushioned and held in the bag, so movement won't cause them to knock into each other and cause damage. Each panel on the bag can be customized in terms of fabric and color, guaranteeing a unique bag specified to your wants and needs. The bag has a built-in waterproof liner to protect it from rain, spills, and other sources of moisture to make sure that your laptop isn't damaged. A built-in 'Napolean Pocket' offers a side entrance to the bag through a zipper that makes it easy to grab small objects like phones, gum, or other accessories that you need without opening the entire bag. Extra features like reflector straps can easily be added to the bag, and you can even specify if you want the bag to be left or right handed.
Overall, this bag is fairly expensive, but well worth the price as it offers great value in protecting your laptop from all sorts of hazards and making it much easier to carry it around places, especially on the bus or a bike. The customization feature is nice as well, and no one ever disliked having a bag that was uniquely theirs.
Final Verdict
So, is Timbuk2 the place to get a bag to hold and protect your laptop? Well, not all of their bags are designed specifically for laptops, but many do have pockets that can hold laptops, and their measurement matching guide is a great way to make sure that you aren't paying for a bag that won't fit your computer. The customization options are nice and guarantee that the odds of you finding another person with the exact same bag as you is very low. The bags themselves can be reasonably expensive, but the bags are very high quality and can withstand a beating despite being made of soft materials. Overall, this is a great place to find a high quality, multipurpose bag, but also a great place to seek out bags tailored specifically towards carrying around laptops as well.
References